Types of Interaction within Software Project Team
by Nataliia Vasylyna | August 29, 2011 10:00 am
Note: the acticle was updated in November 2018.
Professional team and fruitful interaction between its members are the key to success of every project and company. Such teams can vary in size, professional orientation, work organization, etc. Software project team deals with an impressive scope of work which demands qualified members, clear communication and clever management.
Software project team organization
Product's/projects characteristics influence the software process as well as its organization. Still, there are some basic roles that run the process and form the backbone of the project team organization: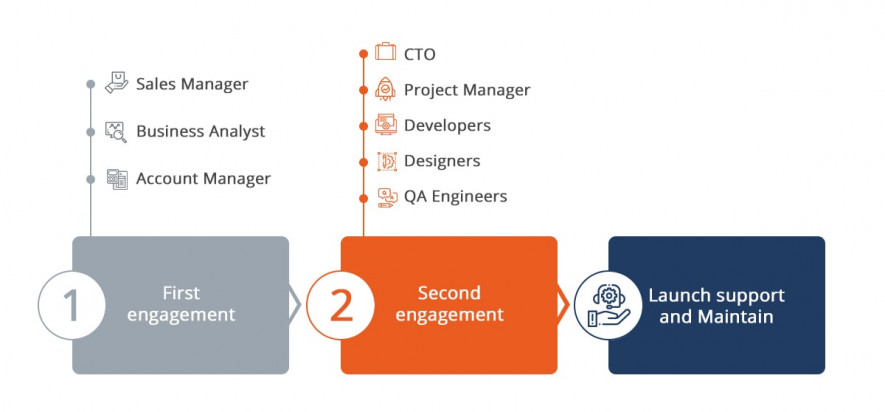 Each of these roles does not stand for a single person, and the number of team members can change according to the project size and specifics. Such role division is explained by the rationality of sharing the responsibilities. In small projects, it is not difficult to control the process, but bigger projects need clear arrangement and regulation. The defined roles are not fixed, and the replacement in the software process flow is possible.
[1]
Interaction within software project team
Communication among team members is of high importance, and there exist several interaction types:
chief programmer team
democratic team
mixed team interaction
These models are not unique, but they are the most widespread. Each of the stated types has advantages and drawbacks.
Chief programmer team reports to the main authority – the Chief Programmer.
Advantages. It is more effective for solving of the defined problems. This interaction type can be implemented to manage the strict time limits of a project.
Drawbacks. This type of communication[2] can undermine the team spirit, lead to small interaction and the loss of interesting ideas.
Democratic team has flexible boundaries for decisions and actions.
Advantages. This interaction type encourages teamwork, inspires for new ideas and problem-solving. People are free to discuss work issues, suggest their work plans and solutions.
Drawbacks. This model may lead to misunderstandings, arguing and wasting time. Few people can perform duties thoroughly with no control or supervision.
Mixed team interaction is a combination of the chief programmer and democratic types of cooperation. It is the most popular interaction mode among organizations.
Advantages. It has the hierarchical reporting, but democratical setup and is suitable for large teams. Clear tasking and encouraging communication trigger the successful workflow.
Drawbacks. It is not the universal decision for all companies, and this interaction type does not guarantee the expected outcome.
Summing it Up
Effective business model, thorough planning and the team of professionals are very powerful company constituents. But one cannot eliminate their human factor, therefore a strong interaction within the software team will definitely add to the business achievements. Different organization forms are possible, and one should consider various factors before selecting the appropriate type.
Learn more from QATestLab
Related Posts:
The Most Common Test Automation Challenges[3]
Trends 2019: QAOps in Software Testing[4]
Kanban in Software Testing: Tips on its Effective Use[5]
Endnotes:
[Image]: http://qa-testlab.com/
communication: https://blog.qatestlab.com/2016/12/06/fulfil-effective-communication/
The Most Common Test Automation Challenges: https://blog.qatestlab.com/2019/07/16/test-automation-challenges/
Trends 2019: QAOps in Software Testing: https://blog.qatestlab.com/2019/04/16/trends-2019-qaops-in-software-testing/
Kanban in Software Testing: Tips on its Effective Use: https://blog.qatestlab.com/2019/03/25/kanban-software-testing/
Source URL: https://blog.qatestlab.com/2011/08/29/the-interaction-between-people-in-software-project/
---