Why Perform Mobile Testing When it is Cold?
Why Perform Mobile Testing When it is Cold?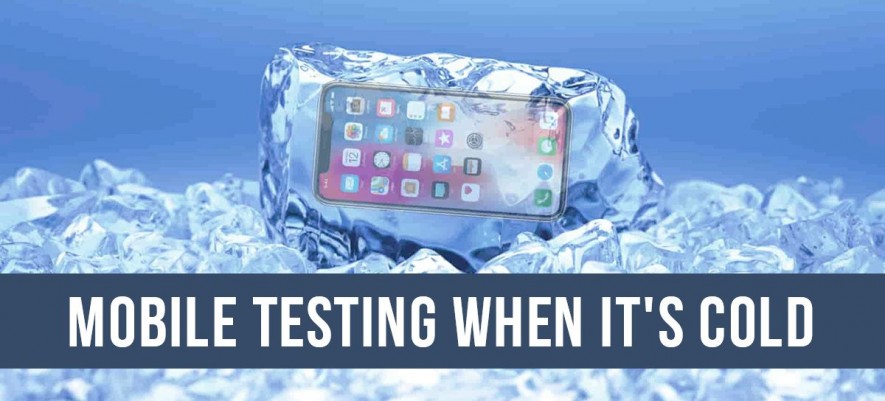 Note: the article was updated in August 2018.
How can cold weather spoil user experience? Why can people be irritated using mobile application when it's cold? Let's figure out how cold weather can affect software testing?
In winter and autumn as well, gloves cause the majority of inconveniences. So to have a thorough mobile application testing, it is very important to execute usability testing of mobile software products in gloves. The main purpose is to verify whether it is possible to interact with the software product in gloves.
The matter is that when you wear gloves, it is much harder to tap the elements on a mobile screen. So, they should be big enough and have an appropriate distance between each other.
Battery issues
Battery consuming applications are not the best choice to be used in cold weather, as far as the battery goes down much quicker when it is cold. This happens because chemical reactions inside the battery become slower under low temperatures. As a result, less current is generated to supply the battery. But, once the battery is warmed up, it begins to operate normally again.
Unlocked screen and pocket
How would a mobile application react on multiple touches in the pocket, especially in case the screen is unlocked?
When it is really cold, people do not commonly use their devices for long. Usually, they get it out of the pocket, check what is required and put it back. They try to do it quickly, and, as a result, often forget to lock the screen of the device. Being in the pocket, the screen is taped multiple times. It is good for the application manufacturer to anticipate such a scenario and prevent its product from a crash or other undesirable consequences.
Functional errors
If the temperature is close to zero Celsius, the device is usually not much affected, but when the temperature goes below, you need to be prepared for such common issues as touchscreen problems and internal errors.
LCD (Liquid Crystal Display) is very sensitive to low temperatures. Touching the screen of your device when it is cold, be ready for reactions delay or no response at all. AMOLED (Active Matrix Organic Light-Emitting Diode) Display technology has certain advantages in this case but still can have similar issues.
Also, the problem can occur when your fingers become numb. It happens because numb fingers conduct electricity differently than in a normal state. Let me explain. Most mobile devices have capacitive touchscreens that use the electrical properties of the human body. Every change in conductivity leads to deviations in the capacitive measurement of the device. Therefore, when your fingers are numb, touchscreen receptors can be confused and generate incorrect data.
Even if your smartphone normally has no performance problems, they often occur when the temperature goes below zero. So, if you receive some caution messages, pop-up windows, and other errors, do not hurry up with conclusions about software quality.
Learn more from QATestLab
Related Posts:
Article "tagged" as:
Categories: