How to Deliver High-Quality Apps for Logistics?
by Emma Dallas | October 29, 2018 1:00 pm
Note: the article was updated in October 2020.
Success in the logistics industry nowadays is heavily dependent upon digital transformation. The IoT, AI, blockchain, automation, and cloud storage have been the key drivers of this process so far given how much structured and unstructured data gets processed there regularly. 
Supply chain management and logistics software that incorporates the aforementioned technologies, improves end-to-end transparency and traceability, speeds up operations, minimizes delivery errors, and provides real-time updates.
What is more, bespoke solutions are fully customizable and easy to adjust in the future as needs evolve.
Popular logistics applications among target users

Effective management is a core condition for the competitive work of an organization. Planning, communication, and control is only a small part of all administrative duties. Apps for logistics can considerably simplify this process. Here is the list of apps specifics that can help in managing a logistic company:
tracking systems that trail the location of a vehicle, driver's activities, and the goods delivery

applications that help to control the inventory and goods storage

analytical apps that forecast expenses or plan the delivery route

programs that allow to monitor and control the supply chain and conditions of the product delivery

apps that compare gas prices and show the cheapest or the nearest gas stations
There are also applications useful for drivers:
apps that show the nearest wheel-load scales and their weight limits

programs that record your driving time and signal when you should have a rest

applications to maintain connection and communication with other drivers

services that show the nearest cafe, hotel, parking, etc.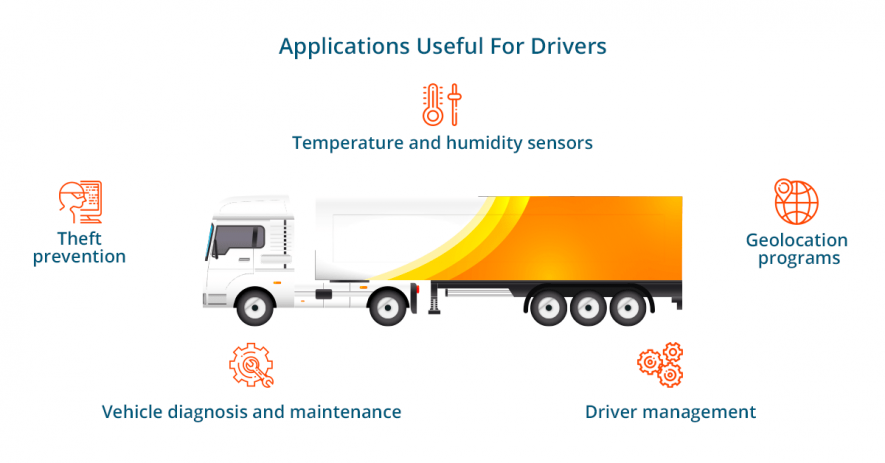 Customer orientation is also key to business success. Clients should enjoy the service, feel the support, and be willing to use the company's services again. Logistics application can cover most of the customers' needs:
apps that help to track the delivery and inform when the parcel has been carried

services that offer on-demand delivery 

applications that compare the shipment prices according to the parameters of the goods

programs allowing to share users experience and store comments on the available delivery companies
Implementing robust logistics solutions involves overcoming multiple challenges. There may be issues with performance, tracking, planning, management, unoptimized QA processes, weak automation frameworks, ever-changing security or regulatory requirements, and much more. Of course, it demands a focus on software quality.

[1]
Logistics software testing services cover the following areas: 
Logistics solutions for air, ocean, and land

Transport management services

Freight reservation management

Vehicle tracking and route generation

Billing and cost management

Custom application development

Integration with ERP and SCM

Visibility solution services

Vessel scheduling and tracking systems

Reverse logistics 
Given the market competition and necessity to keep up with customer expectations, there are several aspects that should be secured in every logistics app:
Attractive UI (User Interface).

This is what makes the first impression as the old saying 'good clothes open all doors' still works even in IT. Simple and intuitive design along with clear navigation makes 50% of the app's success.

Fast loading and high performance.

Users would never wait longer than a few moments for an application to load.

High performance and stability

[2]

regardless of network connection speed should also be secured. 

Cross-platform compatibility.

Give the diversity of digital devices, SCM and logistics solutions should be

compatible with different environments

[3]

, e.g., iOS, Android. Cross-platform compatibility is always appreciated by the customer and, therefore, boosts sales and revenue.
What problems should a logistics application solve?
The industry may face different issues concerning, but there are always general problems relevant to the majority of logistics companies.

Changing requirements.

Simple delivery does not make a difference anymore. A company should offer as many benefits as possible to attract and satisfy the client. Applications that can offer additional services can become a great solution to this problem.

Time limits.

Probably the main headache of the logistics domain is that the delivery time is always limited. There are many obstacles in the way to a timely delivery: traffic jams, weather conditions, loading time violations, etc. There are apps able to predict and avoid the majority of these difficulties. Still, there is room for developing something new.

Production capacity.

To set up a successful business one needs to predict economic changes and specifications. Analytical apps for logistics can help to analyze the market and build a profitable strategy.

Security.

The amount of money invested in transport and cargo is quite impressive, and the corresponding protection measures should be undertaken. It is probably the largest niche to occupy and develop applications that will solve the security issues.
What Should Be Tested in a Logistics App
Functional Testing: There is definitely a variety of features in your app. Test it to make sure that everything is working just fine.
Performance Testing: The scope of logistics operation covers countries and continents. Therefore, it is crucial to ensure that the system would not crash under heavy load.
Security Testing: Cybersecurity is a high priority in any domain, but when it comes to logistics, the stakes get even higher. Test for security vulnerabilities and prevent possible data tampering and leaks. 
Cloud Testing[4]: Data migration from physical storage to the cloud can be challenging. Cloud testing not only facilitates this process but also helps make sure that the chosen cloud solution is reliable and performant enough.
Mobile Testing: Apps should work seamlessly on mobile devices and maintain the same high level of functionality and user-friendliness.
Final word
Creating an application is a challenging task, while logistics is a promising domain where such apps can become useful and gain customer success. Working through every stage of the development process, don't forget about testing and QA. Appoint a trusted QA services provider that would bring to the table sufficient expertise to handle projects of any complexity, a great variety of testing devices, and the ability to perform testing under real-world conditions.
Learn more from QATestLab
Related Posts:
6 technical pitfalls of logistics software[5]
How to Test Multiuser App with no Control of Concurrency Issues?[6]
How to prepare for Winter Sales[7]
Endnotes:
[Image]: https://qatestlab.com/services/?utm_source=Blog&utm_medium=Post&utm_campaign=services

High performance and stability

: https://blog.qatestlab.com/2018/04/17/testing-system-bottlenecks/

compatible with different environments

: https://qatestlab.com/services/manual-testing/compatibility-testing/?_ga=2.84605401.1515917811.1603172991-388784995.1601315534
Cloud Testing: https://qatestlab.com/solutions/by-focus-area/cloud-solutions/
6 technical pitfalls of logistics software: https://blog.qatestlab.com/2019/01/14/logistics-software-pitfalls/
How to Test Multiuser App with no Control of Concurrency Issues?: https://blog.qatestlab.com/2013/10/15/how-to-test-multiuser-application-with-no-control-of-concurrency-issues/
How to prepare for Winter Sales: https://blog.qatestlab.com/2021/11/11/winter_sales_preparation/
Source URL: https://blog.qatestlab.com/2018/10/29/applications-for-logistics/
---