Robo Advisors vs Human Financial Advisors
by Emma Dallas | November 29, 2018 11:12 am
Are you ready to entrust your finances and savings to a financial advisor? And what if it would be a robo advisor? Who do you trust most – a robot or a human? Financial planners are not only experienced advisors of flesh and blood who help people to manage their finances.
Robo advisors keep on taking the leading positions in planning people's assets and are threatening to take away a considerable part of job from traditional financial advisors. According to data provided by Consultancy.uk, over the past 10 years, the number of assets managed by robo advisors reached $200 billion. The forecast shows that its percent in the sphere of financial management is rapidly growing.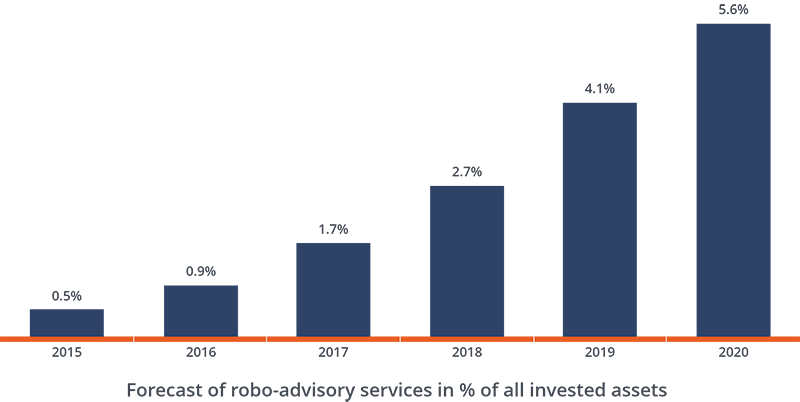 Things to know about Robo Advisors
Robo advisors are automated services developed to manage people's finances with minimal human control. There is a package of obligatory services available:
risk profiling
investment account setting up
creation and maintenance of an investment portfolio
There are several main phases of robo advisors work:
clients give information necessary for financial planning
robo advisors analyze this information (age, planned investments,etc.)
robo advisors make a suitable investment portfolio
An important fact is that most of the existing robo advisors are not completely automated. The best practice existing is to combine human resources and automation[1]. Such advisors are operated by people, i.e., you will communicate with humans via phone or mail, but your usual asset management will be done automatically according to the developed algorithm.
What kinds of finances to manage?
Consulting a robo advisor is a great way out for people who do not possess high incomes. Traditional financial specialists manage accounts with the minimal investment amount of $50, 000 and charge the fee of 1,35%. Robo advisors in the USA, allocate finances starting with $500 and in the UK this amount starts with £1. The average charge for them is from 0.2% to 1%.
Based on different business models, three main types of robo advisors are distinguished:

According to these types, there are different kinds of finances that clients can manage using robo advisors:
student loans
insurance
tax management
investment strategy
IRA (individual retirement account) planning
Revocable Trust
credit support, etc.
The tools used by automated advisors to manage clients' assets do not differ much from those used before. The main distinguishing feature is the distribution channel. Before the introduction of robo advisors, all the financial issues were conducted by the human advisors who accomplished this work with the full package of other services. Previously only financial planners had access to management tools. Consumers now can reach such tools directly and control the assets allocation.
Benefits of using robo advisors
Robo advisors have not ousted the traditional financial planners completely, and there are reasons why they still need humans. Nevertheless, let's first consider benefits of their usage.
Low charge[2]
As compared to the fee charged by investment managers (more than 1% of client's assets), automated advisors provide services for significantly less charge (0.2% in average).
Thorough workflow algorithms[3]
The working process conducted by such advisors is based on the Nobel Prize-winning theory. It serves the core for the best-developed practices in this field.
Successful experience[4]
With the implementation of automated planners, a vast majority of people with an average income got the opportunity to receive the professional financial assistance. In the majority of cases, there is a positive feedback of their work.
Low Minimum Balance[5]
Traditional financial planners work with the assets not less than $50, 000. As for robo advisors, they will manage the account starting with $500.
Automated management and rebalancing[6]
One of the benefits of the robo advisory service is that there is no need to make constant corrections and control as the workflow is designed according to the developed algorithm.
Drawbacks of using robo advisors
To get a clear understanding of this service one should consider its possible drawbacks[7].
Low personalization level[8]
Clients' financial needs and objectives differentiate greatly and may acquire an individual approach. Robo advisors operate according to the predefined algorithm only.
Privacy issues[9]
 Customers who do not use the premium package, haven't got the service of limited access to their account and all the value exchange can be easily monitored.
Limited live communication[10]
There is no option of face-to-face communication when you use the service of automated financial planning. Clients discuss the main issues at the beginning of cooperation and do not have constant meetings with their financial advisors.
Concluding Thoughts
The implementation of Artificial Intelligence[11] (AI) to the sphere of financial planning and investment is the precondition for its development. Companies that provide such services do not exclude the human role in this process as robots are still controlled by people. Customers now have the opportunity to choose an advisor that will meet all their needs and compare the benefits of cooperation with each of them. Robo advisors is not a panacea for everybody but a great solution to try.
Learn more from QATestLab
Related Posts:
FinTech in 2020: How To Stay Ahead Of The Curve And Be Successful[12]
Why users say 'adios' to your financial applications?[13]
Endnotes:
automation: https://blog.qatestlab.com/2018/06/12/when-automate-testing/
Low charge: #
Thorough workflow algorithms: #
Successful experience: #
Low Minimum Balance: #
Automated management and rebalancing: #
possible drawbacks: https://blog.qatestlab.com/2017/09/29/financial-solutions-testing/
Low personalization level: #
Privacy issues: #
Limited live communication: #
Artificial Intelligence: https://blog.qatestlab.com/2018/05/16/artificial-intelligence-adoption/
FinTech in 2020: How To Stay Ahead Of The Curve And Be Successful: https://blog.qatestlab.com/2020/05/19/fintechin2020/
Why users say 'adios' to your financial applications?: https://blog.qatestlab.com/2017/09/29/financial-solutions-testing/
Source URL: https://blog.qatestlab.com/2018/11/29/financial-robo-advisors/
---