Self-organized Agile Teams are Real or No?
by Emma Dallas | May 21, 2019 7:17 am
Once Agile appeared as a method of project management and became very popular due to its completely new approach – self-organization, distribution of responsibility, intensive communication, etc. In the Agile Manifesto, everything looks very good and promising. But is so at real projects?
Look at these statistics: over 70% of projects failures happen because of a lack of clear objectives and poor communication. In all kinds of ways, these reasons come from team organization and prove that it is an important part of any business strategy. What is the formula of effective team organization[1] and how to adjust it to your project – find this and other information below.
Agile Team Organization: main principles
Agile methodology is applied as an effective organization of work within small groups of people that perform definite tasks. This method is flexible enough, and the number of companies that use it at their projects increases.

According to Agile Manifesto, communication among team members happens face-to-face, therefore, reduces the amount of documentation, if compare with other methodologies. One of its principles is a self-organized team which "gives best technical requirements, design and working scope coverage". Some of such teams decide to give the right of making key decisions to a single person. Others share the responsibilities according to the skills and experience of each team member. There isn't a strict scenario of team organization in Agile and for sure none of the existing guarantees the complete success of a project.
Main problems of self-organized teams
Let's consider the most common concerns that prevent stakeholders from organizing their teams according to Agile methodology.
Domination of one team member. One of the main troubles of Agile teams is when one person (team lead, tech lead,etc.) grabs the biggest piece of the pie and controls the team. It contradicts with the principle that individuals and their opinions come first. If such a situation happens, the so-called leader should be separated from a team and explained that even if his decision is "right and the only one", a team should have a right for mistake and conclusions. Team leading stays a part of the management process, but it should be organized in the form of assistance. Here mentor gives more like advice than makes a one-sided decision.
Freedom that frightens. Another challenge of Agile team management is that its members are often too passive to self-organize and wait for a team leader[2] to handle all issues and assign tasks. In this case, make sure the team understands what advantages this freedom gives to them and by all means, encourage personal initiative.
Too young team. One more concern is that a team may be too young to organize. If team members have enough experience to develop a software or manage QA at a project, they will probably cope with team organization. Sure there may be some difficulties in communication or slight misunderstandings, but these challenges are easy to handle. Mutual training, team-building meetings outside work is a good decision in this case.
One of the most effective ways to see if this method of team management suits project expectations is to analyze the previous experience: of your or any other company. Use the best practices available:
the smaller the size of a team is, the better communication is set;
experience in building Agile teams is less important than the work experience of each team member;
clear project documentation and requirements reduce the risks of team misunderstandings;
daily meetings and constant communication help to spot the first signs of problems within the team;
mutual mentoring is more important than continuous coaching.
Let's look at this question from the practical side and learn how the Agile team is organized at the project on testing and Quality Assurance.
Quality Assurance in Agile Environment
QA and testing services can also be effectively organized in terms of Agile principles. QATestLab Program Manager Ivanna Kyryk shares several tips on its effective organization[3].
Quality Assurance in this technique becomes an essential part of each development phase. The effective procedure of QA within Agile methodology includes such elements:

The self-organized team controls the working process, and good practice in managing QA activities[4] is to hold Iteration Planning Meetings (IPM).
"The QA and testing[5] process is organized within iterations, during which team members collaborate with project managers and business analysts to define the scope of work and set priorities," – shares Ivanna.
At the end of each iteration, the stakeholders receive a report (can be in a form of live communication) to check if the defined business goals are achieved. The QA team, organized according to Agile principles, is more flexible if compared to other methodologies. Urgent tasks and their changing priority isn't a surprise here, but there are elements that are necessary for proper organization of QA at the Agile project.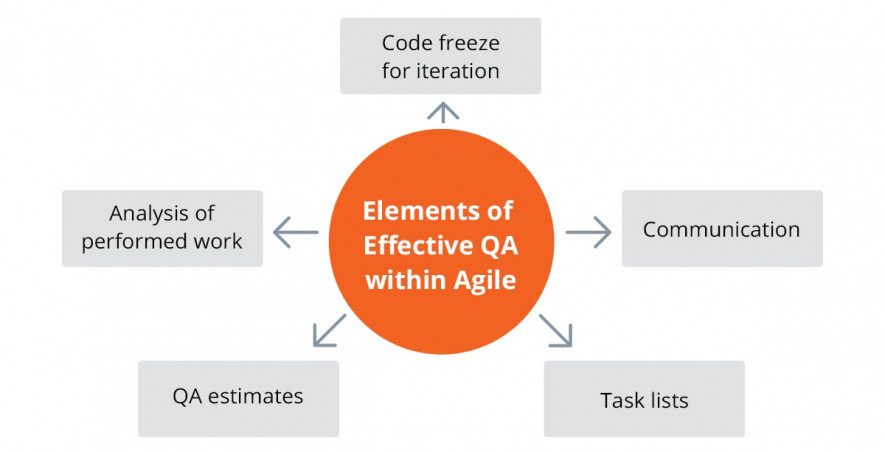 Self-organized QA teams are real, but their work is not effective when the members of this team have the same skills and working experience:
"When the QA specialists have almost equal skills and share the same tasks, it may bring harm to a project. Self-organization means mutual sharing of experience, and when there is nobody who can help to solve a challenge, it isn't right," – explains Ivanna.
Conclusion on Self-organized Teams
A team which chooses the method of self-organization is about to face difficulties either at the initial stage of this process or when the first challenges arise. The right approach to their perception combined with the principles of Agile team organization will give the desired results. Skills and capabilities of each individual team member are often underestimated, and there is a reason why most successful companies use Agile team organization approach – it meets their business expectations and gives new opportunities for development.
Learn more from QATestLab
Related Posts:
Agile Team: Types of Self-management[6]
Main Features of an Agile Leader[7]
Best practices to make your QA meetings more effective[8]
Endnotes:
effective team organization: https://qatestlab.com/approach/business-models/
team leader: https://blog.qatestlab.com/2019/04/25/qa-leads-responsibilities/
tips on its effective organization: https://www.youtube.com/watch?v=oarB6W2hX80
QA activities: https://blog.qatestlab.com/2011/12/21/quality-assurance-activities-in-software-processes/
QA and testing: https://blog.qatestlab.com/2011/04/07/what-is-the-difference-between-qa-and-testing/
Agile Team: Types of Self-management: https://blog.qatestlab.com/2016/11/08/agile-self-management/
Main Features of an Agile Leader: https://blog.qatestlab.com/2015/10/22/features-agile-leader/
Best practices to make your QA meetings more effective: https://blog.qatestlab.com/2021/10/20/make-meetings-effective/
Source URL: https://blog.qatestlab.com/2019/05/21/self-organized-agile-teams/
---