Quality Assurance Process in Mobile Payment Systems
by Vadym Yudovych | June 13, 2019 8:18 am
Today's life requires speed. The desire of consumers to get the goods and services whenever they want becomes more and more strong and pushes business to develop advanced technologies. This desire spreads on financial transactions which leads to the development of mobile[1] payment technology. Mobile wallets become the preferred method of transaction among modern consumers. This sphere requires proper quality assurance, as it deals with financial matters and needs strong security and quality, close to ideal.
QATestLab works with numerous online payment solutions, and our specialists are ready to share the secrets of effective testing of mobile payment systems on our blog.
Common Payment Trends
The rapid development of the mobile payment sphere started in 2015 and continues its influence till nowadays involving 1.2 billion people, who have access to mobile bank accounts. Such apps as Apple Pay, Android Pay, Samsung Pay, PayPal, and WeChat Pay do not need to be introduced and are applied worldwide.
Mobile electronic payment is a trend not just of 2019. This solution will remain popular in the nearest future.
The role of biometrics in payment authentication
M-commerce industry got such a significant improvement as fingerprint authentication and facial recognition. It is the right time for implementation[2] of this technology as it would be relevant for VISA and Mastercard. These giants are going to use 3D Secure 2.0 process of authentication, which will serve to define "who you are" by checking the biometric data.
The contactless principle is only gaining its impact
It is expected that the audience of users of mobile wallets will grow in 2019/2020. Statistics says that approximately 50% of all consumers use contactless payment technology. Consumers state that mobile transactions are more suitable than cash and even than cards.
Business is Watching
Considering the growing popularity of mobile e-wallets, it is not a surprise that such corporations as Facebook, Apple, and Google have implemented their products that increase the involvement of these apps. The growth of the mobile payment field is powered by expanding of such business giants as Amazon. Its infrastructure increases its influence by expanding the number of stores to 3000 using a convergence of physical presence on the market and digital transactions.
The big business opens more possible ways of payment not only to increase sales. Trade giants implement contactless mobile technologies to form a common picture of consumers' habits, desires, and preferences in purchases to optimize the budget on marketing purposes.
Crypto-wave
One more field of mobile payment implementation is cryptocurrency. It became the payment method, which is getting more and more close to traditional, so it is reasonable to let the consumers do mobile transactions as well. Despite the cryptocurrency is considered as a reliable financial tool not by all people, the blockchain technology[3] has the right to be used. It will give its benefits to the payment system and prevent fraudulent transactions providing careful tracking both for business and state financial control authorities. The rapid growth and essential involvement of m-commerce can be displayed by the percentage of online purchases basing on the use of different devices in comparison with mobile payment: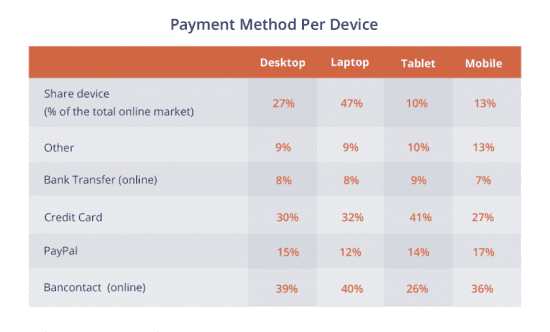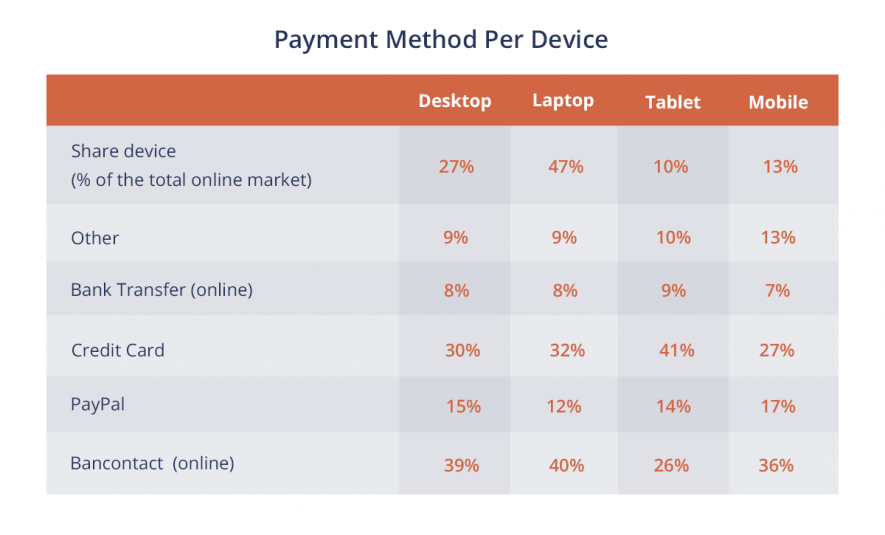 Payment Systems: Drawbacks and Differences
As for the differences between the most recognizable apps, Apple Pay and Android Pay, it is possible to outline that the work of Apple Pay is based on connecting the card into one specially designed for this purpose payment application, while Android Pay allows you to use different cards at your discretion. This shows that Android Pay, in fact, is not just a product, but a platform, an additional API layer on your operating system. Of course, for convenient use of the platform, Google offers, first of all, the Google Wallet payment application, but at the same time, it does not limit the consumer in choosing.
The second is a question of compatibility. The not less significant difference is that to use Apple Pay, you must be the owner of the latest generation of iOS gadgets, for example, the models of smartphones offered by Apple for contactless payment, only a few, and they are all released relatively recently. While Android Pay allows the use of virtually any device on the Android operating system, version KitKat4 and above, equipped with an NFC module. The brand does not matter here.
Wide application of gadgets is caused by an everyday lifestyle of consumers, which fully depends on smartphones. Mobile addiction stipulates the development of functions, which could be applied with phone and now mobile payment sentences credit cards to slow death. It goes without saying that mobile payment is comfortable in use, but functionality does not differ from traditional cards a lot. You still have to confirm the transaction which requires waiting.
What is more, digitalization of transaction does not reduce the risks of security breaches, such as false financial transactions, fraudulent misrepresentation of information, thefts of personal information, and financial data. Threats do not disappear, they only transform, so modern technology needs a modern approach in quality assurance.
Where Independent Testing Can Help?

Being an independent provider of testing services, we have specific competencies in testing online payment solutions and want to share the vision of the scope of the mobile payment testing with you. There are several elements which must be checked to secure mobile payment transactions.
Connection with a bank account
The connection with unique bank requisites must be examined to ensure proper identification of a user and prevent errors in transactions. The payment app must be checked for its options to connect one or more bank cards. What is more, the app may work only in a certain region, or there can only be one option available due to the location of use, for example: in some cases, it is possible to transfer money to the account but impossible to make a purchase[4].
Proper integration with mobile devices
Mobile payment system must be checked for its compatibility with various versions of mobile devices, depending on a version of a mobile payment tool. As it was mentioned above, Apple Pay, for example, needs the latest models of smartphones to be applied. The rules are not so strict for other tools, but you would better to perform proper compatibility testing to detects the possible mismatch.
Proper contact of mobile payment system and receiving device
It is important to examine appropriate contact of a mobile device and its integrated payment system with the platform which receives the payment. It can be a terminal, which accepts the payment and the task is to check the appropriateness of sums, duration of a transaction, completion of a transaction in case of breach of connection, mechanic impact and other interruption. Correct calculation of processing fees is often a challenge as there are many factors that need to be examined: a type of card used, methods you use to accept payments, average transaction size, etc.
Possibility of unauthorized access
Testing should define whether there is a chance that another person can use your mobile payment account and perform transactions on behalf of you. Also, the possibility of a security breach and fraudulent acquisition of personal and financial data must be examined. It is important to find out if a third person is able to get your personal information concerning payment history and bank details for personal purposes. If the security breach has already occurred, it will be reasonable to test a possibility to cancel the transactions, which has been performed without user's consent and verify the option of blocking the further functioning of the breached system.
Testing of Integration
Despite the advanced API and detailed documentation, it is often hard for the client to configure even the most common feature – integration becomes a real problem and raises tons of questions and concerns:
comprehensive documentation on implementation;
test data for verification (payment cards, currency, etc.);
the assistance of professional testers.
To achieve the successful application of mobile payment apps, it is important to conduct system testing and check different integrations:
Checkout integration. Verify if the checkout accurately integrates into a website: is successfully opened and functioning within an iFrame or through API, and provides full control.
Custom integration. Check the possibility of performing payments through different channels. User-friendly interface gives the ability to perform real-time transactions easily.
Shopping cart integration. Online payment solutions should integrate with top shopping carts: Shopify, Woocommerce, Magento, etc. QA specialists check if users can use their orders later, add or remove items without deleting the entire order and is it possible to track the shipment.
Mobile SDK integrations. The SDK that sits between a mobile app and the payment system offers a range of options to allow customers to use the app. You should control if integration allows to transmit and control the credit card data preserving the necessary level of security.
Final Thoughts
Each new technology which is rapidly implementing on the market needs a dynamic approach in quality assurance. Testing of mobile payment systems requires examination of fields, gaps in which may lead to the loss of sensitive consumers' information. To prevent the risks of payment failures and financial frauds, QATestLab provides its vision of effective testing to save your efforts. Follow the tips based on our practice and ensure the safety of your transaction.
Learn more from QATestLab
Related Posts:
Overview of M-Commerce Market[5]
Blockchain Testing in 2020: Ultimate Checklist & Tools[6]
9 Essential Mobile Test Cases[7]
Endnotes:
development of mobile: https://qatestlab.com/solutions/by-focus-area/mobile-applications/
right time for implementation: https://blog.qatestlab.com/2018/09/26/m-commerce-market/
the blockchain technology: https://blog.qatestlab.com/2017/11/28/bitcoin-blockchain-mining/
to make a purchase: https://qatestlab.com/services/special-offer/m-commerce/
Overview of M-Commerce Market: https://blog.qatestlab.com/2018/09/26/m-commerce-market/
Blockchain Testing in 2020: Ultimate Checklist & Tools: https://blog.qatestlab.com/2020/08/04/blockchain-testing-in-2020/
9 Essential Mobile Test Cases: https://blog.qatestlab.com/2019/11/26/mobile-test-cases/
Source URL: https://blog.qatestlab.com/2019/06/13/qa-mobile-payments/
---