How Internet of Things Products Became our Reality
by Emma Dallas | September 17, 2019 6:37 am
Talking pillows, smart forks that control your eating, electronic pet friends… Sound like elements from a new part of Back to the Future scenario, but no. These are some of the most unusual products of the Internet of Things market[1]. What lies behind these freaky devices and which of them will soon be in every house? The field of testing for our specialists comprises more and more unusual products, and we will share the information on this market with you. Look at the process of IoT development, pluses and minuses of these products and who knows, maybe you'll choose the one that will replace your smartphone.
How everything started: The rise of IoT market
Internet of Things (IoT) is a network of billion electronic devices that can collect and share users' data. For the last few years, IoT has been transforming from an exciting concept into a huge system, growing every year.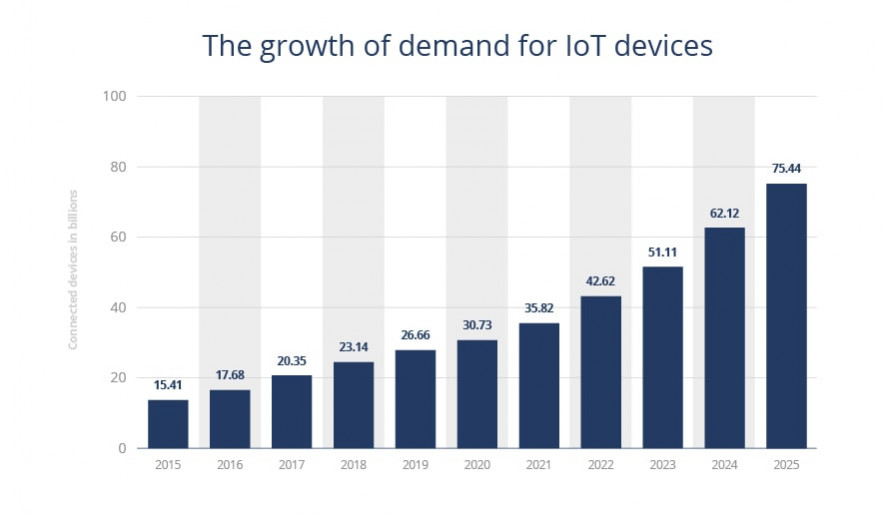 The first IoT device was created in 1990 by John Romkey. It was a toaster, which could be turned on and off using the Internet. The term "Internet of Things" came a little bit later in 1999. In 2008 IoT gained more popularity, and the number of everyday devices connected to the Internet began to increase.
Today, due to chip processors and wireless technologies, almost everything can be connected to the Internet, which makes these products smart.
The development Life Cycle of IoT devices
The development of IoT products has a pretty clear life cycle.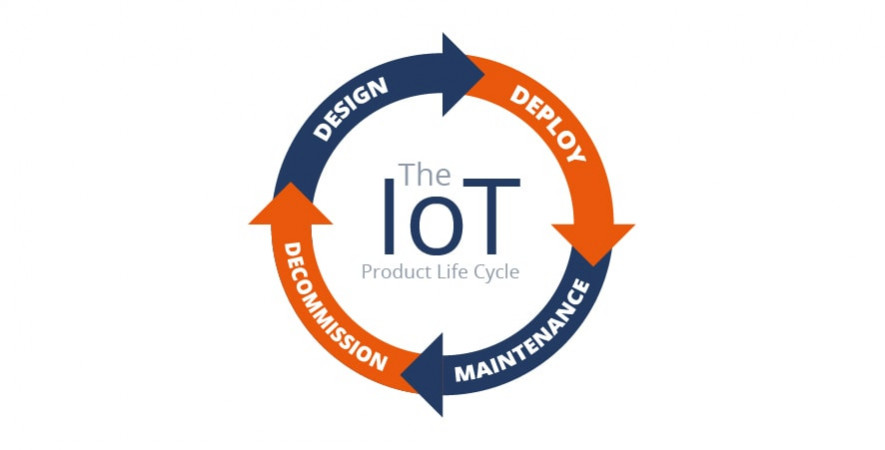 IoT life cycle starts with design and development where all the requirements and services of the future product are specified. The approach to the development of such devices should be very flexible as there isn't a single platform or a set of configurations for all IoT products. Additional time has to be devoted to the testing of IoT software[2] and running all possible scenarios.
The deployment phase consists of several components:

This process is rather complex as it requires smooth work of all integrations, built-in functions, and activations. Planning and constant cooperation among project members help to ensure a smooth run of the product's deployment.
The next stage is the product's maintenance, which is the longest one. It starts with the software deployment and continues until its decommission. This phase presupposes product's updates, and their continuous testing, necessary fixes, and support. Maintenance can be complicated by constant integration with various devices and networks, and that is why require double checkings.
The development life cycle of the IoT software ends with its decommission. It is important to plan this stage at the design phase to know when the product will be taken out of production and substituted by a new one. The removal of the IoT device should not bring any security or system breaches, therefore needs thorough control.
Pros and Cons of IoT Products
Using IoT devices is the thing of the future, and people already are not surprised at a sight of a robot vacuum cleaner or smart-controlled air conditioner. Of course, it's great that we are not afraid of AI takeover[3] (can't say I feel 100 percent safe), but there for sure should be some trick. To be maximum prepared, let's look at the most vivid advantages and disadvantages of IoT products.
Pluses of IoT software
Some of these advantages are easy to catch and clear, alongside the ones that need explanation:
Using IoT technology, you keep your devices and data synchronized.
Automation saves you time and gives control over processes.
24/7 monitoring is also a plus.
IoT devices take over a great part of the manual work and save money spent on its organization.
Every-day life becomes more interesting and gets another level of quality.
Minuses of IoT software
Despite the advantages you get from making a friendship with IoT, stay aware of the disadvantages you may face:
Buying the IoT device doesn't guarantee that it will work as described as there are no standards of compatibility for such products.
Test the device you are to buy beforehand because it may be rather complex in use.
Be prepared for security breaches or information leaks as such devices are subjected to hacker attacks.
If think globally, such automation may result in a reduction of job for manual workers.
You'll get less live communication and contact with real people, which is not always a plus.
List of the most interesting IoT devices
While some of IoT devices are obviously useful, e.g., fitness trackers, voice controllers, some IoT products make us surprised.
Otohiko Fork
Japanese company Nissin, a well-known instant noodles manufacturer, created an innovative fork, which is able to mask sounds appearing while eating noodles. The main aim of the device is to make the dining process more comfortable disguising slurping noise.
The fork connects to the user's smartphone and emits a masking sound every time the slurping noise is detected. This can help to prevent an awkward situation and also entertain the public.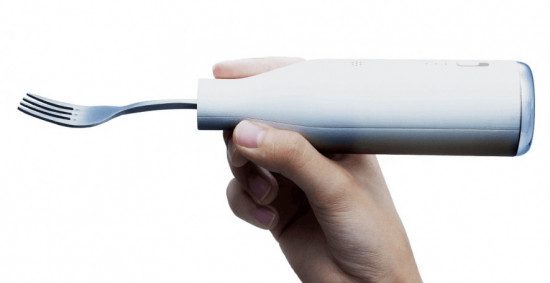 HapiFork
HapiFork is not just one more smart fork on the market. Connected via Bluetooth, it analyzes how fast you eat your food. If the speed is too high, HapiFork begins to vibrate, so that you can slow down. Though this fork seems more entertaining than useful, the idea of the device is quite serious – to help people with the real problem of weight control.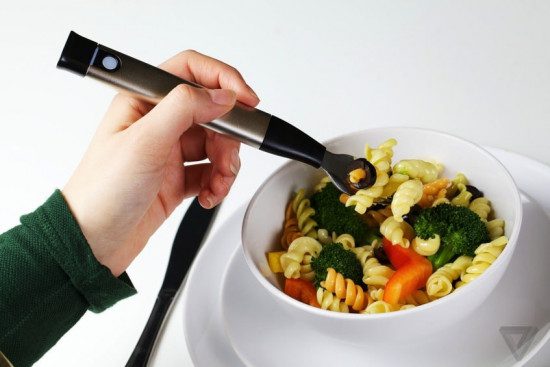 L'Oreal smart hairbrush
Great news for modern Rapunzels: this smart hairbrush can collect information about the condition of your hair. It contains a microphone which captures the sound of grooming, enabling a corresponding app to analyze it. For example, the brush can distinguish if your hair is frizzy, dry, or prone to breaking. Moreover, the brush will vibrate to let you know if you are using too much pressure while brooming.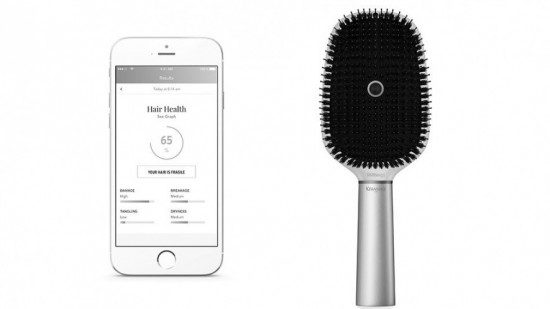 Pillow Talk
With this innovative device, you will never feel lonely staying alone at night. Pillow Talk lets you feel the heartbeat of your spouse when you are far away from each other. It works like this: each of a couple has a wristband and a small speaker placed under the pillow. It makes you think that your beloved person is beside you in bed, and you can feel safe while falling asleep.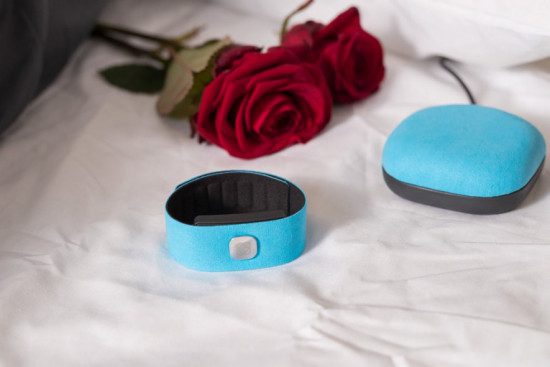 Amazon Echo Look
Do you need anybody to say how you look before leaving the house? If so, Amazon Echo Look is exactly what you need. This device is equipped with a camera and microphone and acts like a real fashion expert. It can judge your appearance and give advice to choose the better outfit among the two of them.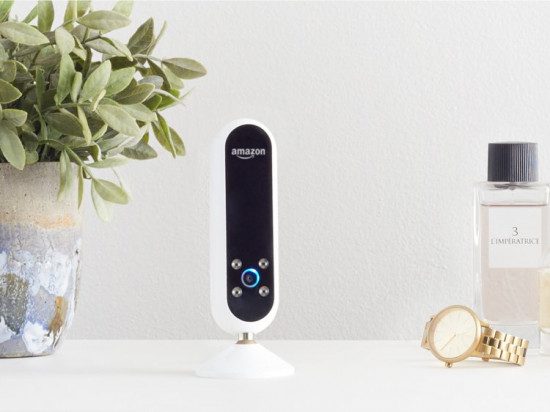 Final word on the IoT devices in our life
The fast development of the IoT market makes us stay up-to-date and be ready to talk to a robot waiter at a favorite cafe. Along with the advantages of such devices (less manual work, more automatization, and control), some minuses that may spoil the impression from using them (data breaches, software glitches, and difficulties in use). For now, we are free to choose what devices to use, but living in a world of Artificial Intelligence and Machine Learning, you should keep the ball within the eyeshot. QATestLab blog about software testing won't let you miss the latest news.
Learn more from QATestLab
Related Posts:
Top 8 Trends in Mobile App Development for 2020[4]
Software trends and their influence on QA and testing[5]
Internet of Things: why projects fail[6]
Endnotes:
Internet of Things market: https://blog.qatestlab.com/2018/04/12/iot-projects-fail/
testing of IoT software: https://qatestlab.com/solutions/by-focus-area/internet-of-things/
AI takeover: https://blog.qatestlab.com/2019/04/11/ai-in-qa/
Top 8 Trends in Mobile App Development for 2020: https://blog.qatestlab.com/2019/11/05/mobile-app-development-2020/
Software trends and their influence on QA and testing: https://blog.qatestlab.com/2018/05/23/software-qa-trends/
Internet of Things: why projects fail: https://blog.qatestlab.com/2018/04/12/iot-projects-fail/
Source URL: https://blog.qatestlab.com/2019/09/17/internet-of-things-products/
---