How to make users add your online shop to bookmarks?
by Emma Dallas | October 8, 2019 9:33 am
Note: This article was updated in September 2020
Among 20 million eCommerce stores there are only 1 million that have the sale amount of more than $1,000 annually. Why customers come back to shopping on definite sites while ignoring others? We have interviewed people who know seven figures of aspects for online shop functioning[1] and everything about its quality. So, if you want to know the most typical mistakes in the online stores' development, continue reading.
Why your online shop definitely needs testing
In the case of online stores, the quality of your software directly influences sales – if it doesn't work, all the marketing campaigns will go to the drain. Even if everything seems clear and polished, the real situation may appear quite different, driving you back from the title of the best eCommerce solution. Look what ex project manager of online store Mariya says.
– Maria, you know the eCommerce industry for many years. What were the stores you worked in?
– My eCom experience includes working at different sites: from those connected with the fashion industry to furniture sales and large sites-aggregators.

– So, you perfectly know what did not suit potential buyers and what complaints (in terms of the site work) they have?
– Yes, here I have pretty much to say. The most typical problems are:
inconvenient mobile purchases, mostly payments;
when they had troubles with product filters or search;
complicated checkout process;
often bugs were related to content: the wrong column, outdated content, poor description, etc;
and the largest pain – irrelevant prices and warehouse stock balance.
If speaking about the priority of testing for business owners, it does not occupy the first place. But not only when a burst of user calls began, or the sales fell. That is, the priority changes from 0 to 100 very quickly, depending on the situation – like with a fire brigade.
Our experts name the top 3 "must test" parts of the functionality for eCommerce testing[2]: the checkout and payment process, integration with the accounting program (prices and balances) and content (photos, texts).
Checklist for testing online store software
We all understand some basic principles of online purchasing as there is hardly a person who hasn't buy things via the internet. On the other hand, feedback from users doesn't give the full picture of the store's functioning, that is why we asked QATestLab software testing engineers for a professional opinion. They've tested 1000 and 1 online shop and open the secrets of the functionality that is most subjected to faults thus requires checking. Here is how a brief testing checklist[3] for online shops looks like: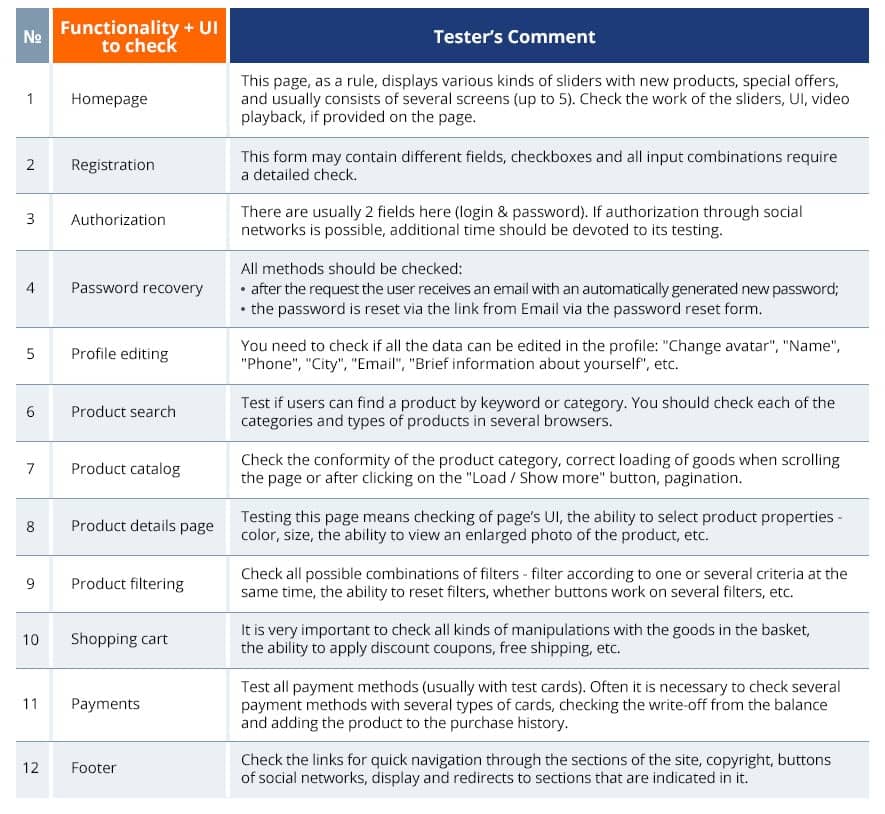 The above-listed functionality is necessary to check if you want to avoid software glitches, and therefore customers' complaints. As experience shows, best eCommerce sites do not neglect testing and got their titles due to the seamless work of the software. Professional quality assurance services guarantee that you will not miss important details that can ruin all the efforts spent to build your online business.
Please, share your comments and experience on this topic. We appreciate the feedback from our readers and will give more useful advice on our blog.
Learn more from QATestLab
Related Posts:
How to Improve E-Commerce Products?[4]
Magento Testing: How to Ensure Positive Shopping Experience[5]
Is your online store ready for Christmas Rush?[6]
Endnotes:
online shop functioning: https://blog.qatestlab.com/2018/12/18/ecommerce-christmas-rush/
eCommerce testing: https://qatestlab.com/industries/e-commerce/
testing checklist: https://blog.qatestlab.com/2011/03/18/software-testing-checklist-%e2%80%93-5-steps-to-success/
How to Improve E-Commerce Products?: https://blog.qatestlab.com/2017/01/30/improve-ecommerce-products/
Magento Testing: How to Ensure Positive Shopping Experience: https://blog.qatestlab.com/2020/07/14/magento-testing/
Is your online store ready for Christmas Rush?: https://blog.qatestlab.com/2018/12/18/ecommerce-christmas-rush/
Source URL: https://blog.qatestlab.com/2019/10/08/adding-online-shop-to-bookmarks/
---