Magento for e-Commerce projects: Testing Cases from QA Engineers
by Kate Libbie | May 6, 2020 12:42 pm
Magento is one of the top-notch solutions for e-commerce products, and the reason for this is obvious. It is an open-sourced, easy-to-use, SEO-friendly, fast loading/ quick returns system for content management. To power online stores with Magento is a great choice, but to make everything run flawlessly while offering top-class customer-friendly features it is necessary to involve testing.
How do appropriate testing procedures increase the effectiveness of Magento products? What are the specific features of such testing? Today, we will share some of the insights based on the experience of our QA engineers. This article will be especially useful for all businesses that look forward to seeing a high performance of their e-commerce projects.
Magento + e-commerce: What do testers say about it?
Magento is related to CMS, or put it more simply, a site management system for online stores. Here is what QA engineers from QATestLab say about it:
What are the benefits of Magento?
"The main advantage of Magento is that it is best among other CMS optimized for online stores, as well as for their further SEO-promotion. It is pretty convenient for the administration. This is like an iPhone in the field of CMS 🙂 

It is an open-source tool written on PHP which means it can be sawn and processed for any customer request. Everything is limited only by the imagination of the customer and the skills of programmers."
– said Vitalii Shvets, Senior QA[1] engineer who is working with e-commerce products.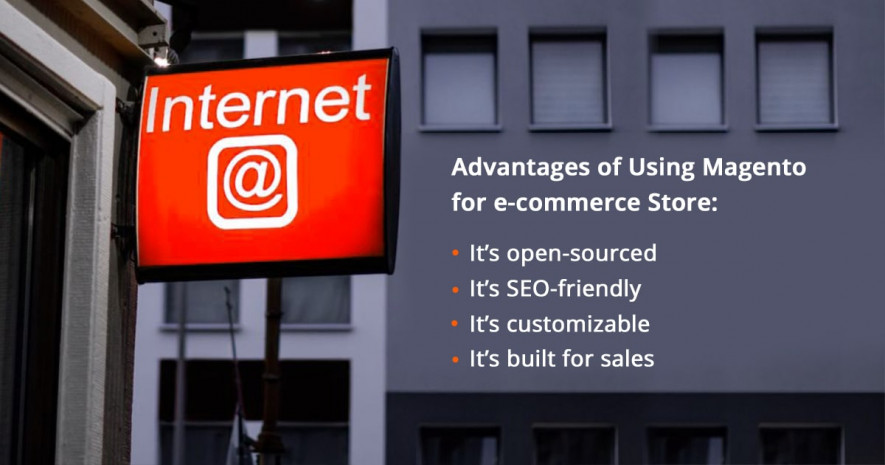 What is the key value of Magento for e-commerce?
"All in all, e-commerce is about online shopping, and accordingly, there is a great necessity for making payments transactions correctly. Magento is a good tool for this, and frankly speaking, there is no other worthy alternative for this task.  

Since it has many different plugins like for delivery, various promotions, cross-sales, etc. developed both by third-party companies or by Magento itself, there are many companies that generally create stores only on Magento."
– it is what Anna, POM for e-commerce projects, stated about Magento's value.
Why is it so important to test Magento? How to do it more effectively?
The success of Magento + e-commerce combination depends on plenty of factors, one of which is a high performance. Even accurate functional testing[2] and security testing cannot guarantee that the product will not crash during the high load (for example, before the holidays when thousands of users will simultaneously make the orders).
Performance testing[3] is an inherent part of the e-commerce product development cycle. 
This type of checking is based on the possible behavior of the end-users. For example, a person will not wait until the online-shop is fully loaded if it takes more than a few seconds. "Pffft, why it is so long!" and click on the competitors' link. – stated Anna.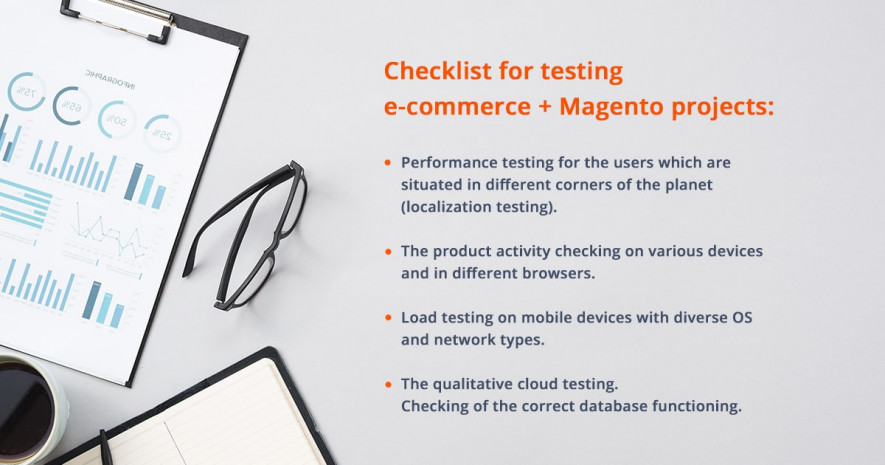 In order to prevent that, our specialists create test scenarios and execute them. The aim of this is to reveal the errors and assure that the detected bugs will be completely fixed. Here is what is necessary for this:
Performance testing for the users which are situated in different corners of the planet (localization testing).

The product activity checking on various devices and in different browsers.

Load testing on mobile devices with diverse OS and network types.

The qualitative cloud testing.

Checking of the correct database functioning.
Quality control of e-commerce products requires patience and attentiveness to the details. The rapid development of the mobile technique and OS improvement require more qualitative and deep testing.
QATestLab cases of Magento apps testing
Possessing more than 5 years' experience in Magento testing, QATestLab performs a wide range of services to assist in providing e-commerce solutions of the best quality to the end-users. Here are some vivid examples of our testing cases, and possible solution as we see it:
Case 1: A common problem is the incompatibility of mobile and web versions. For instance, not all the resources that are available in the web version can be displayed correctly for smartphone users.
How we solve the issue: To check this issue, we conduct testing on different screens and devices with different Internet connection speeds. In the case of testing a mobile version, we take into account the quality of graphics, animation, and other "burdening excesses" that made load speed for pages be higher. 
Case 2: For online stores operating on the Magento platform it is highly important to assure stable cross-browser rendering and functionality on all website pages.
How we solve the issue: To check this issue, we conduct functional testing aimed to verify the compliance of developed functions with requirements and specifications, other project documents, and users' anticipations. To ensure that a web application operates accurately across multiple browsers, we conduct cross-browser testing.
Case 3: No less important thing is to verify that everything works in accordance with product requirements and user demands, especially after fixing all the bugs.
How we solve the issue: To verify whether new problems hadn't appeared after the found bugs were fixed, we perform regression testing. In order to check the website's work under great loads, we conduct the load testing, the main aim of which is to ensure the system is able to withstand heavy potential loads and keep working without the occurrence of serious mistakes or breakdowns.
Key takeaways from our experience of testing Magento
To sum the written above up, we want to highlight the following points:
to check the website's work under great loads, it is needed load testing;

to assure stable cross-browser rendering and functionality on all website pages, it is necessary to conduct functional testing;

to ensure that web application operates accurately across multiple browsers, it is mandatory to do cross-browser testing;

to verify that everything works in accordance with product requirements and user demands, especially after fixing all the bugs, is it important to conduct regression testing;

to test solutions with current Magento versions, it is necessary to take into account the upcoming ones. 
Keeping all these things in mind, you can get the best quality of your e-commerce project build powered by Magento.
QATestLab provides testing services for e-commerce products based on Magento[4] to ensure the positive shopping experience of the web-store users in conditions of high competition on the market of e-commerce solutions and growing end-users' demands. We assist in ensuring flawless user activities that lead to sales growth.
Learn more from QATestLab
Related Posts:
8 Magento Store Mistakes That Lead to The Loss Of Profits[5]
E-Commerce Testing Checklist: Are you ready for digital transformation?[6]
How to prepare for Winter Sales[7]
Endnotes:
Senior QA: https://blog.qatestlab.com/2017/03/27/senior-qa-engineer/
functional testing: https://blog.qatestlab.com/2015/07/22/goals-functional-testing/
Performance testing: https://qatestlab.com/services/test-automation/performance-testing/
testing services for e-commerce products based on Magento: https://qatestlab.com/services/special-offer/magento-test-suite/
8 Magento Store Mistakes That Lead to The Loss Of Profits: https://blog.qatestlab.com/2021/09/08/magento-store-mistakes/
E-Commerce Testing Checklist: Are you ready for digital transformation?: https://blog.qatestlab.com/2020/06/09/e-commerce-testing-checklist/
How to prepare for Winter Sales: https://blog.qatestlab.com/2021/11/11/winter_sales_preparation/
Source URL: https://blog.qatestlab.com/2020/05/06/magento-testing-cases-from-qa-engineers/
---