How to prepare for Winter Sales
by Karolina Shevaniuk | November 11, 2021 10:34 am
Given that the number of buyers is growing every day, you need to pay attention primarily to the real capabilities of the site. The faster and more convenient it will be to use the site, the greater the influx of users it can withstand, the fewer inaccuracies there are, the more regular customers there will be after hot sales.
Every online store wants to increase its profits through turnover, get new customers who would pass by at another time, wake up "sleeping" customers who previously bought something and got lost in order to find regular customers.
Hot sales will help bring them back to the site and convince them to buy again. A typical story is selling as much in a day as online shops usually sell in a week or even a month. Remember that the traffic and the number of orders per day of the promotion will increase several times (depending on your scale). A large number of online stores are created on the ecom platform Adobe Commerce (formerly Magento). Any online shop built on this platform needs careful Magento testing[1].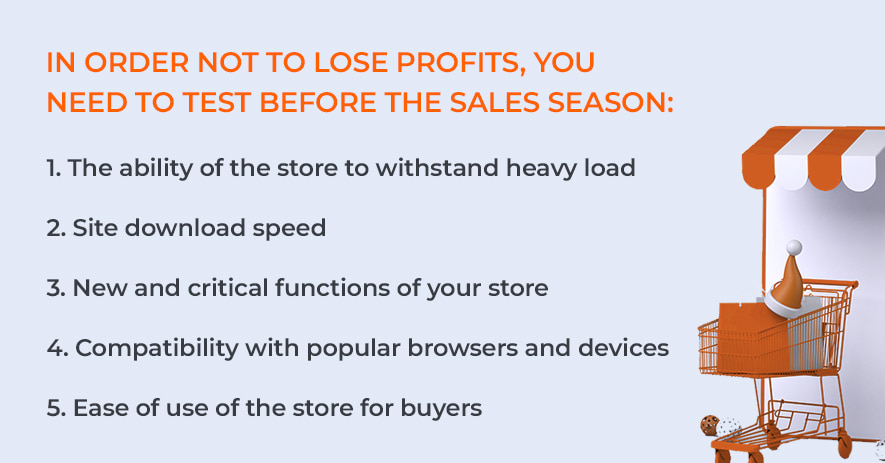 It will not be possible to prepare for such a large-scale event in two days.  Let's look at what you can do to get a customer to come to you and what you need to do to set up an online store. You need to test functionality, load, performance, API, usability, and compatibility.
Load
Prepare your site for the influx of visitors. It is very important to make sure all functions are working correctly and are ready for the increased load. If you have had problems in the last two or four weeks, it makes sense to test your platform.
Take advantage of pre-release testing. You need to test for heavy loads. So talk to testers in advance to conduct a full inspection and prepare the site for traffic growth. If the promotion is viral, a large flow of visitors can lead to the site simply "crashing."
In the days of big sales, the sites of small online stores and market giants are falling. On the day of the sale you get a unique opportunity to show yourself to a new audience. Of course, not every love happens at first sight. Therefore, it is crucial to work with those potential customers who came to you but have not yet bought anything.
Performance
Now we are talking about the loading speed of the site.  The low download speed of the site leads to the loss of a large number of customers. Buyers don't like slow speed because it makes them wait.
Functionality
Check the technical component of the online store again. The visitor will not wait long, knowing that thousands of stores are involved in big sales – the customer will leave. If you need to test your online store, then turn to professionals – they will come to the rescue and find all the inaccuracies and will be able to optimize the site.
Compatibility
It would be best if you adapted your shop to different environments. It is worth seriously thinking about adapting the store to different sizes of the screens of popular smartphones, tablets and other devices, so as not to miss a single customer.

Usability
It is crucial to pay attention to the ease of use of all features of the site.  It  should be easy for the user to find everything and intuitively understand the structure of the store. It ought to be obvious how to find the product, choose, pay or order delivery.
New functionality
Prepare appropriate mechanisms for promotions and discounts in your online store. This item is essential in cases where promotions as a feature were not provided in your online store before. For example, will discounts be displayed on the product page and in the catalog? How can a buyer see where the old price is and where the new one is? Or maybe the discount will be displayed in the cart, for example, by codeword? Is there such a feature in your store? Be sure to test all improvements, new pages, and sections, and the workability of codewords in advance, before the campaign's launch. 
Critical functionality
It would help if you had to test the critical moments for the online store: the main page, product catalog, order page,  APIs like payments and delivery. Home page testing will reveal common issues, but product pages may show query issues.  
If you still can not figure out the problems yourself or the deadlines are tight, turn to professionals who have extensive experience and will solve your problems in a reasonable time. Your e-shop will be better with testing, which will help to make a big impression on your customers and increase turnover. QATestLab has been testing online stores[3], mobile apps and e-com websites for 15+ years. Our team will be happy to help to resolve testing problems during the hot sales period.
Learn more from QATestLab
Related Posts:
8 Magento Store Mistakes That Lead to The Loss Of Profits[4]
What you should know about testing your E-learning platform[5]
Why Crowdtesting is An Important Part of Your Testing Toolkit[6]
Endnotes:
Magento testing: https://qatestlab.com/services/special-offer/magento-test-suite/?utm_source=blog&utm_medium=article&utm_campaign=winter_sales_preparation_111121
[Image]: https://qatestlab.com/industries/e-commerce/?utm_source=blog&utm_medium=article&utm_campaign=winter_sales_preparation_111121
online stores: https://qatestlab.com/resources/case-studies/e-commerce/?utm_source=blog&utm_medium=article&utm_campaign=winter_sales_preparation_111121
8 Magento Store Mistakes That Lead to The Loss Of Profits: https://blog.qatestlab.com/2021/09/08/magento-store-mistakes/
What you should know about testing your E-learning platform: https://blog.qatestlab.com/2021/05/05/e-learning-software-testing/
Why Crowdtesting is An Important Part of Your Testing Toolkit: https://blog.qatestlab.com/2020/08/27/crowdtesting-benefits/
Source URL: https://blog.qatestlab.com/2021/11/11/winter_sales_preparation/
---