How to Achieve a Balanced QA Approach in a Startup?
by Sofiia Hrynevych | November 30, 2022 12:07 pm
Many factors need to be considered when developing a startup. Common goals include retaining and increasing funding, using minimal resources while producing innovative and high-quality products, and speeding up delivery to get a head start on the competition. Some of these needs are quite hard to satisfy simultaneously. Therefore, standard service packages do not always fit startups.
According to CB Insights[1], one of the most significant reasons for startup failure is running out of funding. This highlights two things: the importance of proper budget allocation and the necessity to impress investors with a viable and highly demanded product, so it makes sense for them to continue funding the project. Effective testing is crucial to release solutions that will be easily adopted by users and will stand out in their niche. As a reliable QA provider with years of experience in helping startups achieve and maintain the great quality of their software, we would like to share some tips on setting up testing processes for such companies. Let's start with the main challenges on this path.
Most Common QA Issues in Startups
#1 Missing the big picture
It is important that the whole team working on the software development is fully aware of its technical features, the overall needs it should help end users satisfy, and the demands they will have for the product. The better you inform developers, designers, and testers of all those aspects, the better quality you will get as a result. For example, if your QA engineers have a task to perform UX or exploratory testing[2], they will be able to detect much more issues and give more insightful recommendations if they know what exactly the users will be looking for in that software solution. 
#2 Ignoring a small bug or a flaw in design
It is clear that when resources are limited, and the software is just gaining momentum, product managers usually focus on major features and fixing critical bugs. However, not paying attention to small defects, which can be quickly improved, may be a dangerous path.  Especially when users point out to them in their reviews or in feedback as they uninstall the app or unsubscribe from a service. 
Google Docs can be a great example here. At first, the team faced many challenges with adoption rates and poor user feedback related to the unpleasant writing experience. Users highlighted numerous small flaws, which could be easily ignored, as they did not influence critical functionality. Yet the developers paid close attention to them and decided to change those insignificant aspects of text editing. As a result, adoption shoot up immensely, and now Google Docs has already surpassed the classic Microsoft Word by a five-to-one ratio.
#3 Not having testing metrics
Software testing metrics are a vital tool to measure the progress, quality, and productivity of QA activities. With them in mind, testers can efficiently plan their work and integrate QA processes into the development workflow on an ongoing basis. However, there are no universal metrics that fit every testing process, so choosing the relevant ones[3] always depends on the set of goals you have for a particular QA procedure.
For example, if an objective of the testing your team sets up for the product is to build confidence in your software, then it is a great idea to use Result metrics (e.g., how many bugs were found by the users or the number of product failures). And if your main goal is to find as many defects as possible, Process metrics will come in handy (e.g., the total number of bugs or the distribution of defects by severity and priority). Whichever objective you may pursue, testing metrics will provide you with data on the current state of the product, and help you answer the questions about which of its components are the most problematic and whether your software is ready for release.
#4 Using only emulators/simulators for testing
There is no doubt that checking a product on emulators is less costly than using real devices. And in some cases, running tests on virtual devices is a great option. When the team starts testing a product early in the development, including unit checks, using emulators and simulators is a perfect fit.
On the other hand, some types of testing require checking the software in real-life scenarios. Verification on real de[4]v[5]ices[6] provides the development team with insightful information on the usability and accessibility of the product. It will also help to eliminate the risks of crashes and critical defects on those gadgets that are most often used by your specific target audience.
#5 Testing performed only by developers
Sometimes tech startups may give all QA responsibilities to their development team, as it seems to be a logical solution to minimize the budget and speed up the release. However, there are some significant drawbacks to this approach. When loaded with additional tasks of full-spectrum testing, developers simply have less time left to perform their main duties — working on new features or updating the existing ones. Now they have to divide their time and attention between looking for bugs and actually fixing them, which can affect the quality of a finished product.
A QA team, on the other hand, works in synch with developers, providing them with quick feedback after any updates. Moreover, testers bring a fresh perspective to checking the software, which means they can find unexpected bugs that could have been overlooked before.
How can a startup benefit from independent testing?
A team of independent testers can help companies deal even with the most unique and dynamic QA needs. Let's look at the advantages that such specialists can bring startups.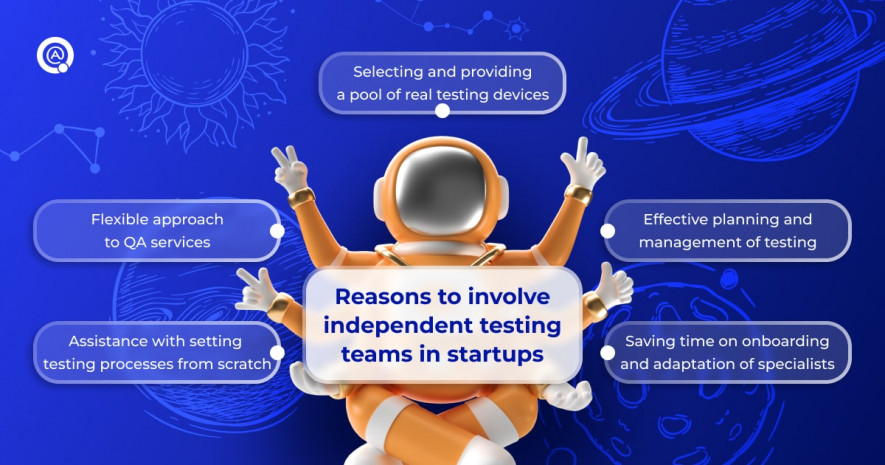 Scalable and customized QA services
At first, startups often do not have a need for a full-time QA team. Their requirements and budgets may often change, so opting for a provider with flexible service packages is a great opportunity to receive targeted resources. Independent testing teams can provide assistance for limited periods of time, exactly when your company needs it. For example, additional specialists can be involved to perform regression testing[7] and verify your product after upgrades and fixing previous bugs.
Another option is to use independent services for quick pre-release testing. In this case, QA engineers can estimate your product, define and prioritize those software aspects that need the most attention, and ensure that no critical bugs appear after the release. This will help eliminate reputational risks at minimal cost, while other defects will be fixed gradually after.
Setting testing processes from scratch
Involving an experienced team of testers at the beginning is a great way to incorporate QA into the development process and build testing infrastructure right on the first try. You will be able to make a pause in using independent services later, yet proper tools, metrics, documentation, and processes will be set up for your internal tech team.
Delegating test management to experienced specialists
When developing a startup, business executives need to focus on core priorities. Managing all the teams, selecting suitable candidates, planning their work and then monitoring separate processes may be too overwhelming. However, organizing QA workflow according to the needs of a tech startup is a big part of its future success. This is why QATestLab offers a managed testing service[8] to delegate these tasks to our QA Project Managers or QA Tech Leads. Apart from managing testing activities, our specialists can also give recommendations on making QA processes more efficient to save more resources.
Shorter onboarding and adaptation time for new specialists
Since providers of independent testing usually have quite a diverse team of QA engineers, they can select a professional with the skills and expertise to match your project. Relevant experience with similar software products plays an important role here because a new specialist will be able to adjust to a startup's testing processes much faster. This means that your team will not have to change anything to incorporate new testers, so the software release will not be delayed.
A great pool of devices at your service
A large number of real testing devices is one of the most valuable benefits a startup can get from an independent QA provider. Due to limited resources, purchasing and then constantly upgrading their own pool of gadgets is often not reasonable for startups. Yet an independent team can easily satisfy this need. For example, our pool consists of more than 350 devices, including PCs, smartphones, tablets, and VR gadgets, which we can use to help you optimize your product for different environments.

All Startups Are Born Different
They require a careful and customized approach to quality assurance, which is built with their specific needs in mind. A flexible approach to testing services allows tech startups to easily change the scope of testing, expand the QA team anytime, and target particular issues with the tools that work for them.
Our team understands the importance of adjustable QA solutions and is ready to provide them. Experienced testers from QATestLab can always prepare a free estimation of the software that the startup is working on from the QA point of view. This way, you will receive full information on which functionality should be covered first, which QA areas can wait, and how much time and budget will be required for testing. Tell us a little about your software[10], and we will be happy to discuss practical ways that effective testing can help you build an excellent reputation for your startup.
Learn more from QATestLab
Related Posts:
Effective Tips for Working with a Remote QA Team[11]
Testing of MVP: What Is the Benefit for Startups?[12]
Web and Desktop Testing: Key Differences Between Them[13]
Endnotes:
CB Insights: https://www.cbinsights.com/research/startup-failure-reasons-top/
exploratory testing: https://blog.qatestlab.com/2020/07/21/exploratory-testing/?utm_source=blog&utm_medium=article&utm_campaign=qa-for-startups-30112022
choosing the relevant ones: https://blog.qatestlab.com/2019/09/12/top-testing-metrics/?utm_source=blog&utm_medium=article&utm_campaign=qa-for-startups-30112022
Verification on real de: https://qatestlab.com/services/manual-testing/compatibility-testing/?utm_source=blog&utm_medium=article&utm_campaign=qa-for-startups-30112022
v: https://qatestlab.com/services/manual-testing/compatibility-testing/?utm_source=blog&utm_medium=article&utm_campaign=qa-for-startups-30112022
ices: https://qatestlab.com/services/manual-testing/compatibility-testing/?utm_source=blog&utm_medium=article&utm_campaign=qa-for-startups-30112022
regression testing: https://qatestlab.com/services/manual-testing/regression-testing/?utm_source=blog&utm_medium=article&utm_campaign=qa-for-startups-30112022
managed testing service: https://qatestlab.com/services/managed-testing/?utm_source=blog&utm_medium=article&utm_campaign=qa-for-startups-30112022
[Image]: https://qatestlab.com/?utm_source=blog&utm_medium=article&utm_campaign=qa-for-startups-30112022
Tell us a little about your software: https://qatestlab.com/request-a-quote/?utm_source=blog&utm_medium=article&utm_campaign=qa-for-startups-30112022
Effective Tips for Working with a Remote QA Team: https://blog.qatestlab.com/2022/12/21/remote-qa-team/
Testing of MVP: What Is the Benefit for Startups?: https://blog.qatestlab.com/2022/10/12/testing-of-mvp/
Web and Desktop Testing: Key Differences Between Them: https://blog.qatestlab.com/2023/11/02/web-and-desktop-testing-key-differences-between/
Source URL: https://blog.qatestlab.com/2022/11/30/qa-for-startups/
---