Is Your E-commerce Ready for Black Friday & Cyber Monday? Let's Check!
by Mariia Furta | October 18, 2023 11:29 am
As the holiday season approaches, e-commerce businesses eagerly prepare for one of the most significant shopping events of the year – Black Friday. Shoppers are poised to flood online stores in search of deals and discounts, making it essential for e-commerce websites and applications to function flawlessly.
To ensure a successful Black Friday & Cyber Monday season and beyond, rigorous e-commerce software testing[1] is paramount. We asked our QA specialists what are the top areas to check before Black Friday to make the big sale season as smooth as possible without spending much time and resources on testing.
Make sure you save this list and keep it to be prepared for this and next sales season.
Key Areas to Test Before Black Friday
Testing e-commerce software before Black Friday requires a comprehensive approach to ensure a seamless shopping experience for customers during the busiest shopping event of the year.
In QATestLab, a project manager is assigned to each client, guiding the teams during the test planning process. This includes determining what aspects of an app or website to test, which testing methodology is best suited, and which testing devices or configurations are most relevant for the campaign.
In preparation for the holiday season, we test e-commerce software in the following key areas.
Usability Testing
Usability testing[2] allows teams to identify defects that may prevent customers of your e-commerce website from using it effectively and getting the desired results. Such issues may include confusing navigation, inconsistent logic, unclear instructions, slow loading speed, broken links, etc.
To verify that your online store meets user expectations, our team follows two approaches for usability testing: qualitative methodology to detect bugs in product design and quantitative testing to check the consequences of changes and product redesign.
Easy browsing, user-friendly navigation, and a handy catalog ― all of these help cut down the time to figure out how the app works and increase the customer convention rate by 200%.[3]
Comprehensive usability testing helps to analyze user behavior, experience, flow, and navigation, as well as assess the usability of features and overall user satisfaction. It is a crucial stage of QA activities that leads to creating a profitable e-commerce site.
Read more: Don't Lose Sales: The Importance of User-Friendly and Accessible Design for an Online Store[4]
Performance Testing
Performance testing[5] is undoubtedly the most critical aspect of e-commerce testing. It involves assessing how well your website or application performs under heavy traffic. This includes the following checks:
Load Testing
With higher traffic on Black Friday, it is essential to test your site's and app's ability to handle a higher level of traffic. Using your existing traffic data, we establish a baseline for a load test to assess how much traffic can be handled before the platform's performance declines and/or crashes.
During load testing, we simulate high levels of traffic to ensure your system can handle the increased load without slowing down or breaking.
Stress Testing
Stress tests can identify bottlenecks and predict measures to prepare for extraordinary events in a short amount of time. Through a preliminary analysis of your online shop, our testers will create a suitable load to stress your system as realistically as possible.
In this way, you will be able to actually simulate, hour by hour, what happens during Black Friday and analyze the behavior of all system components by acting jointly with the monitoring already available to you.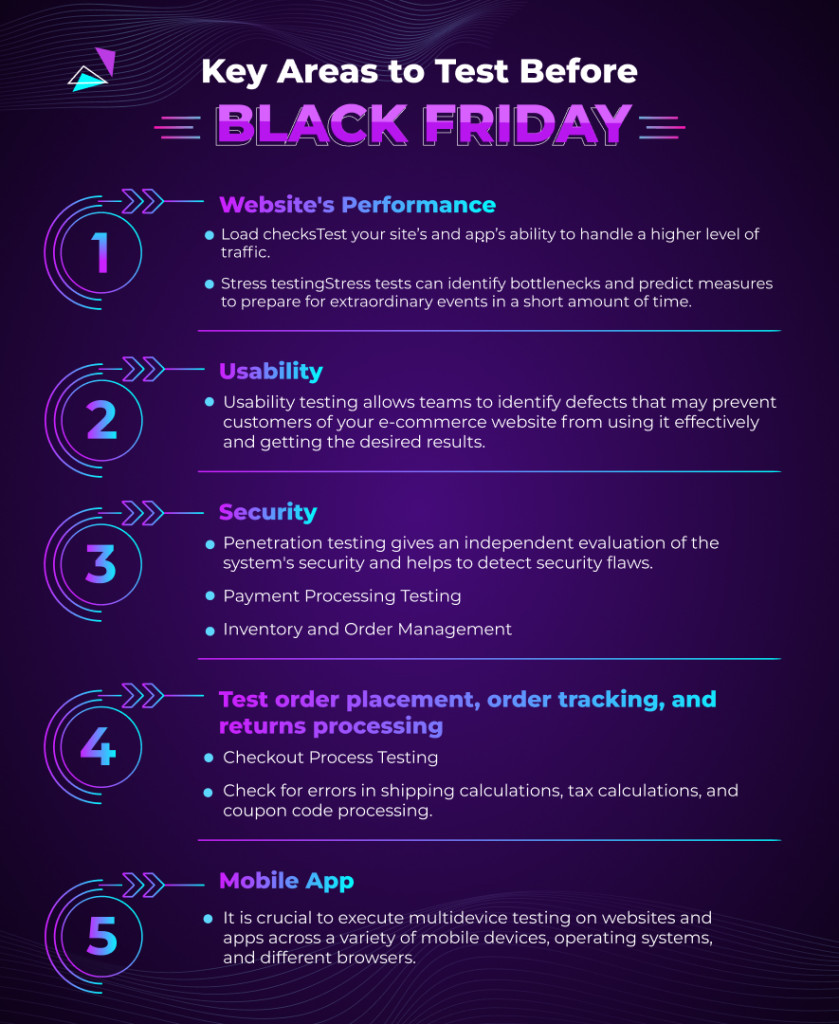 Mobile App Testing
Today, more and more people are shopping online using their mobile devices. As a result, it is crucial to execute multidevice testing on websites and apps across a variety of mobile devices, operating systems, and different browsers.
Having a large test coverage is key to uncovering any bugs or problems that can be traced to the fragmentation of the smartphone market. Multidevice testing is the best way to ensure that your site or app appears and performs as expected for the greatest number of shoppers.
With over 350 real devices in our lab, we will test your website or app on various devices and screen sizes to ensure it looks and functions properly on smartphones and tablets.

Security Testing
Protecting customer data is paramount. During security testing, we conduct checks to identify and fix vulnerabilities, including:
Penetration Testing
Penetration testing [7]gives an independent evaluation of the system's security and helps to detect security vulnerabilities. As a result of having pen tests executed, our customers receive a real picture of the protection level of their software and get an opportunity to remove privacy issues.
Payment Processing Testing
Payment processing testing helps avoid transaction errors and secure financial data. This includes testing various payment methods, billing processes, and order confirmation.
Inventory and Order Management
Inventory and order management testing ensures that inventory levels are accurate and orders are processed smoothly. We thoroughly test order placement, order tracking, and returns processing.
Checkout Process Testing
During checkout process testing, our testers evaluate the entire checkout process for any issues or friction points that might deter customers. We check for errors in shipping calculations, tax calculations, and coupon code processing.
Test Automation
Automating testing[8] of the primary features your customers interact with can be beneficial for your online shop not just before Black Friday but in the long term as well.
Firstly, it can enhance the development process and decrease the time required for it. Secondly, this can lead to improved website functionality, resulting in higher quality. From a business perspective, it can increase the success of your e-commerce solution.
Other positive side effects include:
improving the conversion rating;
better customers' feedback and rating;
enhanced user experience and satisfaction rate;
faster time-to-market;
cost savings;
scalability;
increased efficiency.
So, Is It Worth the Effort Testing before Black Friday?
You've probably guessed that our answer is YES. It is worth the effort. Black Friday is a high-stakes event that can make or break a year's profits. To ensure a successful and stress-free Black Friday season, e-commerce businesses must prioritize comprehensive software testing.
By maintaining customer trust, preventing revenue loss, optimizing user experience, identifying security vulnerabilities, preparing for peak traffic, and streamlining operations, e-commerce companies can position themselves for success during the holiday shopping rush and throughout the year.
Don't leave your Black Friday success to chance – schedule a consultation for comprehensive software testing[9] for rigorous e-commerce software testing and reap the rewards of a seamless shopping experience for your customers.
Learn more from QATestLab
Related Posts:
A Brief Guide to E-commerce Testing Process[10]
Real Cases with E-commerce Platforms Where Software Testing Made a Difference[11]
Top 7 e-Commerce Industry Trends in 2022[12]
Endnotes:
e-commerce software testing: https://qatestlab.com/industries/e-commerce/?utm_source=blog&utm_medium=article&utm_campaign=black-friday-testing-18102023
Usability testing: https://qatestlab.com/services/manual-testing/ux-usability-testing/?utm_source=blog&utm_medium=article&utm_campaign=black-friday-testing-18102023
200%.: https://financesonline.com/web-ux-design-statistics/
Don't Lose Sales: The Importance of User-Friendly and Accessible Design for an Online Store: https://blog.qatestlab.com/2023/03/22/usability-accessability-of-online-store/?utm_source=blog&utm_medium=article&utm_campaign=black-friday-testing-18102023
Performance testing: https://qatestlab.com/services/test-automation/performance-testing/?utm_source=blog&utm_medium=article&utm_campaign=black-friday-testing-18102023
[Image]: https://qatestlab.com/request-a-quote/?utm_source=blog&utm_medium=article&utm_campaign=black-friday-testing-18102023
Penetration testing : https://qatestlab.com/services/test-automation/penetration-testing/%20?utm_source=blog&utm_medium=article&utm_campaign=black-friday-testing-18102023
Automating testing: https://qatestlab.com/services/test-automation/?utm_source=blog&utm_medium=article&utm_campaign=black-friday-testing-18102023
schedule a consultation for comprehensive software testing: https://qatestlab.com/company/contact-us/?utm_source=blog&utm_medium=article&utm_campaign=black-friday-testing-18102023
A Brief Guide to E-commerce Testing Process: https://blog.qatestlab.com/2023/08/16/e-commerce-testing-checklist-2/
Real Cases with E-commerce Platforms Where Software Testing Made a Difference: https://blog.qatestlab.com/2022/02/18/ecommerce-testing-cases/
Top 7 e-Commerce Industry Trends in 2022: https://blog.qatestlab.com/2022/02/14/ecommerce-trends-2022/
Source URL: https://blog.qatestlab.com/2023/10/18/is-your-e-commerce-ready-for-black-friday-and-cyber-monday/
---