What is PSD2 (Payment Service Directive 2) about?
What is PSD2 (Payment Service Directive 2) about?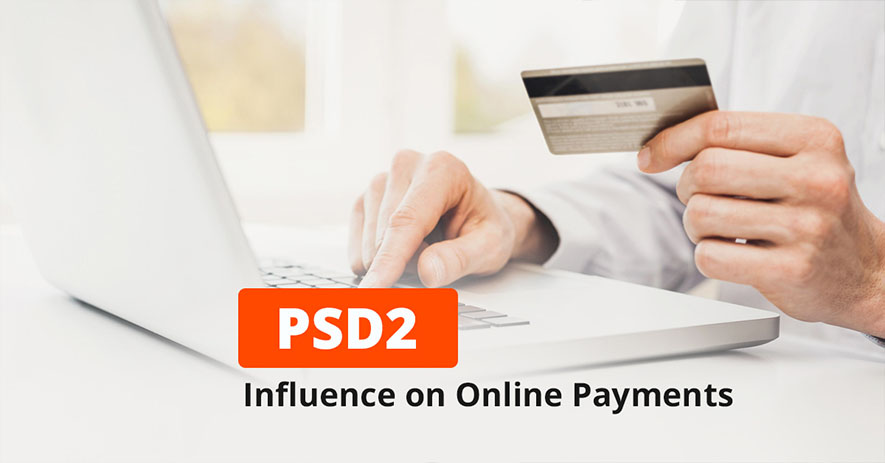 The processing of online payments will be greatly influenced by the Payment Services Directive 2 (PSD2) adopted by countries of the European Union. This document is an addition to the directive of 2007 that regulates payments between the EU states. In this article, we will review the main principles of PSD2 and see how it is going to affect online payments in the world.
Basic points of Payment Service Directive 2
This document is created by the EU commission to improve the online payments market and make online transactions safer through payment revision. The directive is a supplement to the document of 2007 and consists of about ten chapters that became a headache for banks and a joy for payment systems. Why? Let's see where it is coming from.
It all started with companies of the payment processing industry like PayPal. Here how the process looks like: you register on the PayPal website, it, in turn, picks up your credit card, withdraws money from it when necessary, accumulates them in its accounts, and then ships the entire amount of money to the account of the online store. Thus, your credit card remains safe, the online store saves money, which means you save money. It seems convenient for everyone.
But… Isn't the store losing the clients who do not have credit cards or do not want to make them for the sake of a single-time purchase?
And here the companies, that are most interested in PSD2 go on stage. They process payments using your bank account, not credit cards. Now you do not need any credit card, you do not need any PayPal, you do not even need to make any transfers. You simply enter your username and password on the store's website, and the third-party companies will do the rest for you.
3 main areas influenced by PSD2:
Broadening of customers' rights (complaints processing, explicit surcharging, new rules for currency converting).
Increasing the level of security via Strong Customer Authentification (SCA).
Involvement of the third-party services for new opportunities in online payments.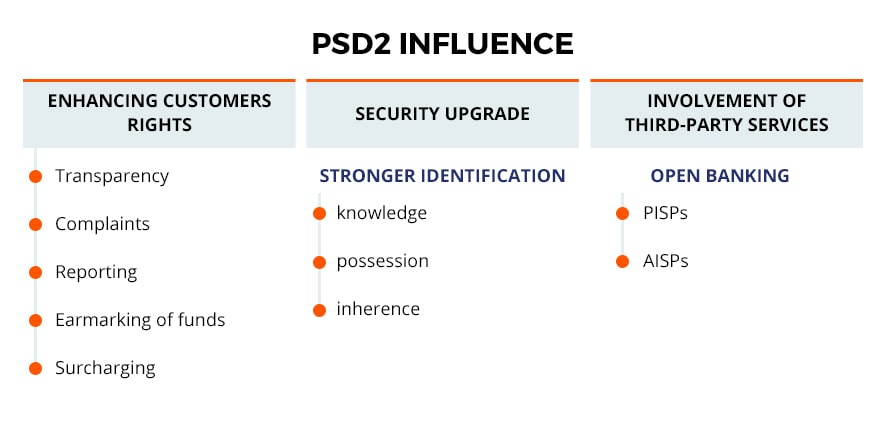 Let's watch the details and investigate what is so good and maybe bad in the Payment Service Directive 2.
Pluses and minuses of PSD2
The first plus is that security has grown significantly. Now payment systems do not invent bicycles, and do not interact with the diverse bank APIs, but connect to more or less standardized APIs.
To make a payment, customers should provide 2 ID forms choosing from:
the unique information they possess (PIN, password,etc.);
some physical object they are the only to have (phone, credit card, etc.);
some unique confirmation (fingerprint, voice/face confirmation, etc.).
As for customers' rights, the whole process of the online transaction becomes more clear with visible information on terms and conditions. If there are any complaints from customers, the payment service should respond to them (and further report the incident to the correspondent EU services) within the 15-day term. One more important change is the prohibition of surcharges for definite transactions (pre-payments, commercial operations in some countries, etc.).
Another plus of PSD2 is the engagement of third-party services that make open banking possible. Here banks should provide APIs for payment providers so that they could build a more convenient service. These providers are divided into two groups: Account Information Service Providers and Payment Initiation Service Providers.
Now, let's consider minuses of implementing PSD2.
The directive is accepted, but the API, needed to start the process, is still missing. The initial deadline to configure the process was September 2019. Nevertheless, the European Banking Authority (EBA) claimed that banks need additional time to prepare and set up the process of cooperation with third-party providers.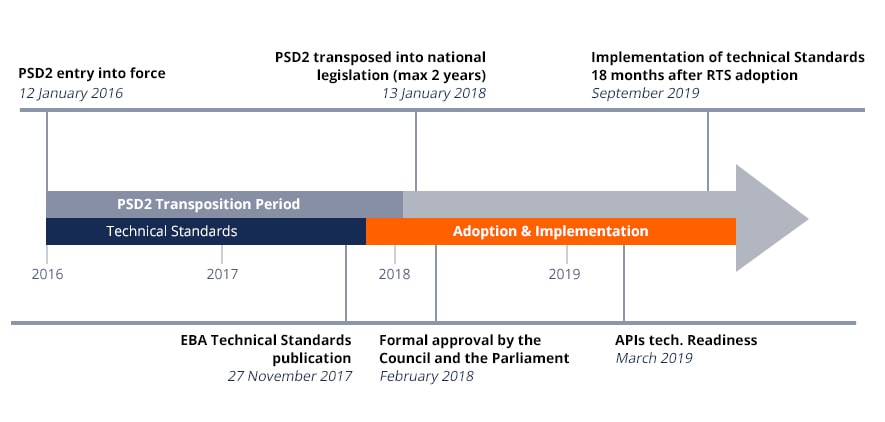 There is also an opinion that PSD2 can badly affect the established process of online payments (sure, who likes changes, especially when they may influence your business, not in a positive way). They say that double authentification may reduce the clients' flaw. Nevertheless, when it comes to the client's security and the transparency of payments, there is no room for a compromise.
How Payment Service Directive 2 will affect the market
There are no doubts that the implementation of PSD2 will influence all key market players: banks, payment service providers, and surely customers. The market of online payments promises to become more transparent and accessible to the wider public.
As for the world market, experts say that the adoption of this directive in the European Union will definitely impact other regions. There are concerns that fraud can increase in the regions that are not subjected to PSD2. This means that countries beyond the EU should prepare strong protection against fraud connected with 'card-not-present' (CNP) payments.
To sum it all up, PSD2 will make changes to the existing process of the online payment transaction in the EU and probably will become a trigger for the adoption of similar changes in the whole world.
Clients come first, and this shared API access must be professionally tested to reveal possible security leaks and prevent fraud. Service of professional quality assurance and software testing is solid support in testing banking operations, especially if they should correspond to the legal norms. If this article on QATestlab blog was useful for you, subscribe for more trends and advice.
Learn more from QATestLab
Related Posts:
Article "tagged" as:
Categories: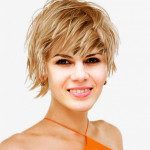 Emma Dallas
has 3-year experience in blogging, technical writing, and copywriting.
View More Articles