Risks & Testing Standards for iGaming Solutions
Risks & Testing Standards for iGaming Solutions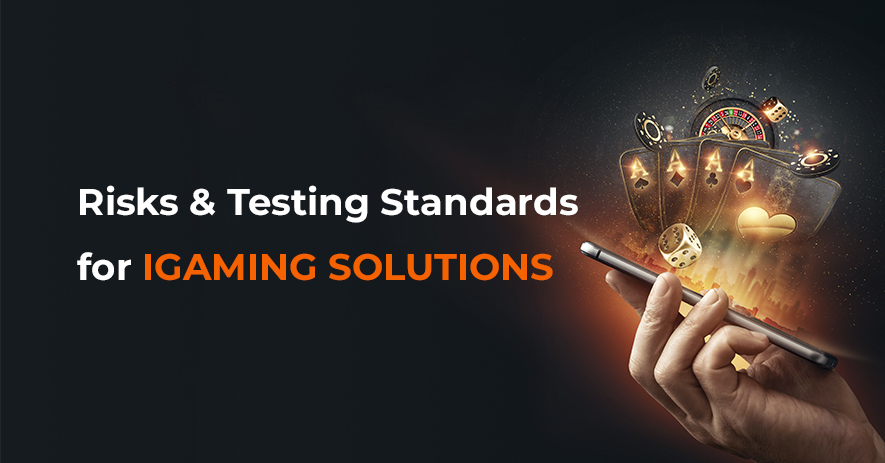 Despite being considered a product for entertaining users, iGaming software deals with an extremely sensitive subject: their money. New features need to be delivered fast, but quality remains the main concern. Here's our guide to iGaming QA for development teams striving to deliver flawless solutions.
iGaming: profitable, demanding, and increasingly innovative
Before we get into the weeds here, let's take a quick look at the iGaming industry from up high – and talk about what technology it involves, and how it's changing.
iGaming is a large vertical that includes various forms of online games based on gambling or betting. Online slot machines, live casino table games, sports betting, etc. – all fall under the term iGaming.
The last 15 years or so has seen the emergence of iGaming as one of the fastest-growing industries in the world (its worth is set to grow to about $134.5 billion by 2027, according to Transparency Market Research). Part of the reason for this growth is the fast-paced rate of tech advancements.
VR/AR, cloud-based gaming, AI, blockchain, and mobile gaming are some of the top trends that are rising in popularity within the gaming community, while website availability and performance on portable devices already affect conversion rates.
Why are iGaming market players so eager to innovate? First of all, there is always competition for user retention. The second reason is cash flow. Big companies have enough funds to invest in product development and improvement.
In terms of technology, iGaming is quite similar to other solutions. For example, sports betting software is comparable to trading platforms. There are high-quality standards for backend development that should sustain huge data streams, numerous users connected via desktops and mobile devices, the need to constantly optimize the data flow, etc.
General risks iGaming solutions face and how to deal with them
Above all else, iGaming businesses compete over one thing: user satisfaction.
Even if the pandemic has taken this industry to the next level – despite the widespread economic disruption – iGaming entrepreneurs still need to keep pace with the fierce competition and stay two steps ahead of what their users are accustomed to.
Today, iGaming market leaders fully recognize the need for high quality and reliability of the solutions they offer, which are crucial for them to stay on top of the game.
From a QA point of view then, there are a couple of risks that should be addressed with the relevant testing activities: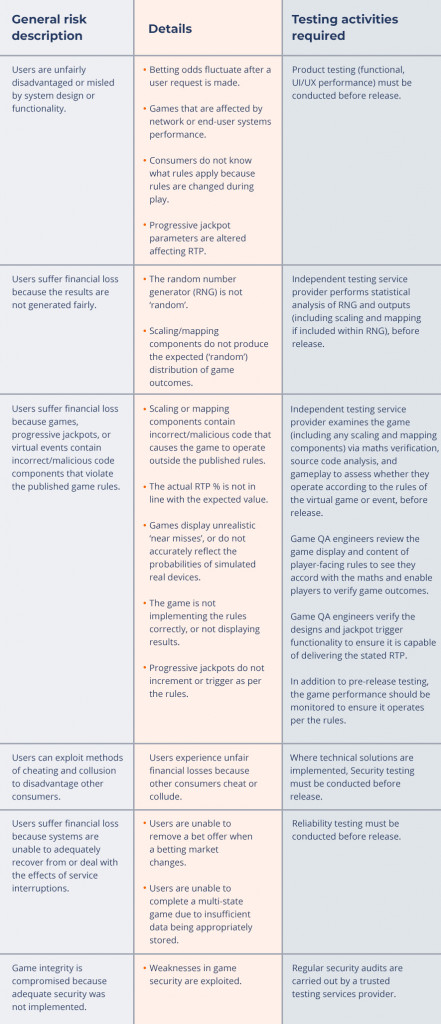 The surefire testing combination for iGaming solutions
1. Functional testing
It's important to test key aspects of the product functionality – including the installation process, purchases, settings – to ensure that it operates according to the requirements. 
What users want from an iGaming solution is assurance that RNGs are truly random, the games are running independently from the device, and all users who contribute to a jackpot have a chance of winning it.
Due to the specifics of iGaming, fixing what may seem like a minor bug can deliver huge returns and prevent equally huge issues. 
2. UI/UX testing
Finding the most efficient ways of directing users to the objective – whether it's registering, placing a bet, or making a deposit – is essential for commercial success.
The approach that's proven successful for achieving this goal is assumption-free UI/UX testing that covers classic and atypical user scenarios. It aims to analyze and provide improvement recommendations on user experience, which in turn should bring an increase in conversions (from visitors to FTDs).
3. Performance testing
Finally, it never hurts to test the product's overall performance under real-time scenarios and load. As software becomes more feature-rich and runs across different platforms, the complexity of managing performance is also growing. 
Performance testing can help navigate these challenges – graphic performance, processor & memory constraints, network connectivity, battery consumption, and response time are some of the parameters covered.
Testing standards and best practices
 Testing process:
Development and testing environments should be logically separated.
Product development and testing should be performed by separate professionals (in agile development, testing staff may be within the same team as developers testing iteratively alongside them).
An independent assessment of the product should be conducted to provide an assumption-free view of the product.
All game and critical system changes should be documented and tested adequately. The change documentation must record:
unique change ID
game number/RNG identifier
delivery channel(s)
description of change
confirmation they have been tested

 How can I achieve quality for my iGaming solution?
Testing of iGaming software is a complicated process. It is quite difficult for a non-tester to determine the depth of test coverage, frequency, critical areas, required testing types, and manage risks associated with potential system failure.
That is why many development teams choose to appoint a trusted software testing provider to conduct the necessary defect management procedures. 
If you need help with your iGaming solution, we'd love to hear from you. Get in touch here, to talk to a member of our team. We have the necessary resources, expertise, and devices to help you make your product a success. 
Learn more from QATestLab
Related Posts: