What is Zombie Testing?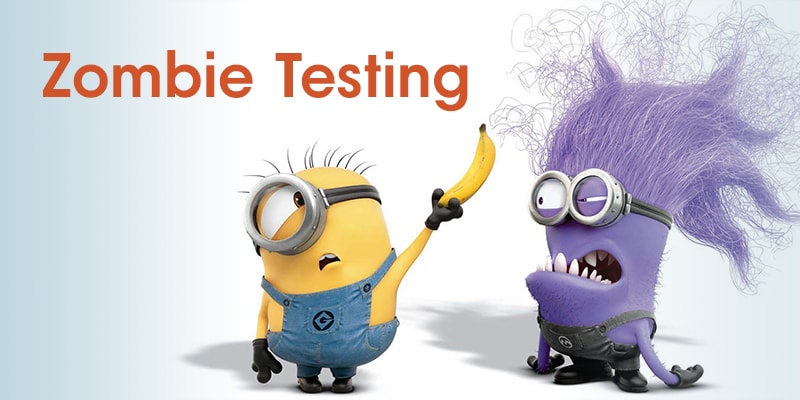 Note: This article was updated in November 2020.
"Zombie testing" is a routine test execution using predetermined patterns and methods. In software testing, zombies are mostly concentrated on fulfilling their reports and documentation rather than finding tricky bugs. They perform automated step-by-step operations every day and usually do not realize that they have already turned into zombie testers.
Today we will present some common zombie features so you could easily identify zombies among other testers.
Zombies don't analyze requirements and bugs
Zombies test software according to the predetermined requirements and don't really care whether they are relevant or not. The most important for them is to cover all necessary test cases and report all the defects. They do not want to analyze bugs and possible causes of their appearance.
Zombies never share their ideas and hunches with managers or developers. They think that their work lies in pure test execution, and they are completely satisfied with it.
Zombies adhere to traditional testing methods
Zombie testers see no reason to change established methods if they still work. They do not try to find alternatives or more efficient tools. Moreover, they would protect established methods as passionately as possible and withstand all other testers who try to change radically the processes they are accustomed to.
Zombies never contradict or question the opinions of authority figures
In the eyes of zombie testers, developers are gods who know everything about the code. So, if a developer decides something, it means that it is a perfect way to implement this or that functionality. Even if a zombie tester has some doubts, he prefers to dump them as soon as they appear.
The same with Senior Testers. How can a zombie tester dare to question the opinion of a more experienced colleague? Why would he do that? Senior Tester has executed so many tests that he probably knows all the answers. This thought is always in the zombie's head, and he fears expressing his own ideas.
When it comes to guru testers who write books, zombie testers accept their opinion like ultimate truth as well, forgetting about the ever-changing digital world. The ideas mentioned in books, maybe not relevant anymore. But zombies do not think about it.
They idealize automated testing
Once a script is written, a zombie has time to turn off the thinking and observe the flow of tests being executed. Somehow, it is similar to watching TV. Each test that comes up with the "passed" status comforts a zombie and brings a kind of relief. There is no motivation to check something manually or examine this or that functionality more deeply. Zombie testers do not like to question the integrity of automated testing and usually try not to perform more actions than clicking a button to launch the script.
They see the goal in making a perfect documentation
Zombie testers are really proud of the rigorous reports they have made. They consider them as the main outcomes of the work done. They pay attention to every word they have written, and they are waiting for the praise. But managers care not only about the documentation. They appreciate more the bugs found, as it is a key purpose of a tester.
Conclusion
Zombie testers are all around us. Some of them were excited about quality assurance initially, but later they lost their motivation and concentrated purely on test execution. Some were assimilated into the environment of other zombie testers. Some of them just got tired to withstand established methods and look for innovative techniques. The good point is that there is always a way back. Every zombie tester can turn into a real one. It is just a question of motivation and inspiration
Learn more from QATestLab
Related Posts:
Article "tagged" as:
Categories: