Top Android Devices to choose for Testing Apps in 2019
Top Android Devices to choose for Testing Apps in 2019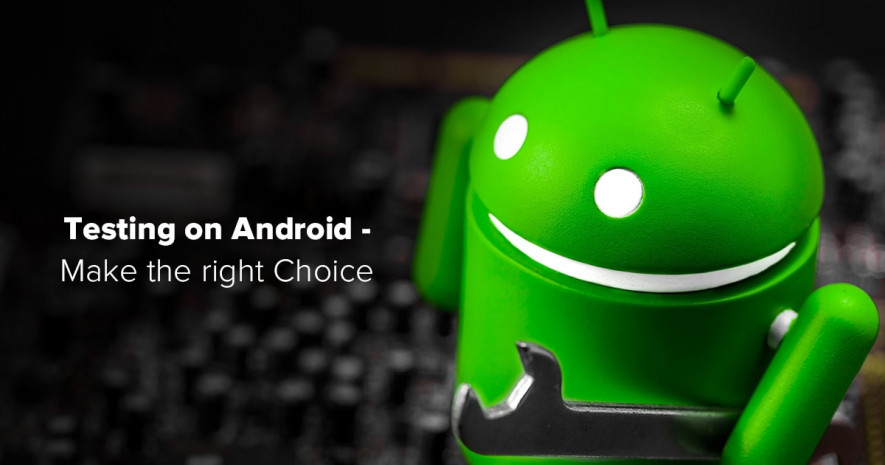 Fights and arguments about operational systems are still on. They look to be infinity but not chill. Android is a pretty strong competitor in this raise to be the best. This article holds proofs and statistics that could be useful for Quality Assurance engineers to keep aware of the results in the struggle between OSs. Specialists of this sphere should be aware of all trends and reasons for developers' choices. So we at QATestLab decided to help you with it.
How Many People Have Got Devices on Android?
A lot. Look around and you will definitely see Androids. They are everywhere! How does it happen? Well, here we got the analysis of different markets because it's very important for quality assurance to test on devices that increase in population. Since QATestLab has been testing mobile products for more than 12 years, we would like to share with you the infographic about how devices and OS market share.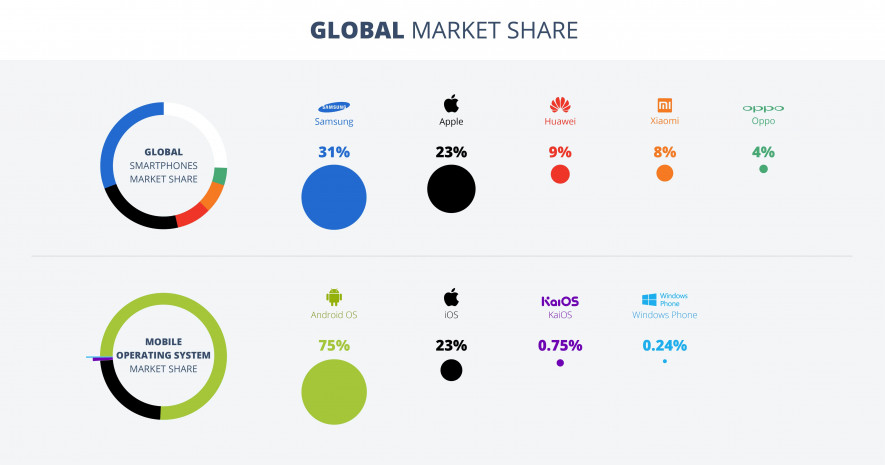 What are Android good sides?
Usually, customers choose the gadget according to the catalog of its functional criteria. It's the reason why people decided to choose this operating system. It's easy and convenient to set up all the settings up to them. The importance of understanding users is always on point. So, here's a list of functions of Android that makes it lead the market:
Customization
Widgets
Multitasking
Custom ROM
Google Integration
Popular Devices in Europe
This market got some similarities with the Asian one. Still, it got its own taste of the hardware and the software preferences. Nevertheless, the infographic shows the superiority of Android.
Users of this region are welcoming various brands and all operational systems. Customers of Europe employ existing trends more than do the new ones. Researches show that in priority, people do browsing from the Samsung phones more than from others.
However, there is a healthy competition of gadgets from other brands.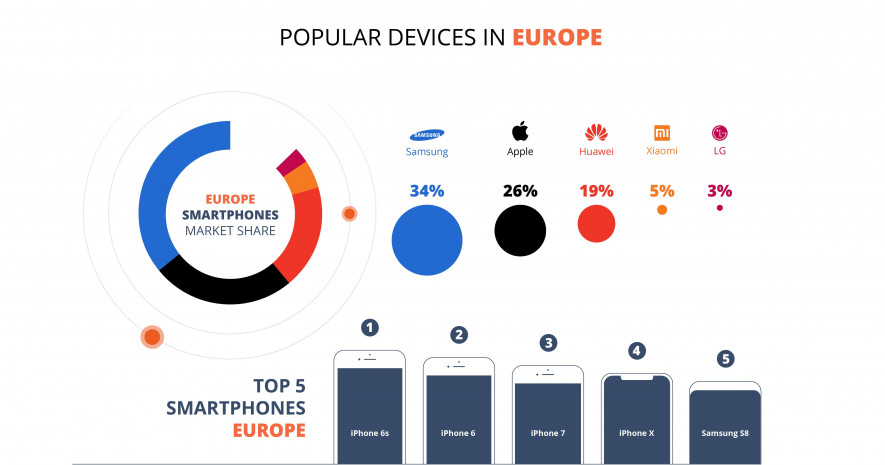 Popular Devices in North America
For many years this market was stuck with Apple's devices. But still, today's infographic shows that more than half of users choose to literally live by the slogan and think different.
The good thing about this market is an opportunity to predict. Research shows that in 2021, 86% of users with the Internet connection will turn into 88%.
Talking about devices: in comparison to the 2016 statistics of 2.8 billion networked gadgets, in 2021, their number will increase to 4.8 billion. One of the effects will be the growth of peak Internet traffic.
Nowadays, research shows that gadgets and the Internet are pies and apples in the world of technologies. Yes, you can eat pie without apples, but why? Pies without apples are dry, and phones without the Internet are useless.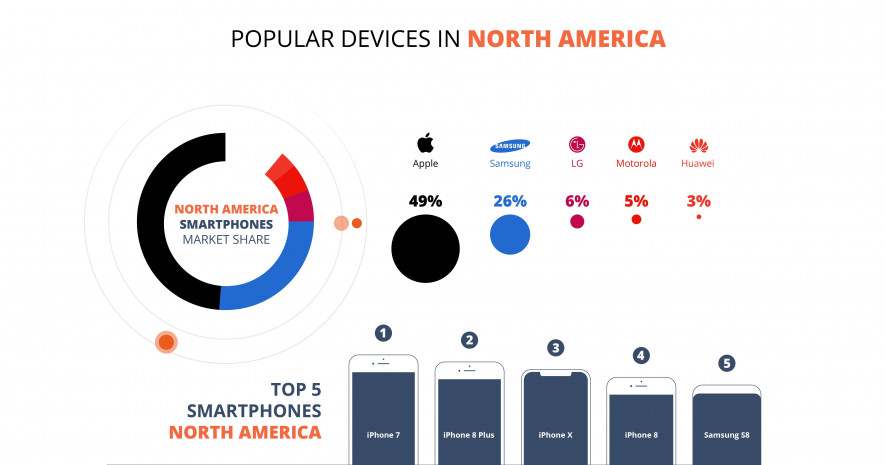 Popular Devices in Asia
It is a region of trends adoring and inventing, as Asia users aren't afraid to try different brands. As you can see, they are on android OS in the majority.
To get closer to Asian trends, let's analyze two giant manufactory countries: China and South Korea.
China is filling the market of devices with extraordinary speed since 2017. And now, they are just harvesting of their success by making things trendy. For example, their love for AI that is shared on all their new mobile devices now.
So, how to choose devices for testing? Do they have to be new? How many devices are needed, 1 or 5? We at QATestLab got the answers to all these questions.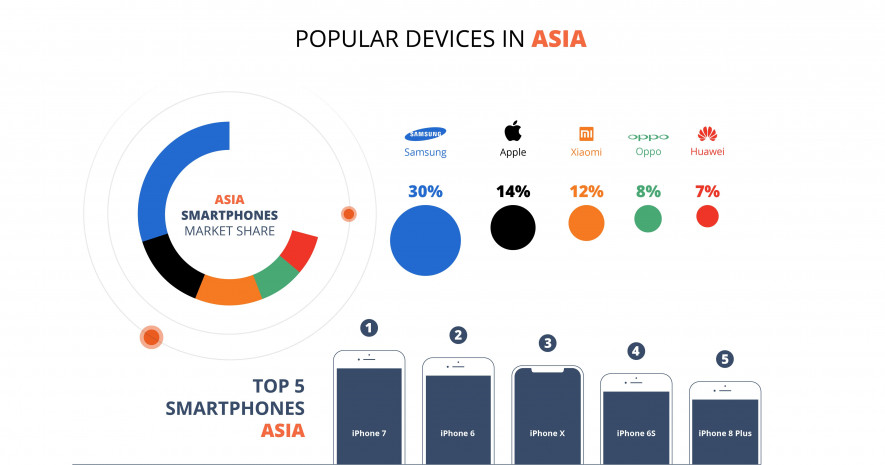 Devices of all generations
It's important to follow the trends but never forget about users with old versions of Android. That's why we got 106 smartphones and 28 tablets on Android versions from Android 4.0 to Android 9.0.
On our working desks, you can find such brands as Samsung (62), Nexus (21), HTC (11), LG (10), Sony (10), Huawei (5), Google Pixel (4), Xiaomi (3), Lenovo (2), Meizu (2), Tecno (1), Viva (1).
Popular Families of Processor Architecture
We want you to remember important features for proper apps testing: different screen sizes (ours are 3,5" – 10,1") with different quality of the picture on it: Full HD (1080 x 1920), QuadHD (1440 x 2560), qHD (9540 x 960), HD (720 x 1280) and others. Processor architecture, for example, Intel Atom, ARM Cortex, Samsung Exynos, Mediatek, Qualcomm Krait, HiSilicon Kirin and others.
Choosing the Device for Testing: How to Make It Easier?
To make sure your decision is correct, do your research along with analysis of the market. Choose at least 20 different devices for the app's testing and stick to your testing strategy. Keep in mind: users are diversities. And keep in mind these criteria when you choose a mobile gadget for the testing: Processor, Call Quality, Battery Life.
Also, we highly recommend taking note of this article's tips and don't forget about the analysis of users' preferences. Furthermore, don't surround yourself with trends: target demographic, and testing on older devices are substantial for a great app testing!
So What Devices to Choose for Testing Apps?
While testing apps on Android, be ready to study the market of the region and test on devices of different brands. Working with the North American market will bring you such devices as Samsung, LG, Motorola, and Huawei. The Asian market has more diversity, so you are adding to this list Xiaomi and Oppo. And the European market would like it all.
We hope that our hints were useful to you! To know more, subscribe to our blog.
Learn more from QATestLab
Related Posts:
Article "tagged" as:
Categories: