A/B Testing for Magento-based Apps: Optimizing Online Shopping Experience
A/B Testing for Magento-based Apps: Optimizing Online Shopping Experience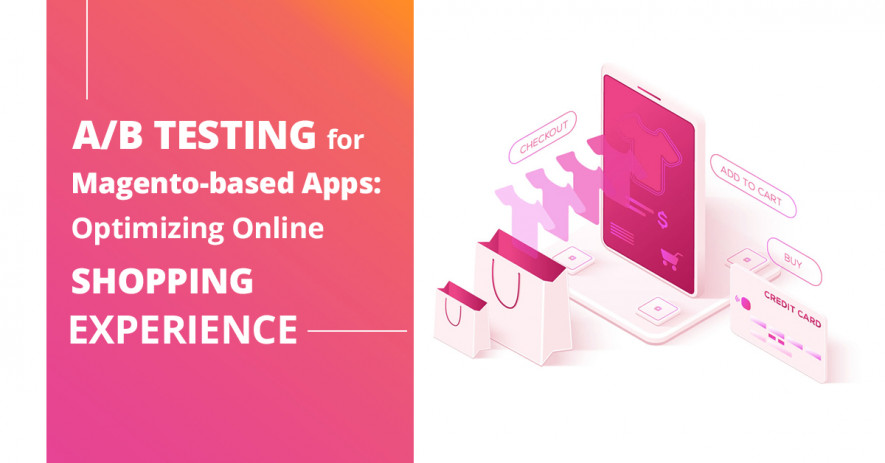 Even though the majority of people have switched their preferences from traditional to online stores, they still crave illuminated showcases and an all-inclusive shopping experience. That said, the website interface, content, and every other feature à propos to ensure UX delight are crucial to making them make a purchase again.
Is your website appealing enough to bring conversions and generate revenue? A/B testing is the solution. A/B test your Magento store to create the power combo and harness the potential of each website element. But first, let's find out what it is all about.
What is Magento?
Magento is a highly customizable e-commerce platform that provides a large number of features out of the box. It is scalable, flexible, and secure, allowing for seamless customization and employing best practices to maintain a safe online storefront.
Digital entrepreneurs choose Magento for a comprehensive set of available features, including product inventory, shopping cart, support for various payment and shipment options, easy content management, localization, and much more. On the other hand, developers appreciate the full set of development-related features.
What is A/B Testing?
A/B testing is critical to website optimization. It requires putting versions of something in the same environment, and empirically comparing them to find the one with the best performance. Each user sees one of two versions and chooses what they prefer. The ultimate goal is to test all the webpage elements to create the perfect one with the highest conversion rate.
We test A/B test Magento stores to study customers' preferences, improve the KPIs, and try different SEO practices. While inaction is safe yet builds nothing, employ A/B testing as a continuous practice to get a better understanding of what needs to be changed.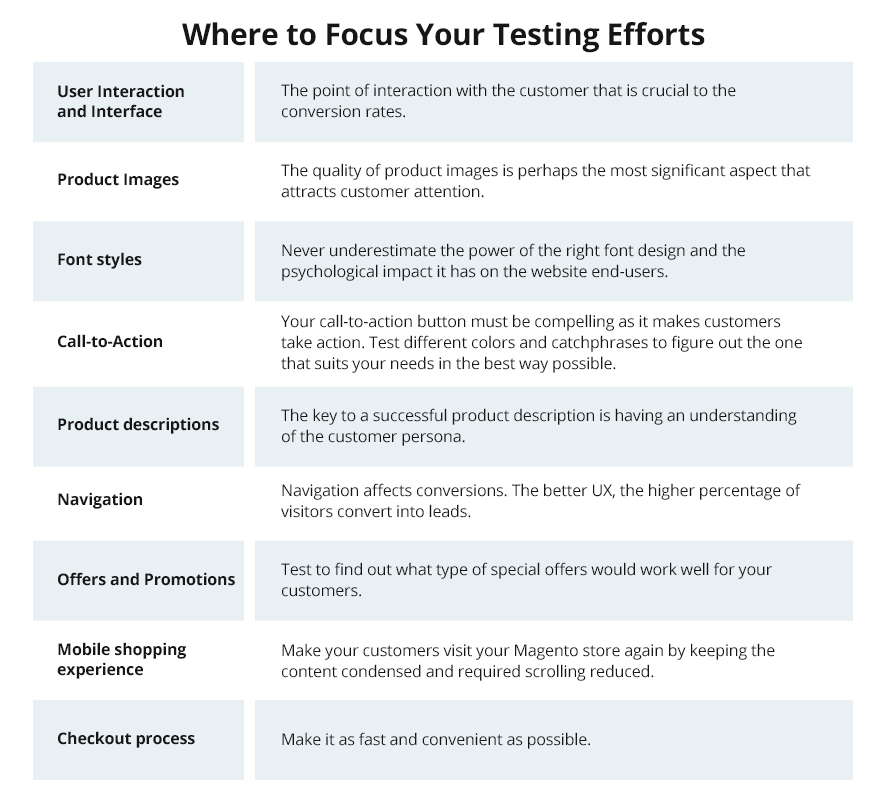 How to Optimize Mobile Shopping Experience with A/B Testing
A/B testing comes handy to optimize experiences for mobile shopping. The standard testing practices include formulating a hypothesis. sequencing the process, and testing broad UX themes. Perform an A/B test for mobile to cover the following areas:
Test the process flow, exit routes, and security messaging to increase the number of purchases and average order values.
Test the breadcrumbs, CTA placement, and zoom activation to drive engagement with content that enhances CTA conversion.
Test search functionality to boost your search ranking and bring more traffic to the website.
Test category page elements like filters or sorting to choose the best presentation for the initial page load.
Test menu location and patterns to evaluate how the end-user would perceive the integrated menu experience.

How to Avoid Testing Mistakes
A/B testing is the core of digital marketing optimization strategies, helping businesses offer targeted shopping experiences to their customers. However, there are several significant mistakes to avoid when performing A/B testing.
Do not test without a pre-defined hypothesis. Even though it can take different forms, it still should cover the following: the problem statement, the change to be implemented, and measurable impact on customer behavior.
Do not stop testing too soon despite how tempting it seems. In the first days of the test, one of the offers might perform better than the others; but when the number of observations is low, the result will also be affected by the number of visitors. As the test progresses in time, the conversion rates converge toward their long-term values.
Do not use metrics not reflecting your business objectives. You might be tempted to use click-through rate to reach the desired number of test conversion faster, but consider it carefully as offers with higher CTRs can lead to lower revenue.
Let Us Help You!
Leveraging the expertise of independent QA providers helps you increase quality while minimizing operational costs and makes customers more likely to choose your platform, use it, and come back again. Make sure your Magento e-commerce website provides an impeccable shopping experience with QATestLab.
Learn more from QATestLab
Related Posts:
Article "tagged" as:
Categories: