How to create a competitive Nutrition App? QA is the answer
How to create a competitive Nutrition App? QA is the answer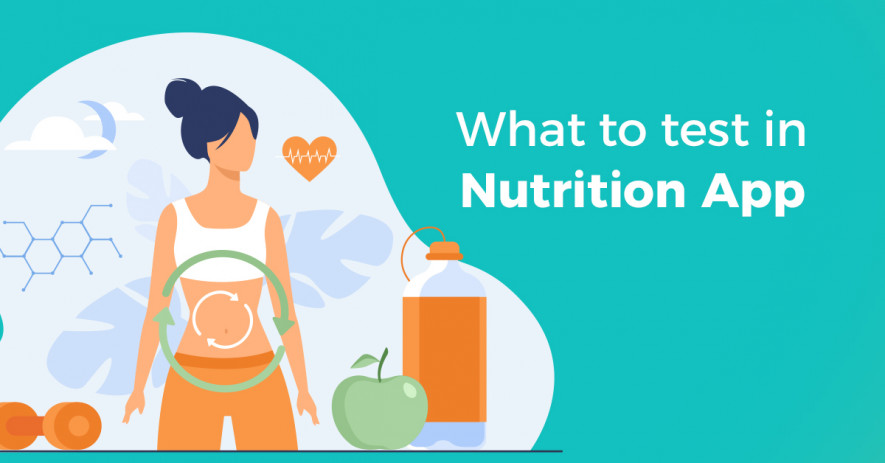 Healthy lifestyle is a trend: nutrition, diets, sports apps of different types from step tracking to exercise libraries. The competition on the App Store and Play Store is impressive.
How not lose your well-deserved place in the rankings and meet user expectations? Pay enough attention to QA and ensure product quality.
Today we will talk about what you need to test in Nutrition Apps.
Why is this so important? Because you can make a super-cool application, but it may not work properly on certain devices, can be too difficult for users, or just can not cope with the load.
What Nutrition Apps Are All About?
Diet and nutrition tracking tools can be applied in different spheres of life:
For those who decided to build a perfect body
For professional sportsmen
For those who just want to lead a healthy life
For people who suffer from illnesses and need a strict diet.
Such Apps have a huge functionality range: they help to log your daily food and liquid intakes, keep track of your activities, count the calories, proteins, fats, and carbohydrates, help to make a grocery list, and to cook healthy food. However, almost all of them have something in common. And those features are vital to test.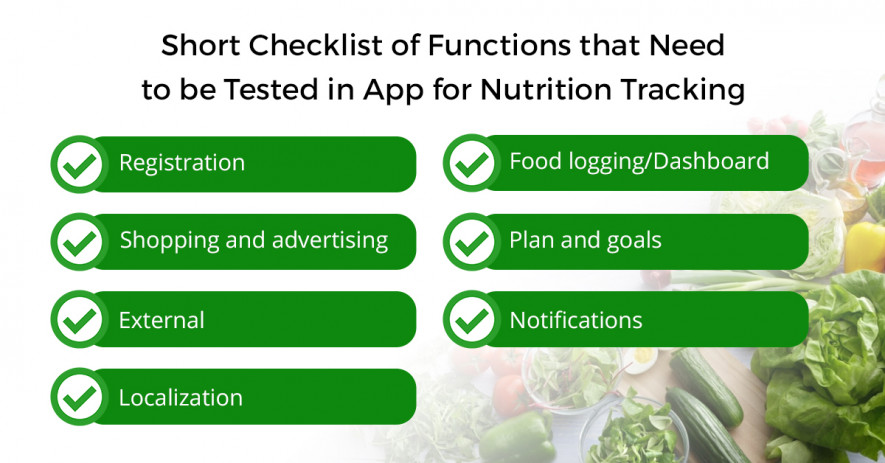 #1 Registration
All nutrition apps start by asking you to fill in the questionnaire (like age, weight, goals, and so on) and register via social networks or manually. It is important to make this process simple, comfortable (for example to give users an opportunity to choose between the metric and imperial measure units) and make sure that the user gets correct recommendations based on the input data.
#2 Food logging/Dashboard
The main goal of the nutrition app is to count what you've eaten or drunk and track how it fits into your diet. So input fields, dictionary, calories databook need to work perfectly. And do not forget about the mechanics and convenience of the process. Are calories counted correctly? Is it possible to see the result for a day or for 1 meal?
You should also check the integration of a barcode scanning feature during this step.
#3 Shopping and advertising
Your app should make money. These can be built-in purchases of additional functionality or several types of advertising from a simple banner to an interstitial (appears between levels). You should check the payment mechanics, integration with payment systems, and receiving functions/program extensions in the first case. In the second case, you need to make sure that everything is correctly displayed and located in the right places.
#4 Plan and goals
When a user decides to eat healthily and achieve specific goals with help of your app, it is important to allow to set and track advances in it. You need to make sure that the application records the achievements correctly and adjusts the nutrition plan accordingly.
#5 External synthronisation
For effective work, such applications need to be able to receive and transmit information to third-party devices and applications. For example, send reminders about eating on a smartwatch or receive tracking information from an app that counts steps.
#6 Notifications
Since we are talking about reminders, it should be said that notifications work must also be tested. It is necessary to check up the mechanics of alerts adjustment(whether it is possible to forbid/allow them, to choose what application can remind you, and so on).
#7 Localization
The nationality of the user should not influence usability. You need to be sure that translation, local time, currency, date format are relevant for each location.

What we think
This is only a shortlist of functions and features that need to be tested.
It is impossible to create a perfect product without the stage of meticulous testing. Our experience shows that any app has bugs. With help of a wide range of QA and testing services like functionality, compatibility, UX/UI, localization testing you can identify the problem, find bugs that influence user satisfaction, and quickly fix it.
Or you can give a chance to an independent provider for testing. Write to us, if you require any information about the most effective ways to do that.
Learn more from QATestLab
Related Posts:
Article "tagged" as:
Categories: