The Functional Testing Checklist for eCommerce Software
The Functional Testing Checklist for eCommerce Software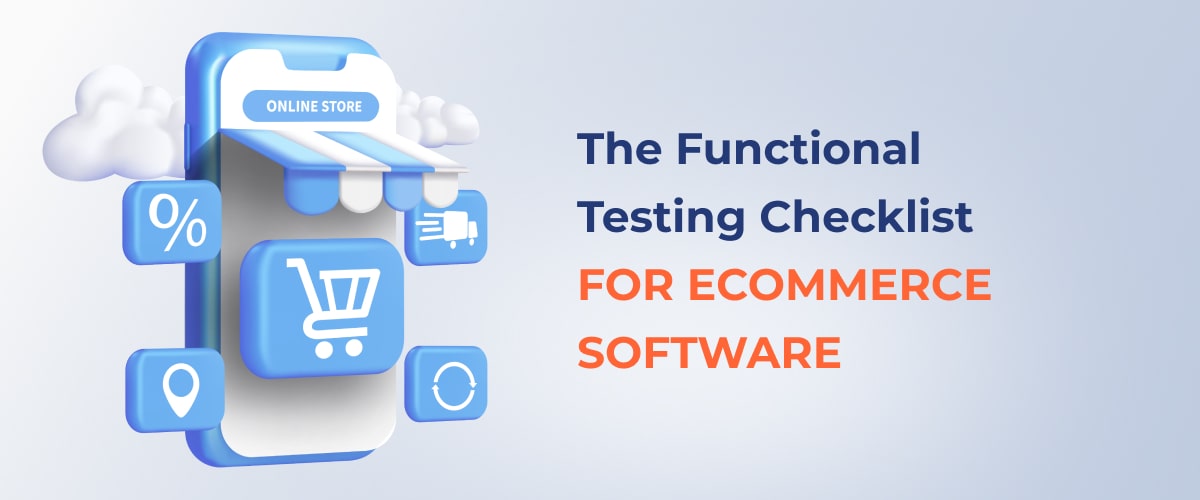 Functional testing is critically important for eCommerce software because user satisfaction depends on its results. As we know, issues in functionality can deter customers from visiting websites and ruin an online business. That's why it is crucial to conduct this testing extremely carefully and consistently.
We have prepared the functional testing checklist for eCommerce software that will help QA engineers to do everything in the proper way and avoid missing some points.

Home Page
Header (Logo, My Account, Mini Cart, Wishlist for logged-in users)
Footer (Return/Refund Policy, Shipping Policy, Privacy Policy, Terms of Service, Contact Us Button, Subscription Button, Social Media Links)
Navigation Menu
Banners and Product Carousel Navigation
Search
Search Functionality
Add to Cart Button
Product Details Page
Add to Cart Button
Wishlist Functionality
Product Reviews Functionality
Product Listing Page
Pagination
Sort by Functionality
Filter Functionality
Add to Cart Button
Shopping Cart
Proceed to Checkout Button
Product Quantity Change Functionality
Checkout
Shipping Method
Order Placement Functionality (PayPal, Credit Card, Google Pay, etc.)
Discount Setting
Tax Setting
Order Success Page
Continue Shopping Button
Order Status Tracking
Admin Check
Email Notifications
Content Changing
Google Analytics
Successful and Failed Transactions
Order Refund and Cancellation
Fulfilled and Partially Fulfilled Orders
Hope this checklist will help QA engineers and development teams to meet all customer requirements and release a high-quality product.
At QaTestLab, you can get functional testing for any software application, including eCommerce solutions (we have a separate QA Department specializing in eCom). Contact us to learn more!
Learn more from QATestLab
Related Posts:
Article "tagged" as:
Categories: