How We Test Educational Apps for Kids? (Spoiler: we use it as a kid, remember about adults, and never forget we are testers)
How We Test Educational Apps for Kids? (Spoiler: we use it as a kid, remember about adults, and never forget we are testers)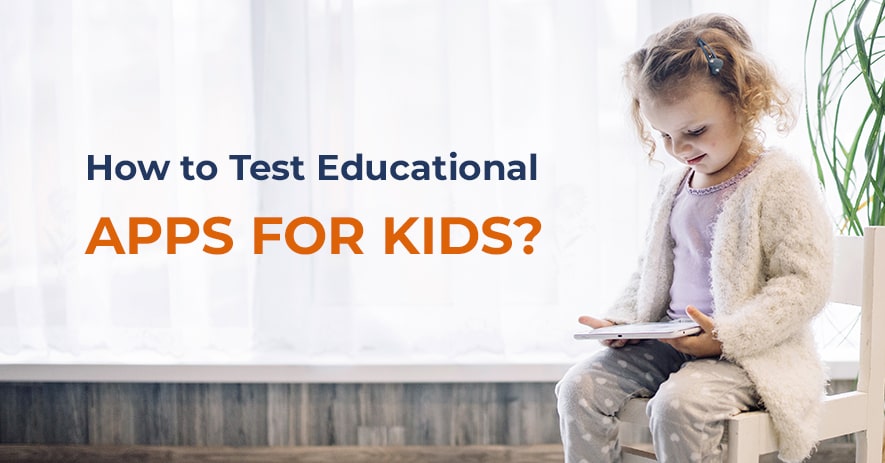 These days kids are quick at mastering mobile phones and computers. Such skills are switching from "nice-to-have" to a necessity.
Parents have already measured this and even found how to use gadgets with benefit. If the kids are going to be glued to the smartphone anyway, parents can as well propose them learning something while playing.
After a wave of quarantines, new children apps are emerging at an incredible speed. The e-learning market keeps growing. So it takes time and effort to release a competitive product among over 500K educational apps for children presented on the web.
So let's talk today about testing educational apps for kids and find out what functions and features can make them the # 1 users' сhoise (including parents of course). If you are a developer or a tester, this article can be a fresh view outside with useful tips and insights.
What Age Range do Children Apps Usually Cover?
Kids grow very fast. And this applies not only to the size of clothes but also to their skills, interests, ways of learning about the world, and what is important here – motor skills. They can differ drastically from one age to another.
That is why an app for a six-year-old kid will not be suitable for a three-year-old and will not be relevant at all for a nine-year-old.
For this reason, all children's games and tutorials are divided into age categories:
Toddlers
The focus age is approximately 1 – 3 years. The major goals of toddler educational apps are continuous learning of the world around them, exploration, and building motor skills. Children of this age are engaged in simple, interactive apps. Those teach sounds, words, colors, shapes, animals, and simple numbers. These apps for education can entertain and educate a baby user. The hardest challenge is to catch the attention and stay as simple as possible.
Preschoolers
The focus age is 3 – 5 years. The major goals are to engage the child in the study process, to prepare the kid for school by giving the basic knowledge, and helping to master math, reading, and specialized subjects. Also, it is important to develop imagination and encourage interaction. The hardest challenge is not to keep the balance between gameplay and education functions.
Apps for Primary School Kids
The focus age is 6 – 12 years. The abundance of various apps for school children brings the basic curriculum input. Sure, developers hardly can cover such a wide range. So such apps will be subdivided in accordance with subjects, skills, or tools they provide. For example, you can find many educational apps that provide materials for learning certain aspects more extended, apps that you can use like library tools or apps for learning languages. The hardest challenge is to keep the attention, be helpful and stay relevant.
What are the General Features of Popular Educational Apps for Kids?
If you enter "Best educational apps for kids" in the search box, you can get countless TOPs and suggestions. Of course, the opinions of authors and users about who deserves the first place may differ, but the general trends and characteristics of popular applications are the same.
After examining the selections and user reviews, we have compiled the following list: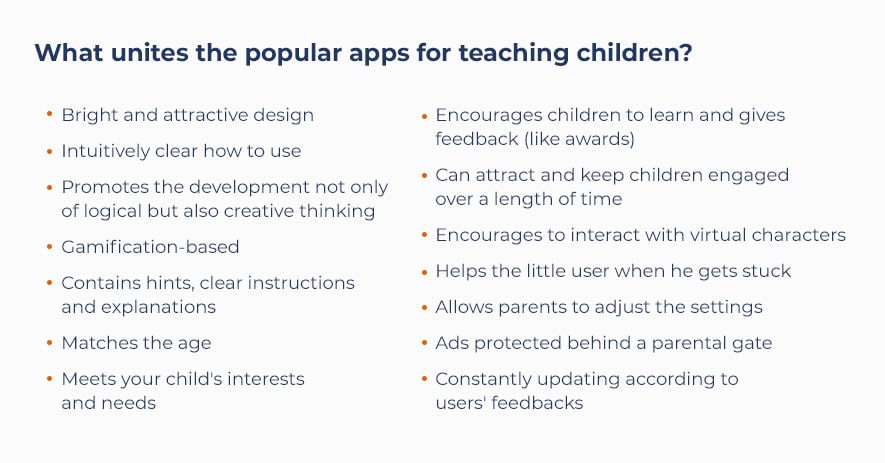 So how to create a good app for kids and stay sure that it meets most of those requirements? How to stay competitive and receive more good reviews?
Besides market investigation, developers should not forget about testing. Independent QA is always a fresh look outside, that will help to find the bugs before the release. And we are talking not only about critical functional errors but about UI/UX, design, compatibility, and so on.
Testing Educational Apps for Kids
Testing applications for kids is complicated and has specific requirements. The same as testing e-learning products. So when there is COMBO "education+kids", a QA specialist meets a real challenge! It is really difficult to think like a 3 y.o. child but never forget to stay an experienced tester.
Here is What We Need to Test
Design
As the first interaction between a child and a new educational game takes place through a Graphical User Interface (GUI), it should be distinctive, recognizable, and high-quality. There's the misconception that kids' content should be full of joy and playfulness. However, that often translates into overly done interfaces that are hard to interpret. You need to ensure that all design elements meet the main goal of the app in accordance with the age of the user.
Here are some hints:
Sans-serif fonts considered more easily readable when compared to Serif ones;
Bigger fonts are perceived more clearly
White font color – the best solution for multi-colored backgrounds
Animation – it is not a must-have, however, animated visual cues help children engage with reading.
It is better when buttons and navigation elements are signed and voiced.
It should be clear what elements are interactive.
Usability
In the initial stages of development and creation of an application design, repeated usability testing is extremely important. It answers the questions:
"Is your product easy to use for a kid? How interesting is it? Are there any difficulties?"
UI / UX design is almost the main component of a successful children's app. The popularity of the product will depend on how convenient, interesting, and thoughtful everything is for users and their parents.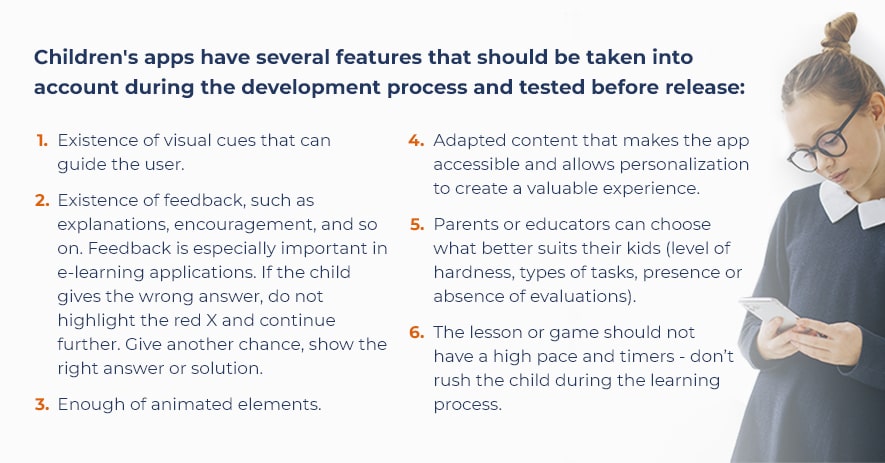 Read more about UX/UI design testing in our blog.
Functionality
Functional testing is needed for ensuring the full functionality of the app. It helps to verify whether products meet functional requirements without defects (according to the specification). Functional testing of e-learning products aims to verify that the application works accurately under unexpected conditions and does not have any undocumented or unnecessary functionality. Also, it helps to discover the error handling capabilities of the product.
By simulating real usage, the engineer can detect any system deviations, such as:
not working buttons.
video, sound, and animation effects that don't work as they should.
mistakes in logic.
not working purchases.
drawings and other elements created by the user are not saving.
progress of the user is not saving, so each time the game starts from the beginning with all the tutorials, that the user has already seen/heard.
mistakes in parents mode and so on.
And one more – you should make sure that the questionnaire for parents is correctly configured. When choosing the gender, age, and interests of the child, the levels should be selected correctly.
Performance
Children's apps always have a lot of elements and animations. All you need to know about little kids is that they are impatient. They will click on all buttons, animated elements, and menu items. Sometimes at the same time. Also, you need to take into account that children with insufficient motor skills cannot manipulate the touchscreen with the same dexterity as adults.
Your task is to ensure that the application runs smoothly without freezing under such a stress load. To do this, you need to test the performance. Some of this testing (for example – zoom, scrolling) can be done using standard prototyping tools that allow you to test complex problems without writing any code.
Compatibility
Your application should work equally well on different devices (new smartphones of parents, an old smartphone that was handed to a child, a family pad, etc.). On different display sizes, bugs can appear: animation can fall out of the screen, menus and text can move out, buttons can disappear, etc. The larger the pool of real devices you use when testing, the less negative feedback you will receive about non-working elements on certain platforms and gadgets from parents.
Kids are Users But Adults are Customers
When checking applications for children, do not forget about the position of adults, since they are the buyers. Parents, educators, teachers should be able to set rules, permissions, and decisions. So check up on the parents' mode:
Can adults become equal players, partners?
Can they suggest, explain something to the child, eliminate difficulties, if something goes wrong?
Can adults take the role of a separate user?
For example, teachers may need to access a separate section in the app to check if students are doing well on assignments. Perhaps such an app needs to have a function of turning off after a set time. Or it should have common access.
Special attention should be paid to in-app purchases, such as additional levels, ad-free mode, new heroes. You have to check that everything is working correctly, the payment goes as it should and as a result, the user gets what he paid for. It is also important that in-app purchases can be child-locked.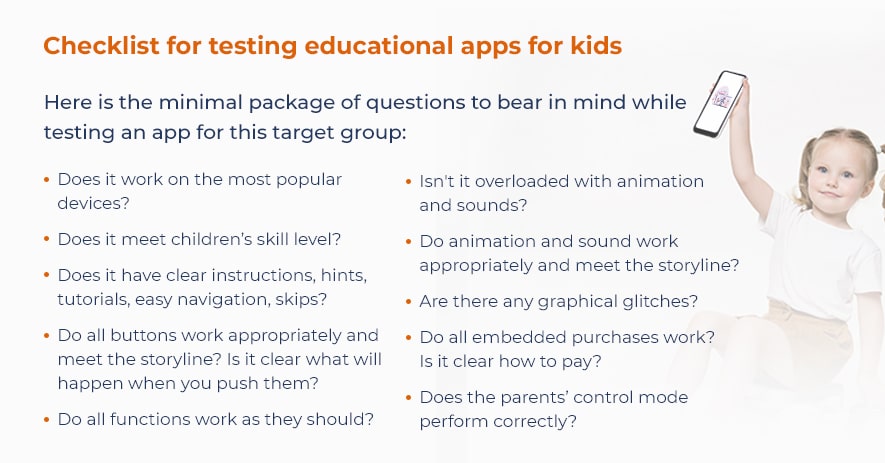 IN THE END
The educational app niche seems to be full of various apps and games. However, parents and educators dig into the app markets to find actual e-learning apps, so this market has great potential.
Making a good app for children is not an easy deal. There are many aspects to keep in mind during the development and testing process. To stay sure that you made the best and to have an opportunity to devote 100% of your time and efforts to development, you can use the help of an independent testing team that has already worked with similar projects.
QATestLab is ready to give fresh and effective feedback on your educational app for children.

Learn more from QATestLab
Related Posts:
Article "tagged" as:
Categories: