How to Make a Custom LMS Thrive with Software Testing
How to Make a Custom LMS Thrive with Software Testing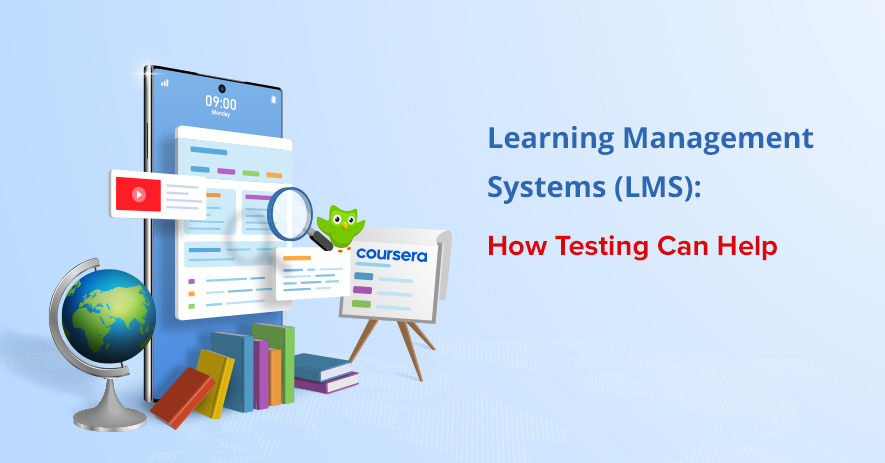 Today, there are countless learning management systems (LMS) that help to get knowledge and skills online and in one place. Some of these LMSs thrive, and the others fail. Why is that?
One of the important reasons is user satisfaction.
In this article, we will delve into the ways software testing can help you increase user satisfaction from a custom LMS in the core areas. This way you can make your learning management system even more successful.
What Users Are Expecting from a Good Custom LMS
High-quality courses
The main reason people start using learning management systems is of course to learn something in an efficient way. So the quality of courses in your LMS is vital. The educational materials in an e-learning platform should be of high standard. That is, they need to be informative, correct, useful, engaging, and easy-to-understand.
But the course displaying and functioning correctly is just as important. Even the best educational content will not be appreciated if a part of the text is cut off on the user's monitor. Or the quizzes are not working. Or tests are not accepted, and so on.
How LMS testing can help
With ad hoc testing, QA engineers can quickly pass the course to find any layout and performance issues that can hinder users' experience. Functional testing will allow to thoroughly check all the aspects of an LMS functionality and discover all the major defects. This way quality assurance for online courses contributes to a bug-free user experience and satisfaction.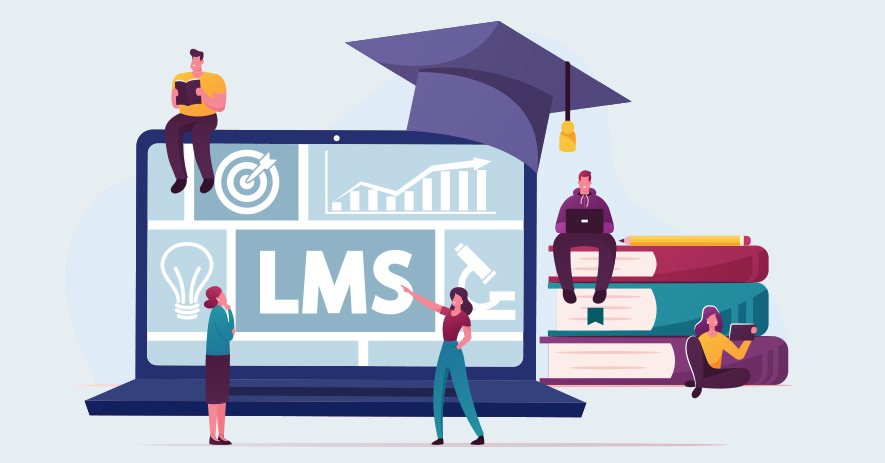 Convenient user interface (UI)
Learning management systems are usually complex applications with much functionality. By their nature, they also require the users to make an effort to study. So the UI of an LMS should never cause any extra confusion or struggle. It should be as easy-to-use, intuitive, and convenient as possible.
How testing can help
E-learning application testing can evaluate the above-mentioned aspects of an LMS so that they can be improved if needed. Specifically, user interface (UI) testing will help to check:
if the navigation is smooth and simple
if all the elements of the interface are located, displaying, and working correctly
if the UI overall is up to the industry standards.
User experience (UX) testing can assess the overall impression the LMS and its interface leave on the users. Whether they find the application convenient, user-friendly, and pleasant. Middle and senior QA engineers can also provide recommendations on how the UX of an learning management system can be further improved. It will help to boost the LMS user experience.
An LMS working on all the user's devices
Accessing learning management systems through smartphones and tablets is one of the trends nowadays. It's no surprise as one of the great benefits of an LMS is the opportunity to study whenever and wherever it is convenient for the user. And a smartphone is something that is always at hand. So if an LMS is not working correctly on a student's device, it can definitely ruin the user experience.
How elearning testing can help
QA engineers can check the learning management system on all the real devices the target audience is expected to use and all the popular devices. Testing the e-learning application on phones and tablets with different OSs, characteristics, and versions helps to verify that there will be no issues with the LMS performance no matter what devices the users have.
Integration with third-party systems
A good custom LMS today is expected to be integrated with many third-party applications and platforms. Social media and mailing systems are a must. If there are any purchases available, various payment gateways also become a necessity. And the list goes on. Certainly, all the integrations must work flawlessly, or the LMS will suffer reputational and financial losses.
How elearning testing services can help
Integration and API testing are the two types of QA that will check if the LMS connects and works well with third-party platforms and applications. These QA services for e-learning projects will discover any issues that may be there to fix them in time and prevent users from experiencing problems.
Security
One of the important reasons to create an LMS from scratch is security concerns as this area is often considered a weak point in ready-made solutions. The issue becomes particularly pressing when any personal, corporate, or innovative copyrighted data are stored in the LMS.
How testing can help
Security testing will check if all the roles assigned in the LMS are working correctly so that only users with enough rights can access certain information and perform certain actions. This type of QA will also check if the necessary authorization and authentication procedures are applied. Finally, it will look for any breaches in security an attacker can exploit.

Additional benefits of testing – test documentation
Learning management systems have constantly expanding functionality. This is why it can be challenging to document all of it in time. QA engineers can help by writing test documentation for the LMS: a test plan, test cases for e-learning websites and applications, test results and reports, etc.
It will allow to keep track of all the characteristics of the LMS, make onboarding and further QA easier, and ensure that no valuable information is lost. Ultimately, proper test documentation will help to maintain a high quality of the learning management system and make its users happier.
Conclusion
Just like in any other applications, in learning management systems achieving user satisfaction is one of the keys to success. In this article, we explained how software testing can help you get it and make your LMS thrive. We hope that this information was helpful and wish your learning management system to take the market by storm.
And if you would like to find a software testing vendor, QATestLab will be happy to assist you. We have provided e-learning mobile app testing services and QA for desktop LMS versions for many years now. So our team has much experience and expertise in the field, as well as all the resources for high-quality QA. Please don't hesitate to contact us to discuss our potential cooperation.
Learn more from QATestLab
Related Posts:
Article "tagged" as:
Categories: