What you should know about testing your E-learning platform
What you should know about testing your E-learning platform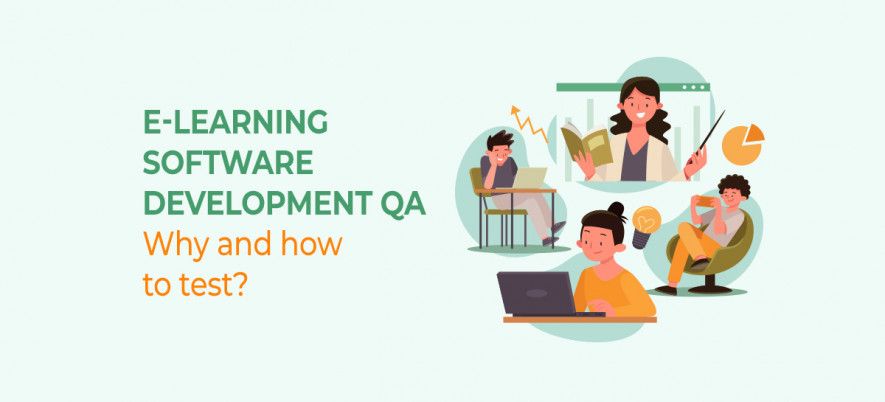 The popularity and relevance of platforms for online training and learning is obvious for everyone. Companies are increasingly introducing this trend for their employees, online schools are opening every day, you can get a new profession in 3-6 months instead of 6 years.
The world is striving for new knowledge, which can now be obtained remotely, with a cosmic speed. So e-learning software development is in demand and it is a highly competitive field. In order to remain relevant, convenient, in demand, and "people's first choice", the e-learning software platforms should be constantly improved.
But, you already know about this better than we do.
Why my E-learning platform will be better with QA?

We hope that you did not come to the pages of our blog by accident. This means that feedback on quality/user problems/difficulties with launching from certain devices, etc. have already been.
The E-Learning platform, like all similar projects, is created for the end-user. This means that user experience is one of the most important criteria that a developer should pay attention to. When it comes to training and learning, you can say that the results are even more overestimated. E-learning software reviews are very important for potential clients. Bugs in a computer game and bugs in a paid lesson, because of which the user did not receive vital knowledge, have different weights (although gamers will not agree with us here).
Quality problems in the E-Learning platform lead to a loss of trust among students and affect the efficiency of the educational process. This means that the next time when choosing a platform, your customer can take a closer look at alternative options on the market.
And we wouldn't want that, so it's time for QA specialists to join the project.
They will help to ensure the reliability, operability, and stability of the training and learning solution and help to provide full system functionality, a clear and easy-to-use interface, and excellent compatibility.

So sit down comfortably, fasten your seatbelt and let us dive you into the role of QA in E-Learning software solutions. We will tell you what to look for when testing such platforms, what are the main errors in products, and how to avoid or quickly eliminate them.
1st station. QA in E-learning: Why and When
So, let's imagine that you have created an e-learning platform "StuffTraining". Now you are at the pre-release stage. Of course, you really want the product to have high quality, to be enjoyed by users, effective, loved and highly recommended.
How do you plan to provide this?
You should start by looking at the platform through the eyes of the user. Who is the person who will be using your product? On what device he or she will run it/on what browser/on what OS? How comfortable will it be for users to navigate? Is it clear how to go through the learning process, how to find the necessary materials, how to make a payment? These are just a few of the questions you should ask yourself.
QA is always a complex process as there are numerous things to be checked. So keeping all the elements in mind for e-learning software providers is very hard sometimes. And it's OK! That's what the quality assurance process is for.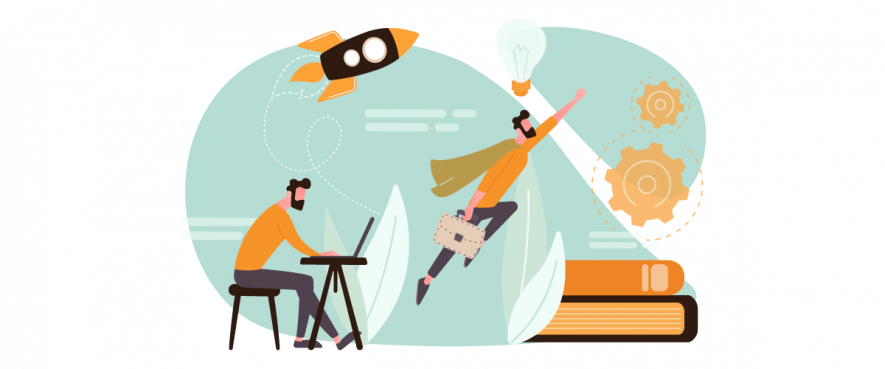 Our cases of testing E-learning products show that such products usually include many elements such as texts, videos, images, can provide streams, quizzes, and so on. Immersion and comprehensive check-ups of each of the elements are needed.
The QA engineer ensures that your product matches its specification. He already has numerous checklists of requirements, as well as possible bugs and defects. And also, he has already prescribed and automated processes for their elimination. With the help of special tools and testing methods, QA specialists can reveal even those errors that no one knew about. It will save you from inventing a bicycle and bumping into mistakes that have already been made before you.
There are 3 typical stages for connecting testing to a training product.
Engaging testers at the initial project development stage. This will help prevent most of the classic bugs. As a result, you will save time and labor costs for subsequent error correction and immediately go to the market avoiding negative quality reviews as much as possible. In addition, it will be much easier for you to create a product that users will love.
Engaging testers at one of the stages of work on the platform or before its release. It is also beneficial because it makes it possible to avoid the negative associated with the release of a not very high-quality product. But, most likely, the release timeline can burn out, because fixing some critical errors detected at the pre-release stage will take time and even serious changes.
Engaging testers after the release of the platform, at the stage when reviews appear. Negative feedback would seem a disaster. But, don't panic. First, everything or almost everything can be fixed and updated. Secondly, you will receive loyalty points from customers with your positive feedback that bugs and inconveniences are fixed, and their opinion is very important to you.
2nd station. What to test?
There are two ways to do testing: positive and negative. The first one is about ensuring that everything works fine, and the second one is about finding mistakes.
Let's now take our E-Learning software application "StuffTraining" and do some negative testing.

What are the possible errors and how you can avoid them?
Spelling and grammar mistakes. Nothing serious you think? "How can they teach me if they don't even know grammar" – this is how a user thinks. So check it twice.
Huge text blocks. Long texts are always challenging and frankly boring. And your goal is to create an effective learning experience. So make it more simple and readable.
Mixed fonts. This is a usual thing when you take material from different sources. And it looks really tasteless.
Bad visuals. Pictures and photos help learners to perceive information more efficiently. Make sure that they are of good quality and up-to-date.
Too much design or poor design. Too many images on one page, different and not matching colors, and so on. Taste is a subjective feature so try to ask for other people's opinions.
Bad Audio/video quality. Multimedia tools are a must-have to make students more engaged. And those elements require additional QA also. Everything should run and have a good quality of sound and image.
Bad links, inactive buttons. Inactive elements on the page are a disaster for users. So click everything that should be clicked and check all the interlinks.
Missing or wrong navigation. All buttons that navigate must navigate. Navigating from one course to another, from one category of knowledge to another should be intuitive and correct so go through all the possible paths that users can go through on course.
Unclear instructions. One of the most irritating and stressful things is when a student can't understand the task from the very beginning. Try to make it maximum clear.
Absence of contact forms/FAQs. Students will think that their opinion is not valuable. You need to make sure that users can easily reach you and ask their questions.
Bad performance. No one likes to wait. Your platform better be fast and furious. A customer expects a responsive product, so make sure it works fine.
Doesn't work on all devices/browsers. Your product should be flexible so be ready to test it on all popular devices. It is better to define your audience's preferences first. By the way, services such as Browserstack allow testing in different environments, but if a project needs to be run on a touchscreen device, you must test it on a real device.
And that is only a short checklist of possible bugs and quality defects that can influence negatively on user experience.
3rd station. How to test?
Listed below are some tips that are apt to make the E-Learning QA testing process better:
Review your E-Learning course from a fresher perspective. You need to get someone absolutely new to your e-Learning development. It is always easy to spot mistakes with a fresh mind. He or she can help you to find out the most vital errors that have to be fixed. But make sure you involve someone you can trust because there is a question of confidential information. And keep that in mind that you can't involve a new person each time you want to make a new release (sure you can, but it is not efficient and comfortable).
Performing testing is a must. Who needs your course when it is not working appropriately? It is extremely important for the E-learning app or platform to undergo rigorous testing of the performance levels. The product has to be flawless, easy to use, and understand. Performance testing helps to make sure that there is absolutely no hindrance to access the platform or content.
Find out ways of testing your eLearning platform and write them down. When it comes to eLearning QA, it is important to try some unique instruments and methods. And it is a must to maintain a good record of each step in discovering bugs and fixing them. This will also help you to find out the possible gaps and to make the process faster by automating it next time.
So now you have found some mistakes and understand that you need to test your online training platform more meticulously and to improve.

Some Final Thoughts
Having our own Training Center as one of the directions we are aware of the functional specifics of e-learning solutions and the end users' needs. So we know what we are talking about.
Quality Assurance and software testing is a major part of the E-Learning course development, as even the smallest of bugs can have big repercussions. You need to be sure that your clients will get a flawless product.
To achieve it you can both try to ensure quality with help of an in-house team or you can have a fresh and experienced look outside from independent QA testers.
Learn more from QATestLab
Related Posts:
Article "tagged" as:
Categories: