Effective Tips for Working with a Remote QA Team
Effective Tips for Working with a Remote QA Team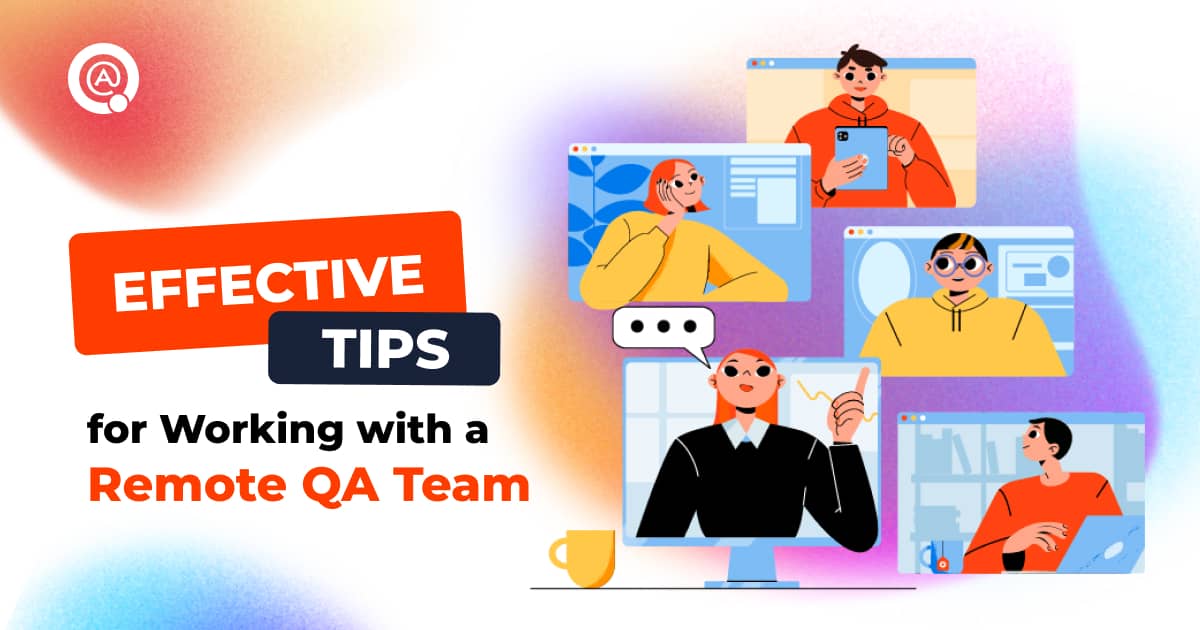 Working with a remote QA team happens to be challenging for someone who has never done so before. Collaboration can be set up or ruined by how you identify the goals and manage the workflow. The question then arises: What is the best way to organize a successful workflow for QA professionals working remotely?
We have been working in QA and software testing for over a decade with clients all over the world and have learned a few things that helped us build productive relationships. Below are some tips for creating an efficient workflow with a remote QA team. Let's go.
Benefits of Сollaboration with a Remote QA Team
First things first: why do you even need a remote QA team if you already have in-house experts who can get the job done? Well, there are many cases when you can win by hiring remote specialists. Here are some of them:
To relieve your in-house team of excessive workloads
If your team does not meet deadlines, it might be time to consider getting a helping hand. Hiring additional team members usually takes a lot of time and effort, as well as outsourcing tasks to a potentially unreliable freelancer. In this case, using a remote QA team allows your workers to focus on the company's core goals.
This is especially advantageous to small businesses since it enables them to compete with larger companies that have bigger teams while maintaining low overhead costs.
Therefore, deadlines can be met without sacrificing quality, and in-house teams can maintain a consistent workflow without working overtime.
To optimize your expenses
You can optimize your QA expenses by collaborating with the QA team hourly. It allows you to only focus on the necessary tasks covered by the project scope.
Hourly rate will allow for planning the exact time for each procedure. This reduces costs and mitigates the major risks of excessive expenses.
At QATestLab, we also offer iteration-based collaboration. It allows you to hire a QA team on demand only when you need to test the product. For example, before the launch of an update, check the functionality of the new features. In this way, you will only pay for the services required at a specific product development stage without hiring full-time specialists.
To extend device coverage
By hiring a remote QA team, you also expand the number of devices to test your project on.
It will allow using additional devices with a bigger range of settings and configurations to provide the maximum percent coverage. It is much cheaper than buying all the gadgets you need for testing yourself and hiring people to run them.
Besides, testing on a wide range of real devices is essential to ensure your user experience (UX) is seamless and easy to use. At QATestLab, we offer an extensive pool of 350+ devices to make sure your application will meet the needs of the end user.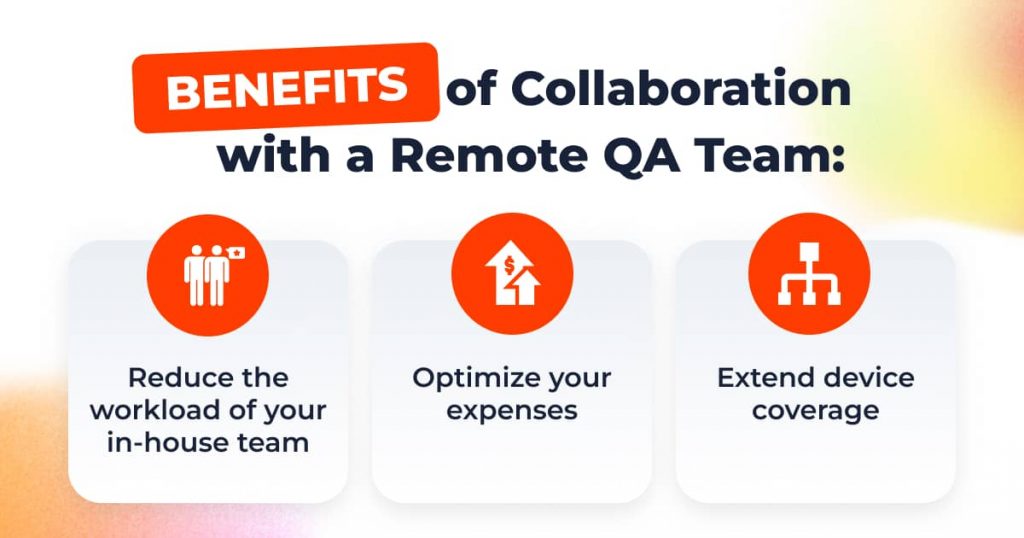 How to Find Qualified QA Testers?
So, now that you know how a remote QA team can help you test your product faster, cheaper, and better, the question comes – how do you find one?
When selecting candidates, focus on the required technical skills. Ask about their experience, types, and complexity of projects they worked on to make sure they will be able to reach the set goals. You can also give them a quick task to test their skills and evaluate how they manage tasks. These little steps will help you find the perfect candidates.
In this article, we provide some tips on how to choose a quality assurance vendor. If you are looking for remote testers, make sure you check them out.
Now, when you've hired the team, it is time to get to testing. Here are a few tips on how you can manage the workflow successfully.
Workflow Management Tips
In a perfect world, a remote team would understand what you want from them before you even say it. Unfortunately, we do not live in a perfect world, so it is important to make sure your expectations are met by communicating adequately with the team.
To minimize the possible problems in remote cooperation, it is necessary to follow the definite stages to set up a proper interaction with remote experts.
Tip 1. Be aware of the potential issues
The first tip is understanding the potential issues associated with working with teams remotely. Remote teams can be based out of your time zone, meaning you need to agree on the time of communication in advance so that it does not slow down your development cycles.
We always discuss such things with our foreign clients and choose the best time for communication together.
Tip 2. Make sure you're setting clear expectations
The second piece of advice is to ensure everyone involved in the project has clear expectations from each other. You should also set up rules of conduct so that everyone knows what they are expected to do while working on the project.
You will want to make sure that you are clear about how much time it will take for tasks such as bug reporting or testing new features before they are performed. If a deadline is not met because someone was not available due to another commitment, then it is important that everyone understands why it happened so they can adjust the workflow accordingly next time around (e.g., create better schedules).
Tip 3. Establish a solid communication plan
And last but not least, it is vital to establish a strong communication plan early on in the process so that everyone knows how often they should be communicating with one another and what method is best suited for each type of communication (e-mail vs video call).
You should also make sure that everyone knows when they're expected to check in with other members of the team (i.e., daily or weekly updates).

4 Stages of Cooperation Workflow
In order to minimize the possible issues in remote cooperation, it is necessary to follow the definite stages to set up a proper interaction with remote experts.
The workflow consists of 4 stages: pre-project initiation, planning, execution, and test system closure. Now, let's see what processes each of these stages include.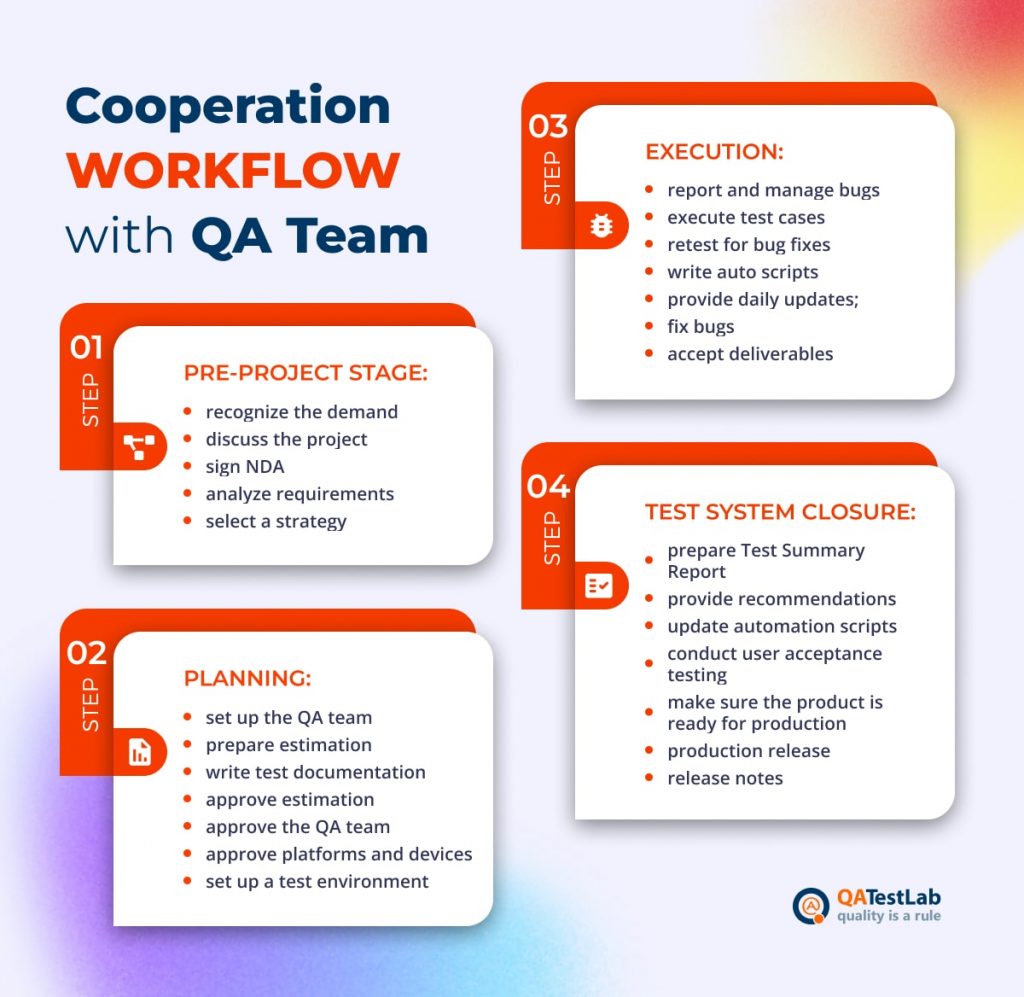 Final thoughts
Establishing a productive workflow with a remote QA team can be a complicated process. A common issue is the miscommunication of tasks, the failure to meet deadlines, and the misinterpretation of instructions. Without knowing how to find a dedicated remote team, you can lose time and money. But it does not mean that you need to hire in-house specialists to do the job. Simple tricks like setting up communication channels, clearing up your expectations, and building proper communication between your team and remote workers will help you to achieve the desired outcomes.
Let us know if you would like a QA team to test your software product — we will be happy to collaborate with you.
Learn more from QATestLab
Related Posts:
Article "tagged" as:
Categories: