5 Biggest Mistakes When Building a Marketplace  
5 Biggest Mistakes When Building a Marketplace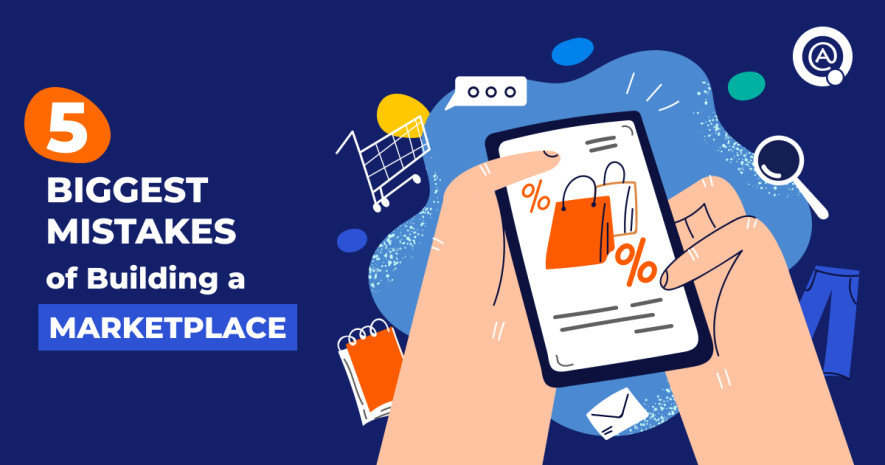 Starting an online marketplace can be a daunting task, especially when this is your first time building a business in this field. With so many different aspects to consider and decisions to make, it is easy for mistakes to happen. In this blog post, we will discuss the biggest slipups that often happen when developing online stores and how these failures can be avoided.
We will look at common issues, such as lack of trust or failure to consider scalability and growth, as well as more technical problems like incorrect integration or poor user experience. By understanding these pitfalls at the early stages of building a business, entrepreneurs can plan their marketplace launch confidently.
Now, let's overview the common mistakes in building an e-commerce platform.
One of the mistakes when starting businesses online is selecting an unsuitable development method. When creating a marketplace, one should choose one of the two primary approaches. You can order custom software creation or use a ready-made solution and modify it to your needs.
Choosing the inappropriate development approach
The template-based solution is a type of standard web product. It is intended for a vast range of users. If you decide to create a marketplace with the help of templates, you can use Magento, Shopify, and other platforms.
Custom or individual creation is built from scratch with specific business needs in mind.
Undoubtedly, each of these development approaches has its pros and cons.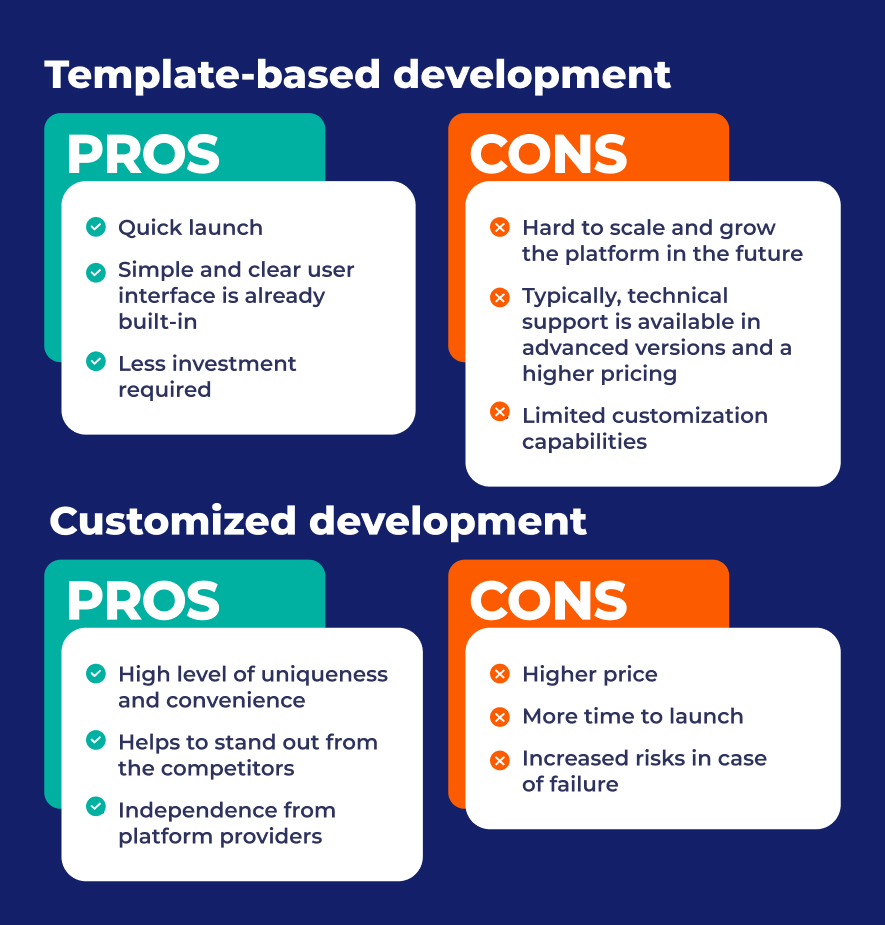 As you can see, both of these options have their positives and negatives. And the choice between template-based versus customized development largely depends on your budget and business goals.
Businesses should focus on creating a platform that can handle large amounts of data while still providing a smooth user experience. Additionally, it is essential to keep in mind the possibility of expanding into different markets or launching new products as business needs change over time.
Neglecting user experience
Failing to provide a smooth and seamless user experience is like nailing your marketplace to the cross. You should not pack your website and app with tons of elements and flashy colors with no clear direction. People usually hate it when they feel lost in the woods of a website and can not properly navigate it. Furthermore, Google will also spite you and probably sink your marketplace into oblivion. User experience is imperative, which means it is crucial to dedicate a decent budget to honing your UI to almost perfection.
Psychologists say that users usually take around seven seconds to form a first impression of a company. That is why it is crucial to create a positive feeling that motivates them to browse and buy from your marketplace. Even when launching a minimum viable product (MVP) to test an idea, the user's experience and feedback will dictate the decision to continue investing and growing the platform.
UX and Usability testing are not an option but rather a necessity for online marketplaces as they can help to distinguish your platform by ensuring it is smooth and easy to navigate. Get this right, and you will never have any reason to complain about poor ROI.
Not ensuring multiple secure payments options
Another key pitfall is not providing secure payments on all platforms within your marketplace ecosystem.
Approximately 70% of buyers drop off somewhere between filling their cart and making the payment. One of the main reasons behind that is an overcomplicated checkout. This problem can be solved by implementing multiple payment options.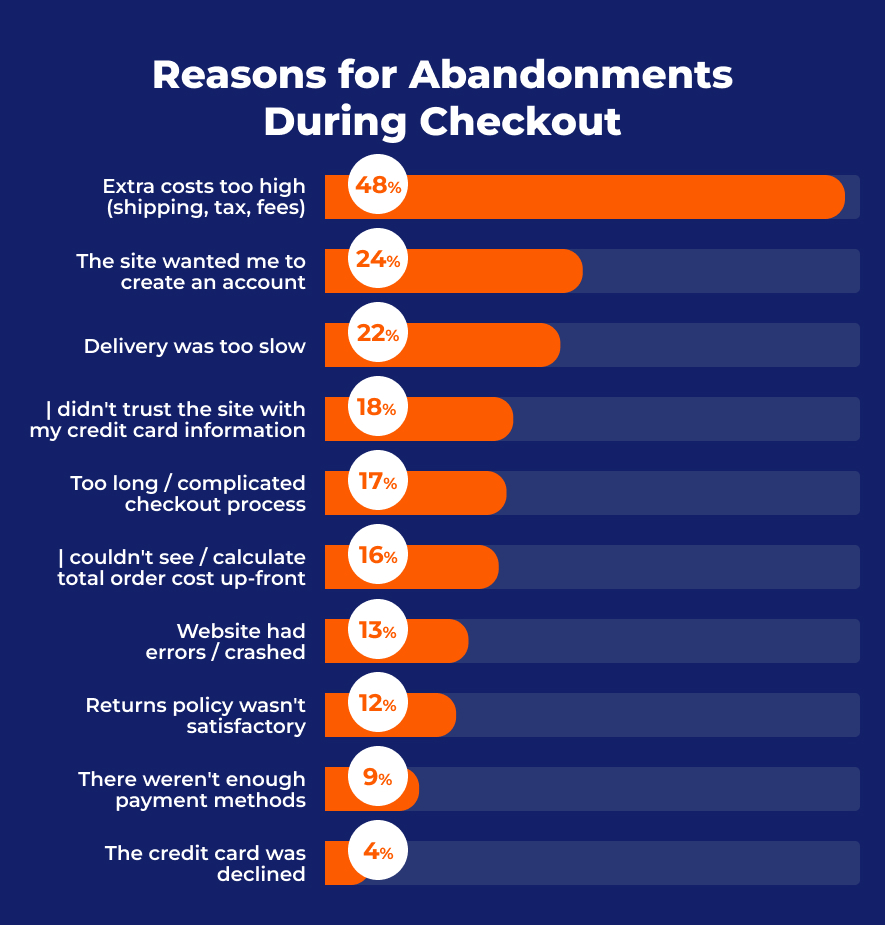 The payment process must be seamless yet highly secure so that customers feel safe making purchases through your marketplace rather than some other vendor offering similar services elsewhere in the web/mobile device environment.
To do this effectively, you should work closely with third-party providers specializing in payment security solutions and independent integration testing providers so that you are always ahead of any potential threats to financial information shared by buyers on your system.
Ignoring the platform's accessibility
Making e-Commerce websites accessible is vital for ethical and business reasons. Website accessibility includes ensuring the online shop is understandable and easy to interact with for people who may use assistive technologies.
Making sure that the marketplace is accessible to everyone means reaching more customers. People with disabilities make up a substantial portion of the population, and if your marketplace is not accessible, you could be missing out on a large segment of potential customers.
In addition, adhering to online marketplace accessibility standards is also required by law in many jurisdictions. Not only can failing to follow these regulations result in fines and other penalties, but it can also lead to bad publicity and reputational damage. Therefore, it is vital to make sure that your online store complies with all applicable regulations.
Not working trust into the platform
Users and sellers must feel confident in the platform and experience to make the marketplace their first choice. To make it happen, business owners should show transparency and ensure good browsing and shopping experiences. This also includes presenting complete and precise information about sellers, regulations, conditions, and assistance.
Providing multiple channels for customer support (such as phone, email, and live chat) increases your chances of reaching more users quickly and efficiently – thereby improving their overall experience with your site and application.
It is important to remember that customers are getting more demanding when choosing places for online shopping. And product price is not the only thing they will look at when making their choice. They are searching for an ultimate user experience, a simple checkout process, accessibility, and transparency. These are the key ingredients of a trusted shopping platform.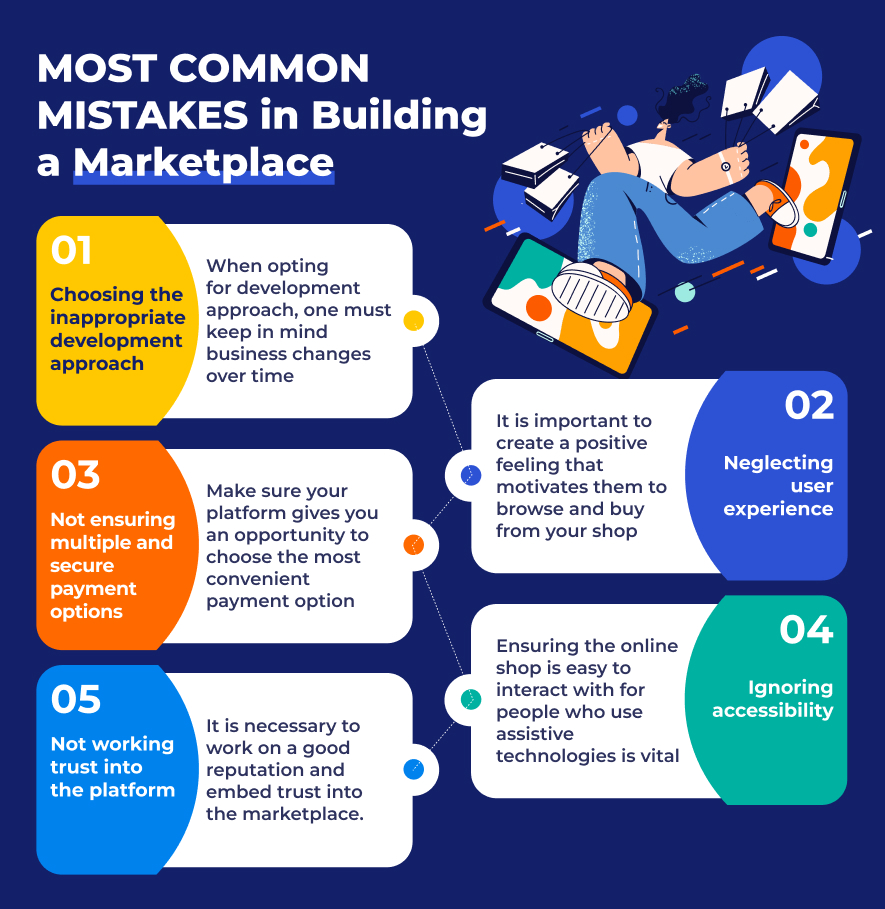 Final words
A marketplace can take a lot of time and effort to build. So avoiding some of the biggest mistakes when constructing your online shopping endeavor will set your business up for success. Taking ownership of these areas will ensure your marketplace is properly built and better prepared for launch.
Want to make sure your marketplace is ready to capture the attention of your target audience? Let's see! Drop us a line, and we will check your solution on functionality, accessibility, user experience, integration with third-party software, and more.
Learn more from QATestLab
Related Posts:
Article "tagged" as:
Categories: