Do You Need to Have CMS Testing for the eCommerce Website?
Do You Need to Have CMS Testing for the eCommerce Website?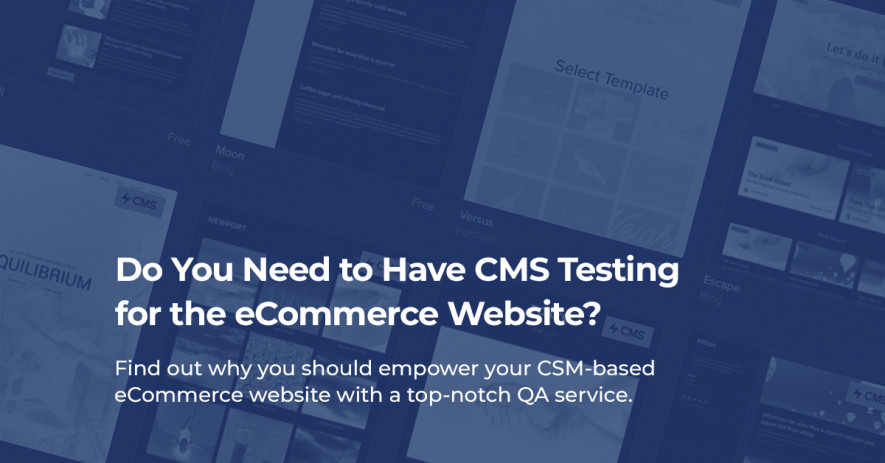 Standing firmly in the pursuit of performance quality and security, CMS-based websites, including eCommerce, consistently use software testing. It allows them to make sure customer satisfaction is constant and a content flow never ceases. From functionality checking to handling common hacking targets, QATestLab professionals provide a broad outlook on the importance of this effort. Check out this article to find out why you should empower your CMS-based eCommerce website with a top-notch QA service.
What is the Impact of CMS on Your eCommerce Business?
With eCommerce growing at a rapid rate despite global economic uncertainty, it should come as no surprise businesses focus their marketing push on producing content relevant to current and prospective customers and pulling them towards their products. Taking this into account, with the right integrated tools, the Content Management System (CMS) designed to create and track digital content may not only offer a richer experience to the client but also provide a deeper understanding of the audience through meaningful insights from customer data.
Kicking off the list of benefits CMS brings to eCommerce is none other than its branding value. The key factors here are the omnichannel approach to brand identity, content-rich experience, and insight-based personalization, intending more than just to sell a product but to inspire and delight the customer. A state-of-the-art CMS will also provide the user with a bunch of valuable features, like easy administration, in-built CEO tools, social media integration, multi-platform capabilities, business alignment, versioning for quick rollback … the list goes on.
For eCommerce websites, the CMS manages various types of content, from mobile-friendly page layouts and shipment/payment information to email content and promotional elements like banners and popups.
Why CMS-based eCommerce Websites Require Testing?
At this point, it is time to realize most CMS's ambition to manage so much stuff on the website is impressive enough on its own without even starting to deal with the complex machine that is eCommerce. To maintain your website engaging, performant, and profit-making at the same time, you should definitely invest in CMS testing.
Adamant believers in all-conquering power of testing, we have experienced firsthand the operational flow of CSM-based websites getting heavily affected by severe flaws in the design, security, and functionality, while also witnessing how the system gets broken if configured clumsily by admin or client. Replicating this belief through multiple successful test cases, we state that the workflow for managing an online store and the workflow for managing content are very different – regardless of the platform – that is why CMS testing for eCommerce is imperative.
The checklist of CMS must-test functionalities is quite impressive. In a subtle nod to the defeat in detail tactic, the following table divides the whole system into four core modules, namely User, Content, General Settings, and Security, and comprehensively spotlights the possible actions for each of them.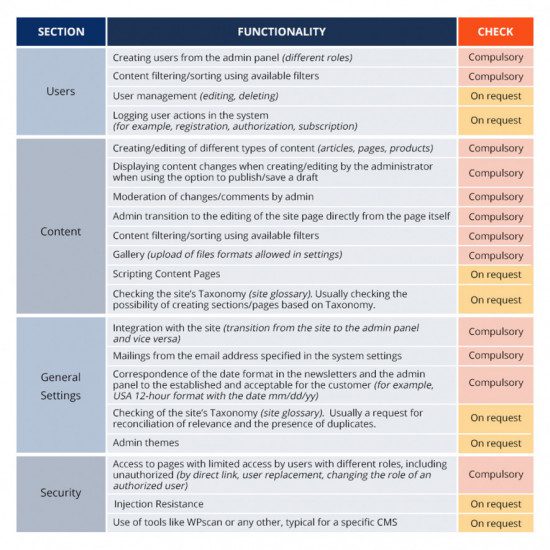 Conclusion
While more and more eCommerce websites try to enter the market as quickly as possible – experts predict retail eCommerce sales to exceed $4 trillion in 2020 – the fundamental testing purpose is about the performance quality and security – a kind of things businesses would be remiss to ignore.
If you would like to learn more about QA and testing services, visit our website.
Learn more from QATestLab
Related Posts:
Article "tagged" as:
Categories: