Guide for QA Leads: Responsibilities, Skills, Team Management
Guide for QA Leads: Responsibilities, Skills, Team Management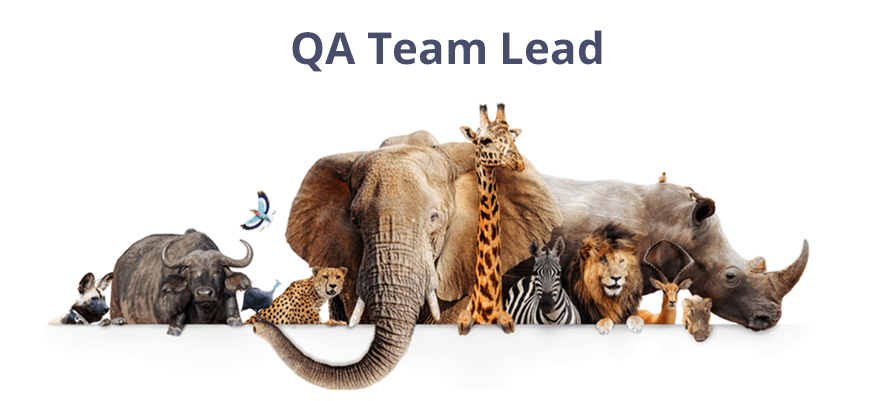 What kind of job do you do? – I'm QA lead in the IT company. – 'QA' what? Have you just made that out?
Professional IT world is full of job positions that may confuse people who are not that good at this sphere. This article will be of use not only for them but also for employees who hold lower positions and work to become a QA team lead.
Who is QA team lead? Main duties and responsibilities.
QA Lead – a person responsible for the quality of the project as a whole and the people who work under his leadership. What administrative stages should you pass to get this position?

Mentor is the experienced employee who is responsible for the successful adaptation of the colleague he supervises in the company.
Group Coordinator is a temporary position, which is provided during the test period (2-6 months) to determine candidates for the Team Lead position. The group coordinator is responsible for a team of 3+ employees in the company, who in turn can be of any professional level and work on various projects.
Team Lead is the leader of a team who possesses technical skills and ensures the professional and career growth of his employees. This definition is also relevant for team leads who work at the projects on quality assurance.
QA team lead heads the team of testers and is responsible for:
the project's realization within pre-estimated time and control of its compliance with technical requirements;
planning in the process of working on a project;
microclimate inside a team;
performance of each individual team member;
development and professional growth of each team member;
the motivation of employees.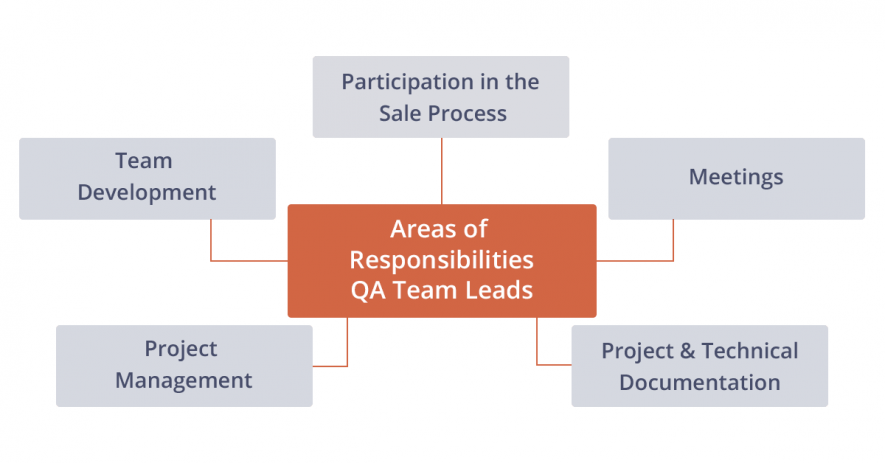 Participation in the sale process presupposes involvement in the communication between sales representatives and clients. QA lead evaluates the project, prepares resumes of candidates for a client, monitors tests execution and controls the run of pilot projects for a definite software.
QA team lead accomplishes tasks on project management as well. His key responsibilities in this sphere include:
– control of task performance within the specified time and with the proper level of quality;
– estimation of the time needed to complete the task, as well as planning the time and priorities for solving tasks and subtasks;
– monitoring the communication of team members with clients (regular reports, emails, and their content);
– regular meetings with testers on project status, issues and ways of risk minimization.
When we speak about project and technical documentation, another role of a QA team lead arises. It includes analysis of the daily reports of team members and control of the working hours spent on a project. Basing on this information, QA lead prepares a weekly report on the work of a team.
Meetings can be presented as a separate sphere of team lead's responsibilities as they are pretty numerous and QATestLab defines their following categories:
meetings on individual development plans;
discussion of the end of a test period for team members;
weekly team meetings;
talk-ins with project managers;
meetings with clients and business development managers.
The last point we will consider appears to be the most significant as team development is the basis for QA Team lead job role. Responsibilities on team management include participation in the development of employee competencies, control of the relevance of professional attestations, creation of webinars for team members, etc.
How to organize effective work of QA team?
To give a relevant answer to this question, we interviewed QATestLab team lead who shared his experience on the most pressing management issues and tips on how to improve the performance of a team. Nazar heads the team of six QA engineers of the game department.
– It's interesting to speak to the person who knows way about team leading. What do you think are the main skills for QA lead?
– Though one may think testing games is pure fun, a team leader should always stay reserved and concentrated. Sense of responsibility is a must, not to mention the technical skills,– shares Nazar.
– Lifehack from you: what helps to organize effective work in the team?
– The thing I realized for myself: the more details there are in the set task, the better. The detailed structure of a task and clear steps of its execution benefit the project in the whole and me in particular.
– What do you do if you are not satisfied with the work of one of the team members? How do you help to overcome the difficulties?
– First, find out the cause of poor performance, and later, take actions basing on the very reason. Basically, I help to understand the task again or suggest how the employee can speed up the workflow. If there isn't progress after all, I can give an easier task.
Final thoughts on being a QA lead
So, QA Lead is a semi-manager, semi-tester, and both components are equally important. The proportions of these responsibilities can and should vary depending on the project specifics. The position of a team lead requires specific skills and poses numerous duties. Of course, they can be delegated to some extent, but this doesn't work with the responsibility which falls on QA lead. People who are not afraid to face these challenges and leave the comfort zone, break new ground for professional growth.
Learn more from QATestLab
Related Posts: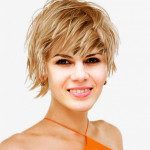 Emma Dallas
has 3-year experience in blogging, technical writing, and copywriting.
View More Articles