Mobile market overview: device, OS, apps
Mobile market overview: device, OS, apps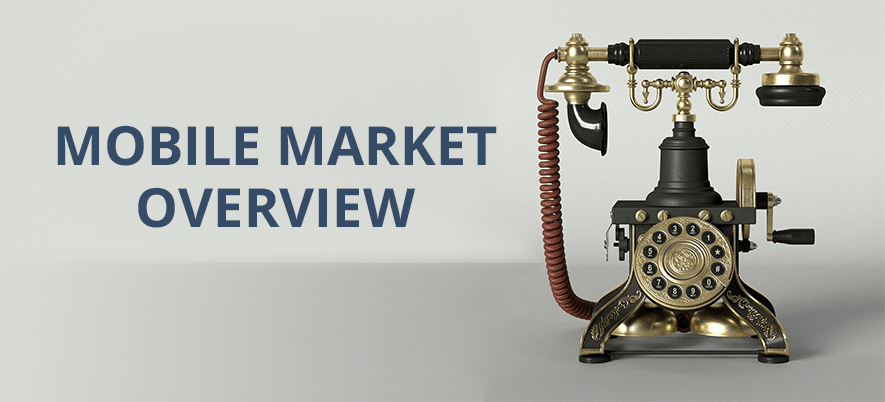 Can you image at least one day without your smartphone? It's quite difficult, isn't it? Nowadays people cannot imagine their lives without different mobile devices that can fully substitute a lot of things all of us have used to utilize every day.
A modern smartphone can replace a camera, radio, music player, calculator, voice recorder, GPS, flashlight, scanner, game console, USB, clock, e-reader, photo album, guitar tuner, airline ticket, remote controller and many others.
According to Statista, the global number of mobile devices is expected to reach 10 billion units up to 2020. As well as the number of devices growths, the number of smartphone users grows year-on-year too. Nowadays, almost two-thirds of the world population use various mobile devices. On average, a smartphone owner spends over 4 hours a day using the device. And in the majority of cases, people use mobile devices to surf the Internet.
Mobile internet traffic
Smartphones turned out to be the most popular devices to go online.  According to Statista, 52,2% of overall website traffic is mobile traffic. Compared to 2009, when it was only 0,7%, the growth is enormous. Therefore, the mobile data usage has also increased – up to 2.9 GB a month for an average smartphone.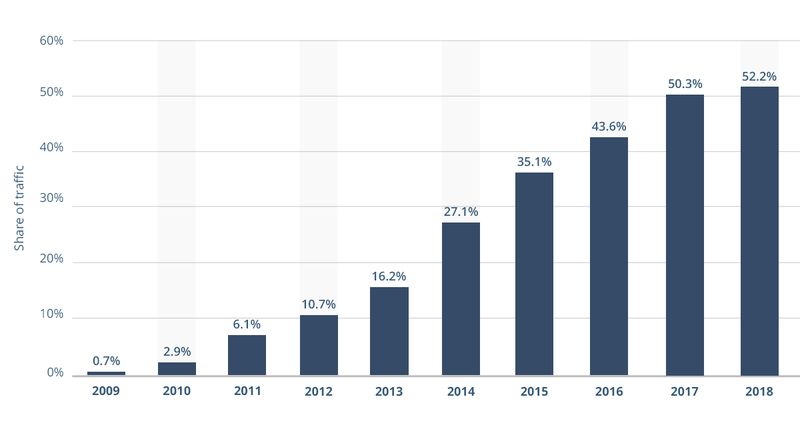 Mobile OS
Android is currently the leading OS for smartphones. In 2018 its global share amounts 67,90%. It was first launched in 2003, and in 2005 it became a part of the Google family. Because of its open-source nature, Android OS has gained a lot of popularity. Today, it is used not only for smartphones but tablets, TVs, game consoles, smartwatches, digital cameras and other electronics.
The main Android's rival on the market is iOS. Developed by Apple, it is proved to be one of the safest platforms, which provide the seamless user experience. It was released in 2007 and intended only for Apple hardware. Currently, its market share has reached 31.28%, making it the second most popular mobile operating system globally.
Another popular mobile OS is Windows Phone (now replaced by Windows 10 mobile), a product of Microsoft Corporation. It has adopted the best features of desktop Windows. Still, its share is relatively small – 0,15%.
Also, among mobile OS presented on the market, there are Blackberry OS, Tizen, SailFish OS, Ubuntu Touch and others. More about types of mobile OS you can find here.
Popular apps
Nowadays, the number and diversity of mobile apps are astonishing. Google Play contains more than 8 million apps, Apple Store nearly 2.2 million, and at Windows Store, you can find around 600K applications.
As of 2018, the most frequently used applications are social media, gaming, and messaging ones. There is a huge diversity of mobile gaming applications including cross-platform games. So, don't forget to conduct compatibility testing of your games for it to reach top positions in App Markets.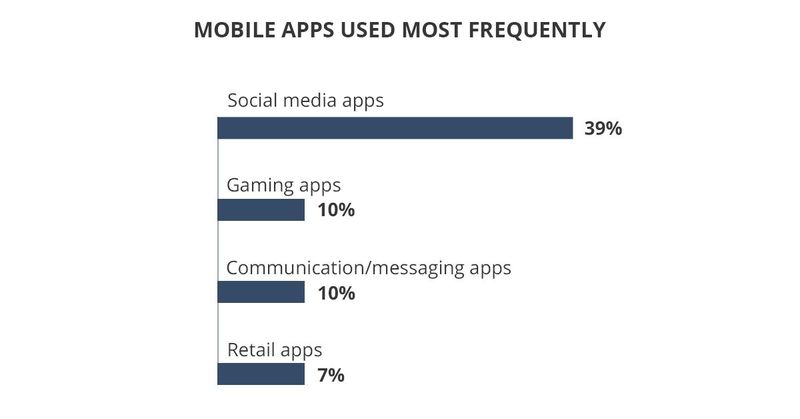 Among the most used and downloaded apps are:
WhatsApp
Facebook
Facebook Messenger
Instagram
Snapchat
UC Browser
Uber
YouTube
Google Search
Google Play
Google Maps
Gmail
iCloud
Amazon Mobile
Twitter
Netflix app
Google+
Pinterest
Still, the apps popularity greatly depends on the users' location. For example, talking about messengers, each region has its own strong market leader. Whereas in North America it is Facebook Messenger, in Russia and South America – WhatsApp. Viber takes the leading position in Eastern Europe, while Telegram gained more popularity in Southern Asia.
Market share
As far as there is a rapid growth of mobile technologies, smartphone manufactures should constantly keep pace with the progress. According to Counterpoint, a global research company, top four biggest players (Samsung, Apple, Huawei, Xiaomi) who managed to do it now capture around 55% of the market, leaving other brands only 45% of the market space.
Samsung
The world's leader in the smartphone market, Samsung has been holding leading positions for many years. Though firstly Samsung mobile phones conceded to its rivals –  LG, Nokia, and Siemens. Everything changed when Android came to the stage. Galaxy Smartphones gradually improved their functionality and bright AMOLED Display attracted more and more customers.
Nowadays, Samsung flagships are among the top smartphones on the market. Moreover, cheaper series as Galaxy J and Galaxy A are in high demand as well.
Apple
The first iPhone was released in 2007, and since then it has been one of the most innovative and attractive devices for a lot of customers. Apple offers excellent quality and modern design. The distinguishing features of Apple smartphones are their own closed operating system, certain memory limitations, professional optics, and bright Retina displays.
Huawei
Previously, a Chinese manufacturer of telecommunications equipment, Huawei took a strong position as a smartphone manufacturer. The first breakthrough in sales happened in 2011, after only 1 year of market presence. Since then, the company has proved to produce reliable and affordable smartphones. Some devices are currently sold under a sub-brand – Honor.
Xiaomi
This Chinese company produces the best solutions according to the price-quality ratio. The company always uses innovative solutions and ergonomic design, providing customers with modern and affordable devices.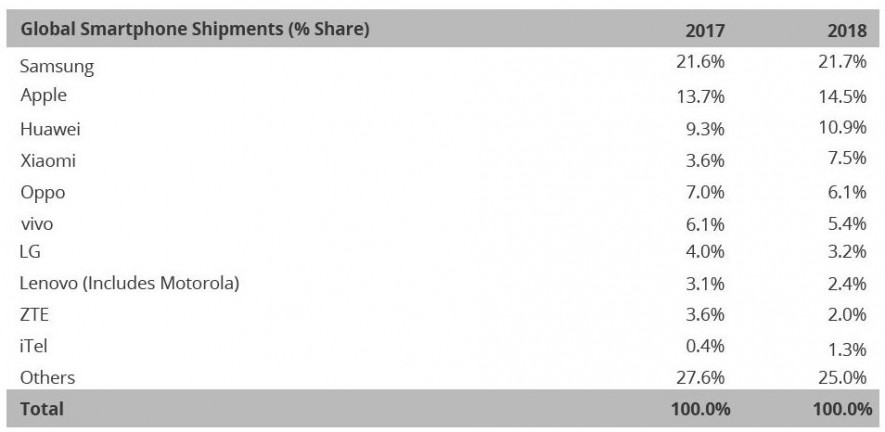 Learn more from QATestLab
Related Posts:
Article "tagged" as:
Categories: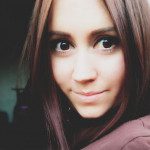 Asha Jane Brown
has more than 2-year experience in blogging and copywriting, copyediting and proofreading of web content.
View More Articles