Outsourcing, Outstaffing and Independent QA: What is the Difference?
Outsourcing, Outstaffing and Independent QA: What is the Difference?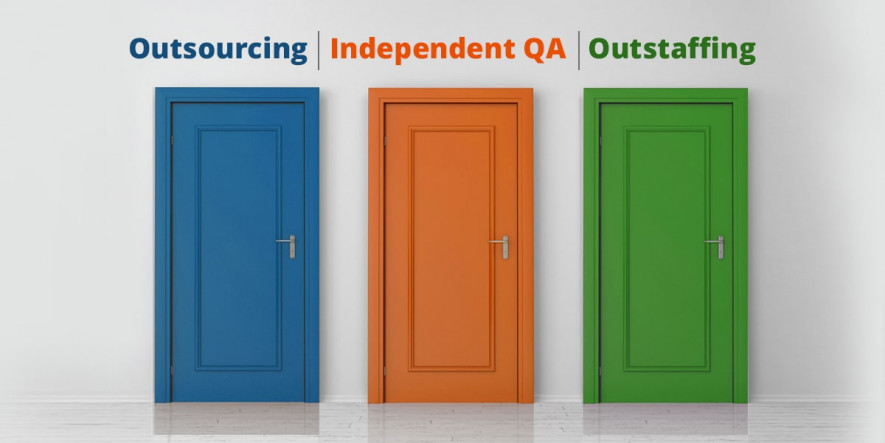 Optimization of processes is fundamental for business growth and company scalability. In case of software delivery, you are able to reduce expenses and optimize workflow with the help of several cooperation models – outstaffing and outsourcing.
Regarding QA process, there are three options – outstaffing, outsourcing, and independent QA. Let's analyze the models for you to make the right choice.
Notion
Outstaffing is the process of hiring and engagement of specialists provided by an outstaffing supplier to perform specific duties. Or in other words, you "rent" a specialist to cover certain functions. Outsourcing and Independent QA is the delegation of a particular scope of work to the specialists provided by a third-party vendor. These two models focus on the result.

Hiring process
In case of QA outsourcing, the vendor picks out the specialists who correspond to your staff requirements and engages them to your project on a turnkey basis. Talking about outstaffing, you personally take part in selecting the specialists to your team from the talent pool provided by the outstaffing supplier. Independent QA combines both approaches – you get CVs of the specialists pre-selected by a provider, and you are free to interview the candidates.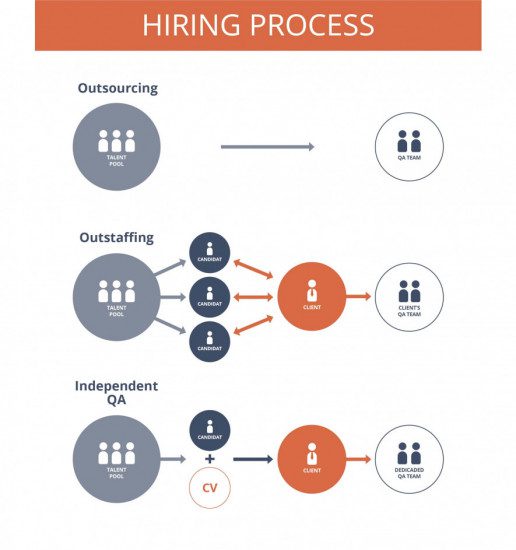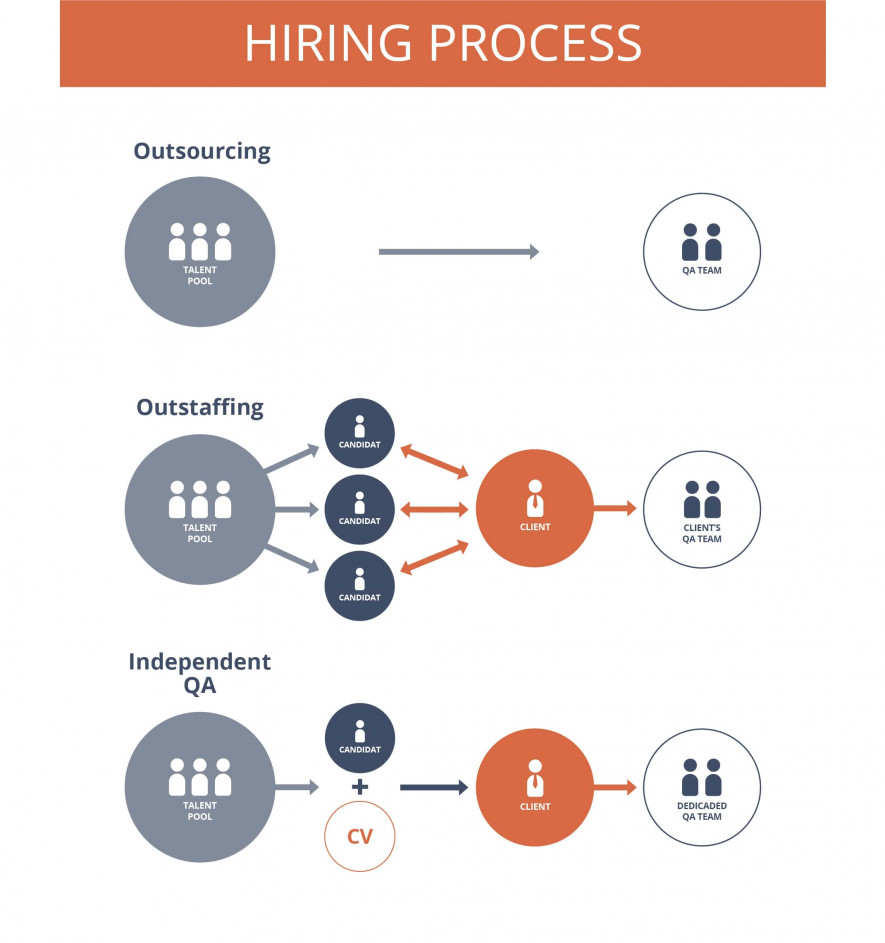 Payments and fees
According to outsourcing and independent QA models, you pay for the accomplished task on hourly or monthly basis. The price includes the fee for HR management, internal management, and additional expenses, i.e., training, holidays, taxes, office, and equipment. That's why the rates are higher in comparison to outstaffing where two models are available:
Cost model – you pay a fixed price per person, and the outstaffing supplier manages this money.
Cost Plus – you know how much a person will get and you cover all additional expenses on infrastructure, training, holidays, etc.
Communication process
The transparency of communication is guaranteed when you select independent QA (communication process and channels are discussed and agreed) and outstaffing (you set up a communication process and select proper channels without any supplier's interfere).
Two interaction models are available in outsourcing model:
Open model: you are a part of a distributed team, engaged in planning and daily meetings, and can contact to each team member.
Closed model: you communicate only with PM or QA Lead.
Advantages and disadvantages
In case of a short-time work for standalone custom software projects, you'd better choose QA outsourcing with ready infrastructure and set internal management. Besides, no hiring efforts are required, and there is a vast pool of QA outsourcing companies. Nevertheless, along with pros, you will also face time zone and language barriers, low engagement into processes, rather high rates, and less control.
Choosing independent QA, you get full transparency of activities, integration in your team, managed risks, and flexible cooperation models. But you may experience a lack of sharing business goals by the off-site team, communication difficulties, and time zone barriers.
Having in-house management and HR resources to engage oversee specialists without opening new offices, you'd better choose outstaffing. Full control over hiring, lower rates, and full access to team/specialist are huge pros. However, motivation and management may become challenges for you. Besides, risks are high as an outstaffing supplier is not responsible for the quality of completed tasks. Mind that.

Learn more from QATestLab
Related Posts:
Article "tagged" as:
Categories: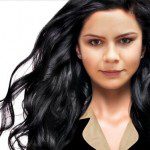 Helen Johnson
has 3-year experince in content managing, skills of copyediting and proofreading of web content and documentation
View More Articles