Quality Assurance for CRM: popular questions and common myths
Quality Assurance for CRM: popular questions and common myths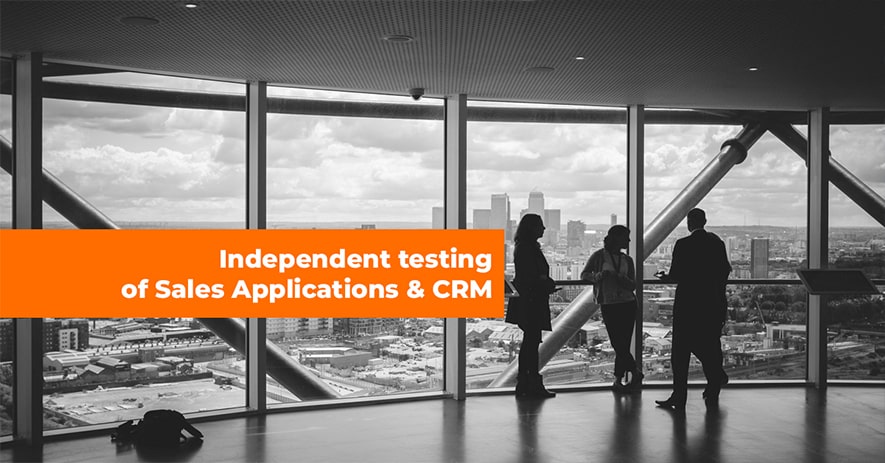 As an independent testing provider, QATestLab has plenty of data connected with sales and marketing processes. To carefully manage relationships with current and future customers, we use the CRM software. This approach helps to organize, automate, and synchronize work at a much greater speed. But just like any other important element in business structure, CRM requires quality.
So, what is the best way to care about the core competencies of CRM systems? To share our experience and answer the most frequent questions on quality assurance for CRM software, we aired a webinar on January 23. The speakers of the webinar were our best industry insiders –  Marina Savchuk, Business Development Manager and Vitalii Shvets, Senior QA Engineer.
Below are some of the most important questions & answers extracted from the live webinar.
#1 What independent testing is in a simple definitions?
Independent testing is a set of tests performed by one or more professional software testers that are involved externally to ensure objective testing and quality assessment. The independent QA team is involved only in the quality assurance process of the company and helps to arrange or improve QA activities. Moreover, it provides a fresh look at the overall QA process and quality of the product.
#2 Why to engage independent quality control?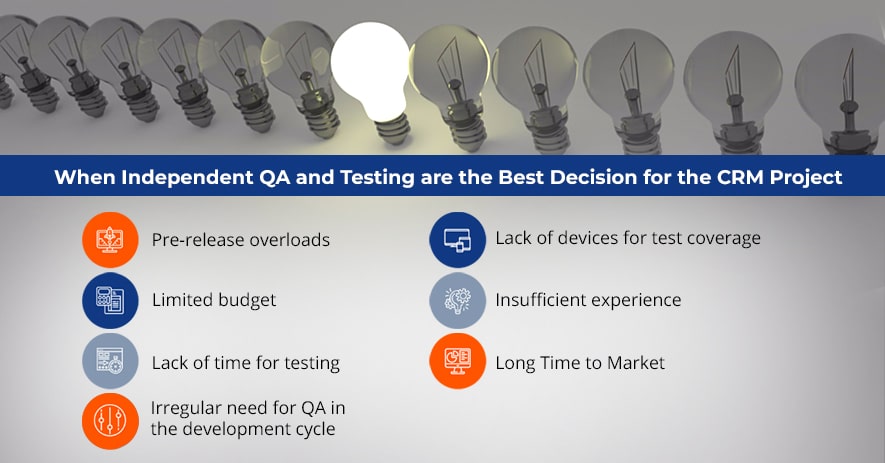 Vitalii: "There are situations when internal efforts are not enough and additional resources can be a good solution.
For example pre-release overloads. When it comes to release, there is always much work to do. Even if all separate units had been fully tested and all the components come together into one integral product, there are a lot of issues that appear on the surface.
Secondly, the lack of time for testing or required competence. Trying to launch the product faster, often there is not enough time allocated for testing. So, QA is compromised in favor of quick market launch."
A good decision in both cases – an external QA team. With an independent QA provider, you can scale the team in a few days to meet deadlines without overtimes. Also, in case the budget is limited, engaging a 3rd party QA provider сan be a rather cost-effective way to get additional QA resources and form the testing infrastructure for specific QA goals.
#3 What is essential to check in CRM systems, and what is better to pay attention to?
"To create a checklist for testing CRM correctly, a QA engineer should understand the main task of any CRM – to increase sales efficiency and customer service. Therefore, first of all, you need to qualitatively check all communication channels with the client." – related Vitalii.
When installing open (direct) lines with popular social media services, all the communication with the client should be conducted without delays and saved in the chat history. Also, CRM should be compatible with IP-telephony and use all its functions, for example, recording conversations, automatic call forwarding, automatic launch of answering service, etc.
#4 Is there anything else commonly tested in CRM systems?
Vitalii: "Well… you need to check the correct operation of robots and triggers. For example, automatic sending of emails to the client using particular templates. For example, a client should automatically receive a letter with promotional offers and company news after he registers on the site and does not make the order within 2 hours."
Another very important point is checking CRM updates. Before the release of each update, you need to test not only the new functions that the update carries, but also make sure that the old functionality works excellent. The bugs can appear in the most unexpected places. It is very important that the QA engineer, who tested CRM even earlier, prior to the update, is engaged in testing and knows all its functions perfectly. He will be able to detect more bugs and will do it faster than others. Such an update will be really useful for the user, will increase the reputation of the developer company, and will not create a lot of problems, as is often the case."
#5 What are the most typical issues and bugs in the CRM system?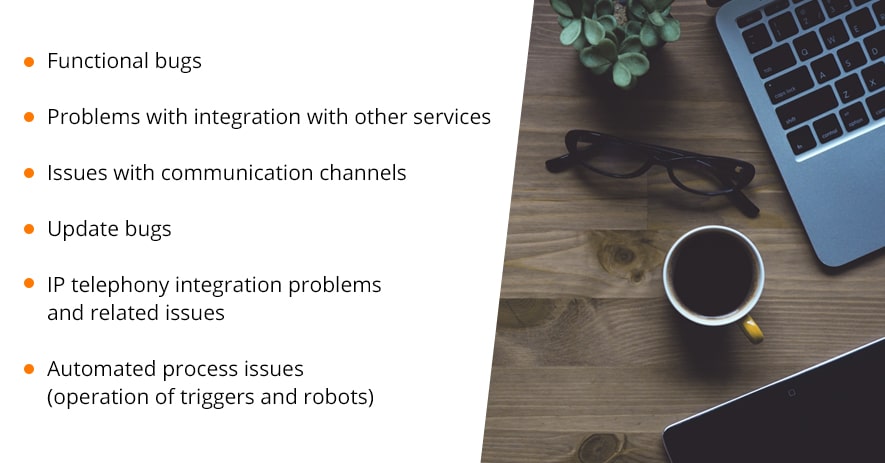 Vitalii: "Any experienced QA engineer knows, that the more complicated functionality is, the more bugs it contains. Modern CRM system – is a complex product, which uses many other additional services. A lot of critical bugs could be found during testing the integration of CRM with external services.
Also, many bugs are found during checking communication channels and integration with social media services. For example, often it happens that CRM does not "see" an incoming call on an IP phone. Or an incoming call comes in when the customer has already heard 5 rings in the receiver.
Often happens that messages on Facebook do not come to CRM at all, and you have to correspond directly on Facebook. In both cases, the user of such a CRM is close to losing the leads. And buying such a CRM certainly has no purpose. But it's worth checking not only the interaction with other services but also the internal CRM processes and use cases."
#6 What about the most popular myths about independent QA?
Most of the companies doubt to engage independent QA due to a variety of myths. To debunk all the false statements, Vitalii and Marina brought to the attention of the real state of things in our company. Here are some of them:

#7 What testing types are most frequently used for CRM testing?
Vitalii: "Most of the time we spend on functional testing. In addition to functional testing, we also conduct security and performance testing. I would like to mention that we have highly skilled QA engineers in security and performance testing. Of course, we always perform layout and usability testing, because each CRM should be user-friendly and the layout should match the designer's mockups."
#8 How does an external QA team cooperate with the in-house project team?
Vitalii: "There are several stages of cooperation workflow. Firstly, it is necessary to recognize the demand, analyze the requirements. Then, we plan our work – prepare the estimation of the project, set the environment and QA team, write test documentation. The following step is testing itself when we execute test cases, report, and manage the bugs, retest the fixes. Also, we can provide recommendations. In general, it looks like that, but many also depend on the project as well – whether it is a short-term or a long-term one."
To discover more useful information about independent QA and CRM – watch the full record of the webinar!
QATestLab team has a big experience in testing CRM systems, so feel free to contact us to get all the additional information!
Learn more from QATestLab
Related Posts:
Article "tagged" as:
Categories: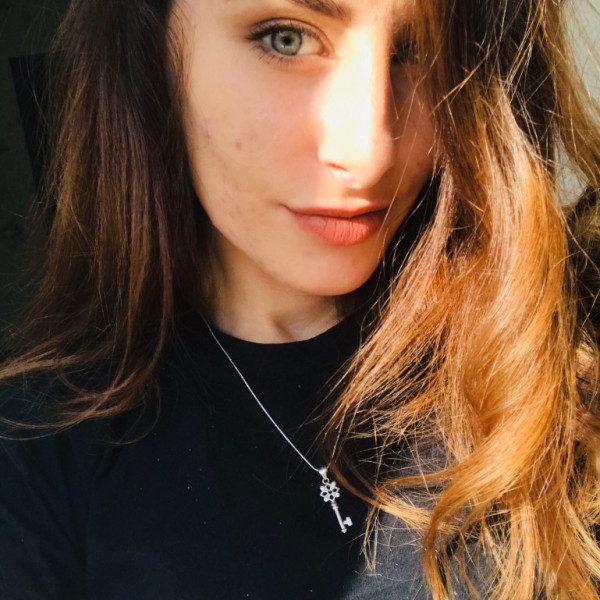 Kate Libbie
has more than 2-year experience in blogging and copywriting, copyediting and proofreading of web content.
View More Articles