Money Matters: In-House vs. Independent Testing
Money Matters: In-House vs. Independent Testing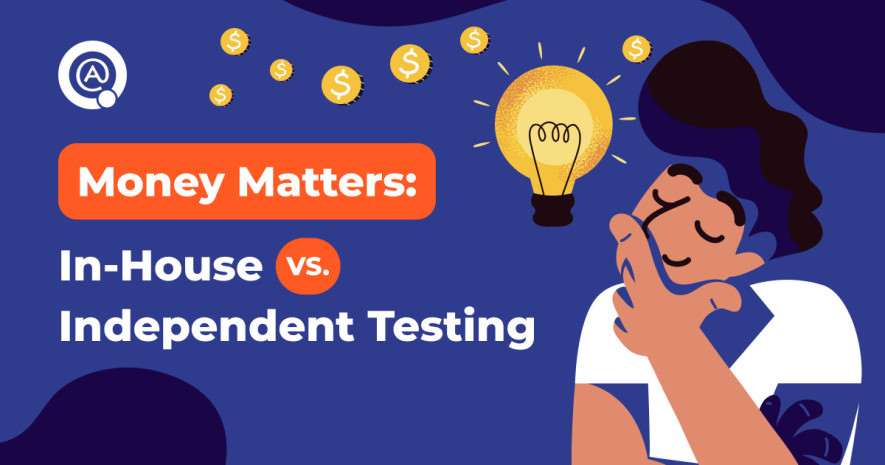 In today's rapidly evolving digital landscape, software quality assurance plays a crucial role in ensuring the success of any project. One key decision that organizations must make is whether to establish an in-house testing team or opt for independent testing services.
While both options have their merits, the cost implications can significantly impact a company's bottom line. In this article, we will conduct an in-depth analysis of the cost factors associated with in-house teams and independent testing, helping you to make an informed decision.
Understanding In-House Testing Costs
Fixed Overhead Costs
When you hire in-house testers, the first and most obvious expense is compensation. Let's take the salary expenses as 1.
In contrast, let's take the cost of independent testing as 1.4 per month (based on an average monthly rate of a Junior QA specialist in the EU).
When you have an in-house employee, you also need to purchase a computer/laptop for them and buy a desk/table. Let's add another 0.1 to expenses for such costs per year. If you use the services of independent testing, all of these expenses are covered by the vendor company.
You also need to spend time with HR managers to mitigate risks, conduct one-to-ones, and discuss meeting results with the manager. Let's add another 0.1 to the expenses.
Additionally, when employees work in-house, you are responsible for their vacations and sick leaves, which could slow down the development process.
Other ongoing fixed overhead costs, such as benefits, office space, utilities, and equipment maintenance, are incurred regardless of the project's size or workload, adding to the overall expense.
On the other hand, when you collaborate with an independent testing provider, they will offer you a replacement during the employee's sick leave/vacation. Therefore, your team works at full capacity all the time. This expense is approximately another 0.2 of the annual budget.
Hiring and Recruitment
Establishing an in-house QA team requires investing time and resources to select qualified professionals. This process involves advertising, screening, interviewing, and onboarding, which can be time-consuming and costly.
First, you communicate with the recruiting team and create a portrait of the perfect candidate. It might take a while. Then the recruiting specialists spend dozens of hours searching for candidates, interviewing, and sending test tasks.
Then a tech lead or another responsible team member spends hours checking test tasks and interviewing the most relevant candidates. It will add another 0.2 to expenses from your side.
Well, and the most unpleasant part – layoffs, reviews, and other attributes when there is a risk of losing an employee. Compensation payments on dismissal and other expenses make up approximately 0.1 in an optimistic scenario.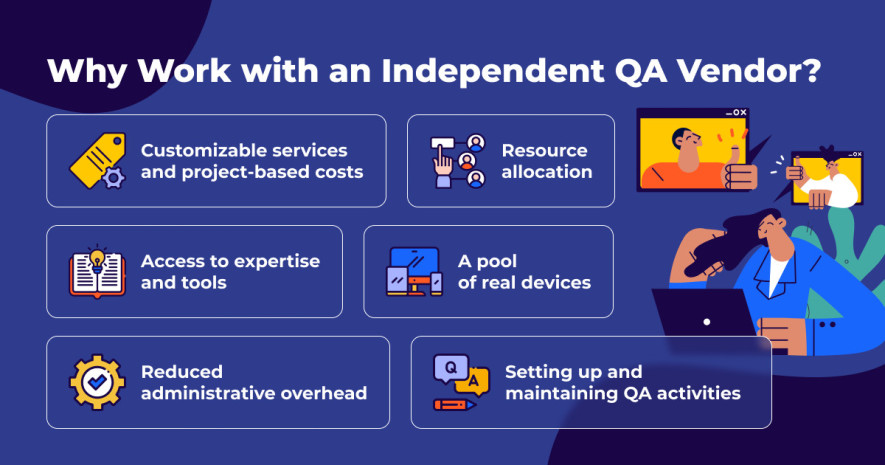 Management
Let's go further and take into account the time for the management of the testing team. It's great when you have a person managing the entire development and testing team, including testers. But your project manager can be overwhelmed with other important tasks and simply lack time to manage the whole QA department.
If not PM, then someone else has to work closely with testers – provide feedback on their work, and answer or ask questions that might arise along the way. This is also the time that needs to be invested in this employee. If this is not done, there is a risk of having to look for a new tester again, putting sticks in the wheels of the development process.
At QATestLab, the cost of our services already includes the time of the project manager, who will address these issues with minimal time costs on your side. We need to add another 0.1 of the cost for management.
These are things that can be measured more or less accurately in monetary terms, but they do not include employee loyalty/insurance programs, team downtime, and missed checks that were not done on time.
Scalability and Flexibility
Maintaining an in-house team means that the organization must bear the burden of scaling the team's size according to project requirements. During periods of low testing demand, this can result in idle resources and wasted costs.
On the contrary, relying on the services of an external testing team gives you the flexibility of having experts there ready to work only when you need them. This allows you to eliminate the tedious process of hiring and training people to the point where they can perform QA, not to mention the fixed costs involved.

What Are You Paying for When Working With an Independent QA Vendor?
Variable Project-Based Costs
Independent testing services typically follow a project-based model, where costs are directly related to the scope and duration of the engagement. This flexibility allows organizations to align expenses with the specific needs of each project.
Resource Allocation
By outsourcing testing to independent providers, organizations can allocate their internal resources more efficiently. This eliminates the need to recruit, train, and manage an in-house testing team, resulting in potential cost savings.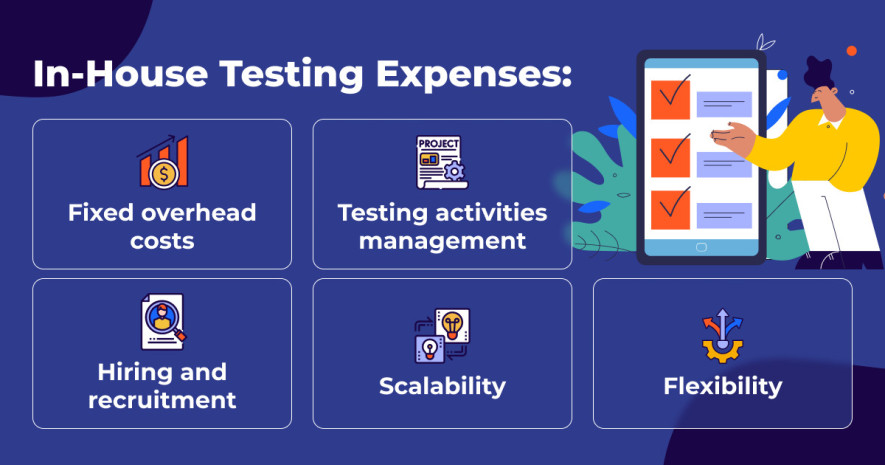 Access to Expertise and Tools
Independent testing providers often have a broad range of domain expertise and experience across various industries. Leveraging this expertise can help ensure comprehensive bug search & testing without the need to invest in specialized training or hiring.
Independent testing providers have dedicated resources, infrastructure, and testing tools. By consolidating multiple clients' requirements, they can achieve economies of scale, reducing costs for individual organizations.
Reduced Administrative Overhead
Outsourcing testing eliminates administrative tasks related to managing an in-house team. These tasks include payroll, HR responsibilities, performance evaluations, and ensuring compliance with labor regulations.
So, What is Better: In-House or Independent Testers?
Deciding whether to outsource or test in-house involves careful consideration of various factors, including cost implications. While in-house teams offer control and familiarity with the product, they come with significant and ongoing costs.
Independent testing services, on the other hand, provide flexibility, scalability, and access to expertise while potentially reducing administrative overhead and benefiting from economies of scale.
You need to evaluate your specific requirements, project scopes, budget constraints, and long-term goals to make an informed decision.
Some organizations may find that maintaining an in-house team aligns better with their strategic objectives, while others may opt for independent testing services to achieve cost efficiencies and focus on core competencies.
If you are on the second team, we would be happy to collaborate! Contact us today, and let's discuss the ultimate QA strategy tailored to your business needs.
Learn more from QATestLab
Related Posts: