Top 10 Tools for Effective Project Management
Top 10 Tools for Effective Project Management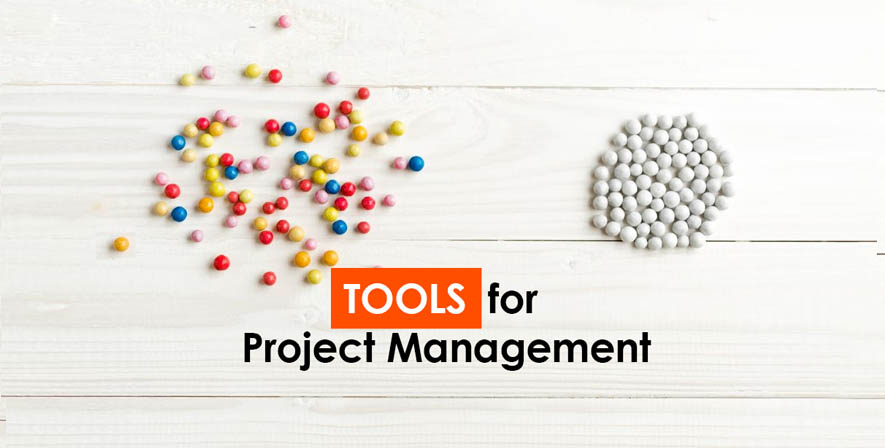 The choice of software for project management is huge and each leader uses the tool he considers the best one. We prepared the overview of tools we get used to in comparison with the top products of 2019. Read the feedback of real clients and consider them before making your choice.
Review of top 10 project management tools
Let's start with the analysis of the tools that project managers use for years. Most often they are leading software in the market due to definite reasons.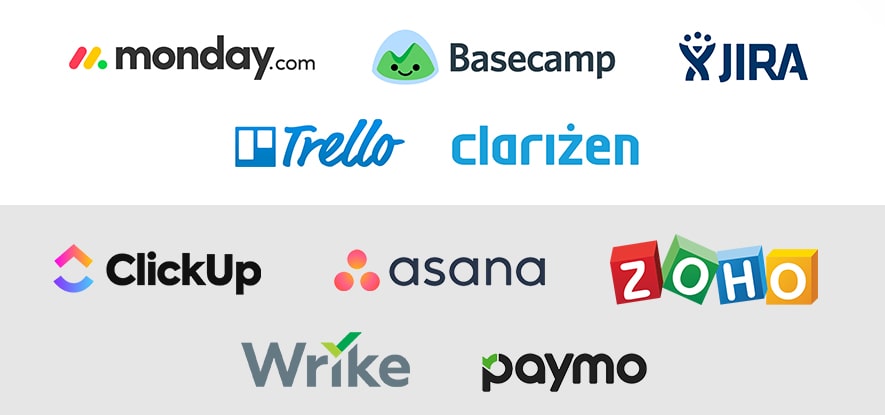 monday.com This app helps to visually organize the teamwork and set up the collaboration among team members. Pretty lights and colors are among the reasons clients choose this tool.
Advantages. Clear progress indicators, automation of work with data, date setting, and people tagging.
Disadvantages. Does not work for big projects, clients say it is a little bit clunky with a half-baked mobile app.
Price for 10 Users.

Basecamp Another online project management tool that is rather popular because of its multiple functions: task lists, report charts, timesheet generation, group chatting, personal emails, etc. Its main benefit is the elaborate system of collaboration.
Advantages. Rich functionality, simple to use, great for communication management.
Disadvantages. Plain interface, rare updates, poor mobile version, weak support of customers.
Price. Free trial for 30 days then $99/month for a team.
Jira Is positioned as a development instrument for Agile teams. It offers roadmaps, team boards, and simple setup.
Advantages. Easy customization, integration with the majority of software, strong security policy, acknowledged by multiple users.
Disadvantages. Difficult to set up correctly, slow – doesn't work well for multiple workflows and projects (changes affect all of them).
Price.

Trello Small group project management software. Trello uses Kanban as a project management paradigm.
Advantages. Great for the organization of team activities. It has clear functionality, convenient for medium-size projects that use Kanban, and gained its popularity due to flexibility in using.
Disadvantages. Poor automation, the search function is not elaborate, tasks are difficult to sort.
Price.

Clarizen one of the online project management software programs created using cloud technology and distributed using the Saas business model.
Advantages. Has extensive functionality, integration with e-mail services, and CRM systems.
Disadvantages. It does not have the online mode, difficult to set up, no automatization.
Price. Starts from $45/user/month.
Now we can see the main reasons why clients use these kinds of soft, making them that popular. If you want to try something effective but not that hyped, read the overview of top new tools for project management.
ClickUp One of the best project management software. This is a service for managing tasks and projects in a team. Has positive feedback from numerous users due to its constant updates and responsive support.
Advantages. It has all the necessary features, a clean interface, elaborate roadmap, clear audio, and video tutorials. Filters work as intended together with all possible tags, color markers, statuses, priorities, etc.
Disadvantages. Doesn't work for personal planning.
Price.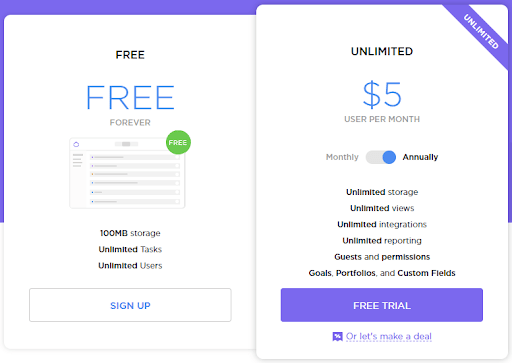 Asana Mobile and web-based project management application for small teams. It has all the necessary features for the successful conduct of small projects.
Advantages. Has got attractive UI, clear functionality, and convenient workspace for teams. It allows the simultaneous management of multiple projects with multiple tasks.
Disadvantages. Non-responsive development team, clunky calendar, takes efforts to manage.
Price.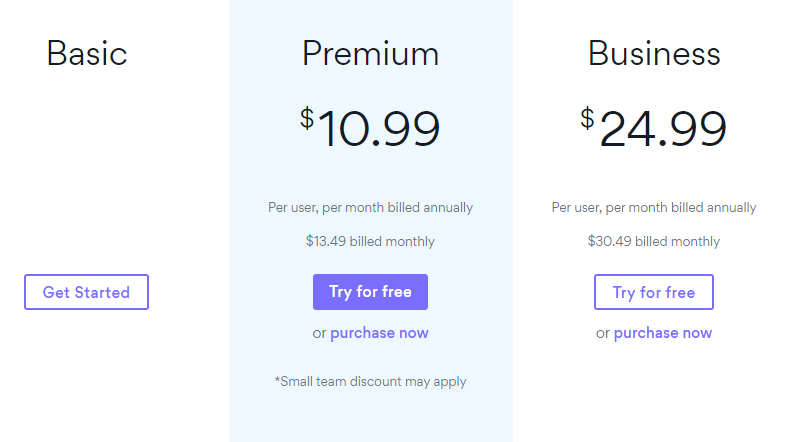 Zoho A multifunctional service for project management. It allows planning project activities, assigning tasks and resources, and cooperation with the team members to meet the project goals.
Advantages. Using this tool you can:
create projects;
use Gantt charts;
track time;
commit issues;
automate tasks.
Disadvantages. It is somewhat hard to customize, and the privacy policy begs a question as the head office is located in India.
Price.

Paymo is a web service to control a project. It guarantees accurate progress tracking and reporting, which helps to meet the project's time and budget frames.
Advantages. Choosing this software you get the possibility to:
file and attachment sharing, etc.
Disadvantages. Clients say that resource management could have been better, it also lacks bulk data import from the excel spreadsheet.
Price.

Wrike is a corporate online service for collaboration and project management.
Advantages include the following options of:
task assignment with people tagging;
Disadvantages. Customization issues may arise; price is higher as compared to other software; outdated design.
Price.

How project management tools make life easier for you
We don't have explain how hard it can be to take control over all the processes at a project. Lack of PM's engagement may result in loose time and cost estimates which can lead to critical situations. Look at the figure below to know them in the face.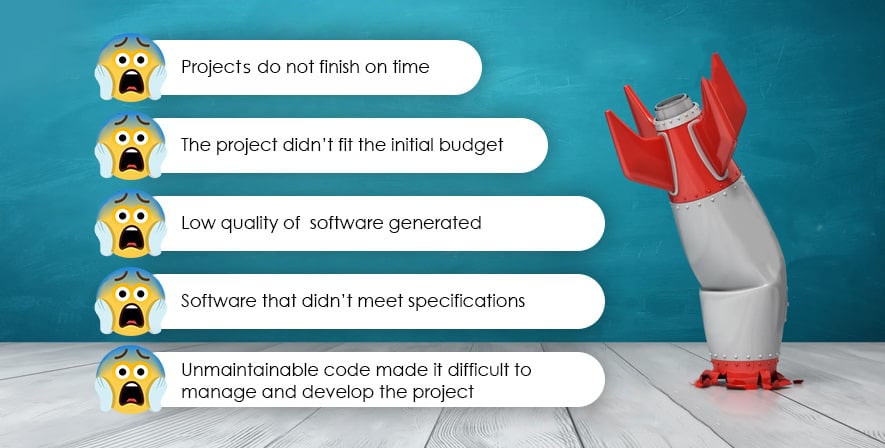 They are used to mitigate the possible risks and assist in the following matters:
Project Planning. The software aids to clarify the project objectives, its scope, and the list of tasks needed to be done.
Project Tracking. Apps for PMs assist in controlling the project's progress and possible problems to take preventive actions.
Project Financials. Use this software to provide accurate cost estimates, track the revenue, make use of convenient billing models, etc.
Resource Management. Want to effectively manage the tangible (equipment, materials) and intangible (people, time) resources at your project? Do not hesitate to use the corresponding tools.
Time Tracking. Handle weekly timesheets, control the time spent at the project, generate automatic time charts, and reporting.
Risk Management. This type of soft helps to identify project risks, manage them, and plan actions on their elimination.
Issue/Bug Tracking. Keep track of the reported bugs in software and/or control the list of project issues, assign them to a definite person, and track the progress on their solving.
Analytics and Reporting. Software for project managers assists in cross-project reporting (automatic email reports, chart generation, etc.), development of comparison charts and diagrams, time-phased data, etc.
Even top project management tools will hardly decide all the problems or difficulties you may face at a project. Nevertheless, we have analyzed an impressive list of tasks and elements that will be simplified if you use such tools.
Here comes another dilemma: what tool to choose? To help you make a perfect choice, we will analyze the time-honored tools used by PMs and the top tools of 2019 to see what's new on the market.
Final word on tools to manage your project
It is very important not to get lost while choosing the tool you need. This useful software will assist you and your team throughout the whole project (probably not a single one).
We have analyzed the most used tools and the ones that are popular in 2019. We hope this article tips and advice will help you to find the tool that will perfectly match your project needs. Subscribe to the QATestLab blog and stay tuned with the latest IT trends and real cases.
Learn more from QATestLab
Related Posts:
Article "tagged" as:
Categories: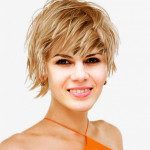 Emma Dallas
has 3-year experience in blogging, technical writing, and copywriting.
View More Articles