Practical tips for PM: How to build a QA Dream Team
Practical tips for PM: How to build a QA Dream Team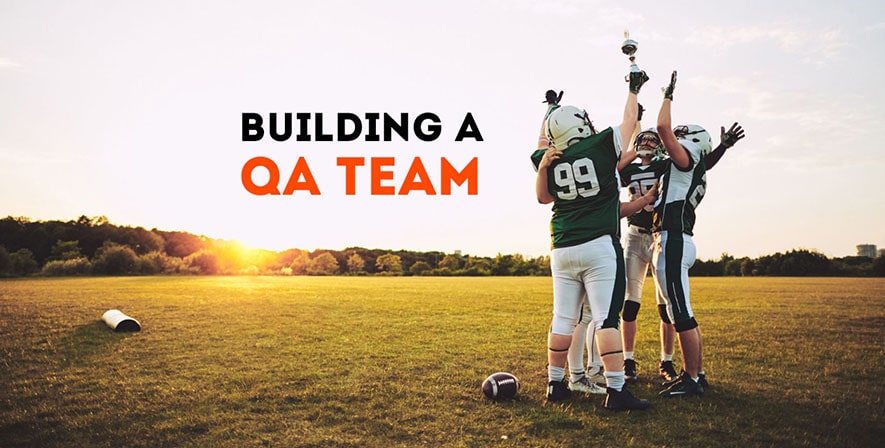 The practice of QATestLab Project Managers shows, that if before starting work with a team, the lead takes time to prepare, this time will pay off during the work. The leads themselves will do their job without stress and, at least, they will be less bothered on typical issues.
How to start work in a QA team
QA team's work could be complicated cause of such inevitable components as risk prediction, strategy development, or planning the duties of each team member. How to make the start smooth? Well, here we prepared questions along with answers you need to know before the start of QA team's work:
1. What does it take to make a step from a vision to a general plan?
The vision of the whole working scope and the skills of each team member (judging from the results of work with previous projects). QA test plans are necessary for this. They are documents that are developed separately for work and sprints. At this point, you may be tempted to delve into the details to figure out everything at once. Stay away from this temptation! There will be plenty of time for sorting things out.
2. What should be the ratio between testers with different skill levels?
For a start of working progress, the good ration between testers looks like that:

With this ration, your team is able not only to fulfill the tasks but also to monitor their progress and provide the necessary reporting.
3. What processes to figure out from the beginning?
For the great start, it's important to divide the project and team. It helps to see their processes and how they should be working: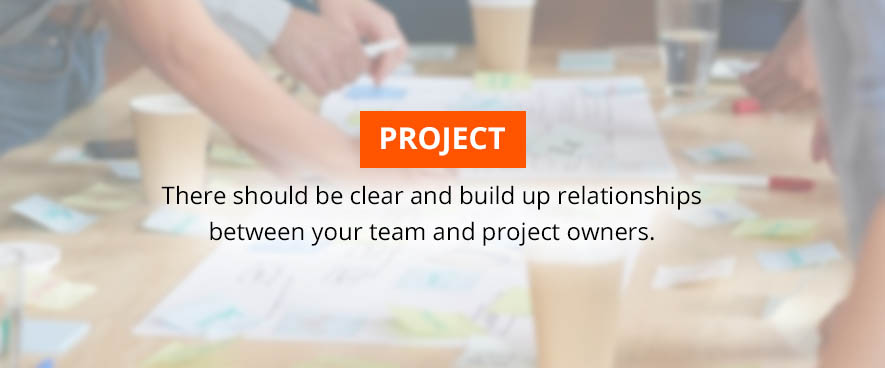 4. What is the big part of QA work?
Bug reports. Do not forget about them. Reports should correspond to the quality of your service. Keep bug reports concise but comprehensive, though not complicated. What is more important is to make sure they are found on time.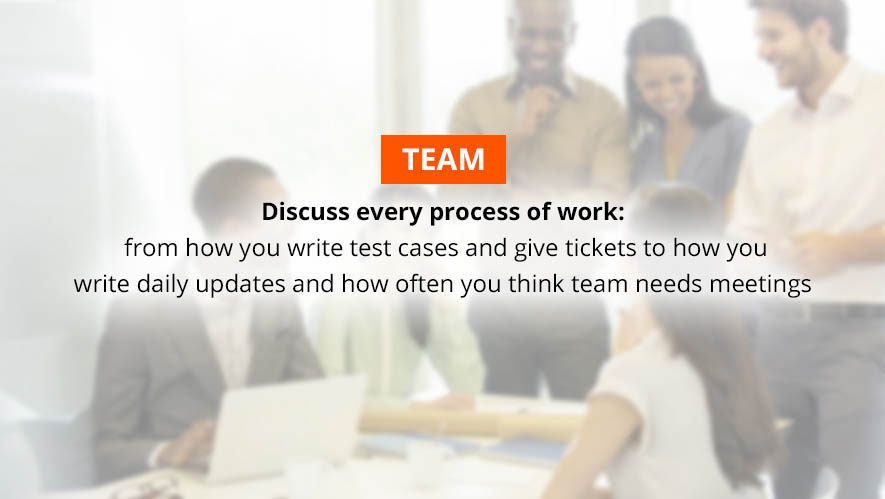 5. What can be as a bit of good advice in controlling the QA Process?
An essential part of work on a project is risk management. All kinds of risk evaluation can help control project test management, but don't forget that it's not a panacea.
Managing the workflow: checklist of notes and tips for PMs
To start quickly, prepare documentation that the team will access. Moreover, it is necessary to detail everything accurately. Some appeals can offend if you are told things like: "when does the chicken teach chicken?" Or "I know everything and understand everything." We all have different projects, different challenges, and with them, the experience is completely different.
Here's why we got a PM's checklist of notes and tips for you:
1.  Say a few words about the product that will help the team understand the bugs and find them.
Example: Today we are testing a site for selling juices (thus, we understand that it's important to find products here, add them to the cart, complete the purchase, etc.).
2. Show the main functionality.
Example: The priority to test is using the widget to select a product.
3. Say what is important to check now.
Example: Often the customers say that they are interested in the functionality, in this case, it makes no sense 80% of the time to start bugs about the bold text on a dark background.
A good start of testing and the successful completion of the task depend on how the task was set, what inputs the project manager provided, and how the progress was monitored.
Effective task setting and control
Some situations should be spoken before the beginning of work in the conversation or in the rules list. However, here are the fundamental parts of teamwork every member should know.
Chat in any app could be used as a connection between team members. They can share information in this chat like:
team's member will have to leave earlier;
the tester is removed from the task;
a message about the completion of a working day or task (so that you can track progress);
in case of blocker or critical bugs – it is necessary to indicate in the chat that a bug has been started with this priority;
all new wound up bugs need to be thrown into the chat;
share advice and good article (like in our blog 😉 because, as experience shows, good team communication is half of the success.
Conclusions on building a QA team
If you manage to complete most of the items that said above, it means youэму already tried this water. However, don't forget about the goal to move forward. It could be that exact reason why you make an effort to deploy a product. We have mentioned it earlier – determine how your job can help, so you might prove your and team's value every time on demand. This will create a connection of trust and then, the project owner will find it reasonable to give more work and responsibility to the team.
When you will (we are sure that you will) get to this point – take our congratulations! Only the sky will be your limit. Involve experts from the onboard teams, both personal and technical. Don't forget to check that people you lead not create friction in your existing team, so all features work smoothly.
Learn more from QATestLab
Related Posts:
Article "tagged" as:
Categories: